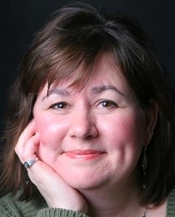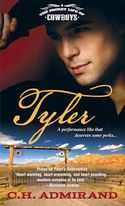 Thank you so much for inviting me to guest blog today at Fresh Fiction. St. Patrick's Day has always been a special day in our family. My grandfather was extremely proud of his Irish heritage. His father came over from Dublin, Ireland June 19, 1871 when he was 8 years old. I recently discovered the passenger's list on Ancestry.com and found out that he was a passenger on the ship Calabria.
I wanted to add a special twist to the characters in all of my books, by using family names and my Irish heritage. The heroine in my first book, THE MARSHAL'S DESTINY, was named after my great-grandmother, Margaret Mary Flaherty. Three generations of the feisty Irish-American women in our family: Garahan, Flaherty, Daly and Purcell, with their sharp tongues, hard heads and big hearts have kept our family strong and definitely helped influence the creation of the fictional Margaret Mary Flaherty.
My latest trilogy from Sourcebooks: The Secret Life of Cowboys begins with TYLER, the oldest brother's story. I love writing trilogies and series, that way I don't have to suffer through withdrawal when I have to say goodbye to the characters who have kept me company while I've woven their story and brought it to life on the page for readers.
The Garahans are dark-haired, dark-eyed, gorgeous Irish Americans who are trying to save their family legacy—the Circle G Ranch—located in Pleasure, Texas. It's been in the family for over 150 years, but the mortgage is due and the feed bill is overdue, and the ranch is in trouble. I started thinking what would a rancher do if he had to earn extra money? What job would he be qualified for? There aren't a whole lot of jobs feeding stock and mending fences unless it's on another ranch.  Tyler knows they need money fast. He answers an ad for what he thinks will be a job stocking shelves and hauling kegs for a local bar—but he's being hired as the Lucky Star's new headliner for their ladies' club!
He's so out of his element standing there, but a distraction in the form of one curvy, bare-footed redhead with a slash of chocolate across her cheekbone and splash of chocolate in the middle of her T-shirt, captures his interest. When he learns she's the cousin of the club's owner, he realizes that he'll have to stick around if he wants to get to know her better. Emily Langley is just as taken with Tyler. From the moment she sees him looking so out of place standing there in the middle of their club, she wants to get to know him. He looks like the real deal, a true cowboy, not a cowboy-dancer-wannabe.
Here's an excerpt:
Tyler brushed his lips across hers once, then twice, before settling them against her full lips. Her honey-sweet taste shot to his head like three fingers of his grandpa's favorite Irish whiskey. He struggled against the need to devour and settled for a taste of her creamy skin, pressing his lips against her temple and the tip of her nose, before he finally pressed them to the top of her head.
Holding her against him was pure torture. He didn't know how long he'd have to wait before convincing her he would be worth the time to get to know. One thing he did know was that he'd be locking lips with Miss Emily again… soon… real soon.
He eased back from their embrace, running his hands from her shoulders, along the surprisingly toned length of her arms, until he had her hands in his. It felt right.
"'Night, Emily."
She tilted her head up to meet his gaze and softly smiled. "Goodnight, Tyler."
© C.H. Admirand, Sourcebooks Casablanca, 2011
In honor of my Irish ancestors, I'm continuing my genealogy efforts. I know that my great-great grandmother, Ana Garahan married Patrick Henry Flaherty and lived in Troy, NY, but I don't know what part of Ireland their ancestors were from.
Stop by my website www.chadmirand.com and check out the castle on my home page—its Loughmoe Castle, home of my Purcell ancestors in Tipperary, Ireland. Someday I'll get there!
Slainte'
TYLER BY C.H. ADMIRAND – IN STORES MARCH 2011
Desperate times call for desperate measures…
When Tyler Garahan said he'd do anything to save his family's ranch, he never thought that would include taking a job as a stripper at a local ladies' club. But the club's fiery redheaded bookkeeper captures Tyler's attention, and for her, he'll swallow his pride…
And one good turn deserves another…
Emily Langley feels for the gorgeous cowboy. It's obvious that he's the real deal and wouldn't be caught dead in a ladies' revue if he wasn't in big trouble. And when he looks at her like that, she'll do anything to help…
Working days on the ranch and nights at the ladies' club, Tyler is plumb exhausted. But could it be that his beautiful boss needs him just as much as he needs her…
ABOUT THE AUTHOR
C.H. Admirand was born in Aiken, South Carolina. She has published 9 bestselling novels for the library market.  TYLER is her tenth book and her first mass market release. She lives with her husband, who is the inspiration for all of her heroes' very best traits, in northern New Jersey. For more information, please visit http://www.chadmirand.com.
Comment to win a copy of TYLER, two winners (US / Canada only)
To comment on C.H. Admirand's blog please click here.