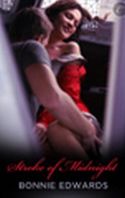 Hi everyone! It's great to be here and I have to thank the gang at Fresh Fiction for inviting me.
I've been learning something about "author branding" lately and trying like heck (okay I said heck but you know I mean the other h word – the hot one) to come up with something that suits me, the person, and me the author. These are not separate people to me. I don't know that I have a public persona. I'm just me, always.
I'm the sort of person who decorates a lovely staircase with a trailing philodendron under a skylight. It's all very elegant and pretty. Until, in a fit of irreverence, I slipped a purple glass garden slug on the side of a step overlooking my front hall. Yes. . .  look closely and you'll see my irreverent side. In every story I write, there's an edge of irreverent humor I cannot and will not suppress.
I take almost nothing seriously. Life's too short and if you like a little fun in your romance novels, sooner or later, you'll find me. And today, you'll find me in full form in STROKE OF MIDNIGHT, my newest release from Carina Press.
For excerpts of my other stories, you can check my website at www.bonnieedwards.com or even here, with the fab folk at Fresh Fiction who have been kind enough to provide me with an author page. How fun is that?
An unlikely Cinderella…
When hardworking single mom Jaye Sinns meets younger playboy Alexander Carmichael, the sexual chemistry between them is undeniable. So Jaye gives in to temptation and allows him to whisk her away for her first-ever vacation. Two glorious weeks of no inhibitions, no strings and no responsibilities.
A charming prince of a guy…
Life with Alex is every woman's fantasy—sizzling sex in the back of a limo, on a private plane, in exotic settings. But it's not enough to fulfill a woman like Jaye for long. No matter how hot the sex is.
A happy ending?
Alex is soon craving more than Jaye's body: he wants her love and admiration, too. For the first time in his life, he can't buy the thing he desires most; and now he must decide if he's willing to work at being the kind of man that Jaye needs, and give her the happily-ever-after she deserves.
To comment on Bonnie Edwards' blog please click here.