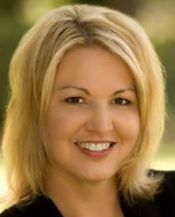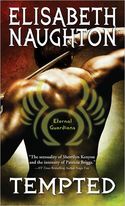 Thanks so much to the crew here at Fresh Fiction for inviting me to stop by during my TEMPTED blog tour!
TEMPTED is the third book in the Eternal Guardians series, and I'm thrilled readers are enjoying it so much. If you're new to the series, don't worry. You can easily pick up TEMPTED without reading the first two books and figure out what's going on. The Eternal Guardians are seven warriors descended from the seven greatest heroes in all of ancient Greece who defend the mortal realm from threats of the Underworld. Tempted is Demetrius's book. He's the biggest of the Guardians, a descendant of the famed hero Jason, and he harbors a dark and deadly secret. One that could destroy the world. But when the princess of Argolea goes missing, he's suddenly the only Guardian who can save her.
Fairy tales are packed with heroines who need rescuing. Most girls grow up fantasizing about the hunky prince who'll ride in on a white horse and save the damsel locked away in the tower. In the eyes of many, Isadora, the heroine in TEMPTED, is that heroine. She's timid, she's shy, no one thinks she's strong enough to rule, and when she goes missing at the beginning of the book, it looks like her days are numbered unless Demetrius can swoop in to save her. But looks are often deceiving and sometimes the person who really needs to be rescued isn't the one you expect.
I believe in staying true to character. I knew when I first met Isadora in MARKED, book one in the series, she was never going to be a kick-ass heroine who could decapitate a monster like the Guardians themselves. Readers wouldn't have believed that sort of change in her and it wouldn't have been an organic arc for her character. But even when she was cowering from the Guardians in MARKED and letting Demetrius belittle her in ENTWINED, I sensed she had this strength within her—a strength that she would eventually discover all on her own—and as she began to discover that change for herself (in TEMPTED), she became extremely interesting.
I love books that take traditional elements and flip them upside down. Strength doesn't only come from wielding a blade or kicking ass, it comes from within. It comes from standing up for what's right and having the courage to shape your own destiny. Watching Isadora transform from meek and timid and in need of saving to tough and capable and the one doing the saving is one of my favorite elements to this series so far. It's that fairy tale tipped upside down. When the "rescue" becomes the "rescuer" and nothing is as it seems. Until the end when you realize the damsel in distress isn't the one who needs saving after all. She's the only one who can save the day.
To celebrate the release of TEMPTED, Sourcebooks is giving away two copies of TEMPTED to two lucky commenters. To be entered into the drawing, Just leave me a comment telling me who your favorite non-traditional damsel in distress is. (US/Canada shipping only)
TEMPTED BY ELISABETH NAUGHTON – IN STORES SEPTEMBER 2011
DEMETRIUS—He's the hulking, brooding warrior even his fellow Guardians avoid. Too dark. Too damaged. And given his heritage, he knows it's best to keep everyone at arm's length.
Isadora is missing. The words pound through his head like a frantic drumbeat. For her own protection, Demetrius did all he could to avoid the fragile princess, his soul mate. And now she's gone—kidnapped. To get her back, he'll have to go to the black place in his soul he's always shunned.
As daemons ravage the human realm and his loyalty to the Guardians is put to the ultimate test, Demetrius realizes that Isadora is stronger than anyone thought.
And finally letting her into his heart may be the only way to save them both.
ABOUT THE AUTHOR
A former junior high science teacher, Elisabeth Naughton traded in her red pen and test-tube set for a laptop and research books. She now writes sexy romantic adventure and paranormal novels full-time from her home in western Oregon, where she lives with her husband and three children. Her work has been nominated for numerous awards, including the prestigious RITA Awards of Romance Writers of America, the Australian Romance Reader Awards, the Golden Leaf, and the Golden Heart. When not writing, Elisabeth can be found running, hanging out at the ball park, or dreaming up new and exciting adventures. Visit her at www.elisabethnaughton.com to learn more about her and her books. Her next book in the Eternal Guardians series, ENRAPTURED, will be in stores in April 2012.
To comment on Elisabeth Naughton's blog please click here.