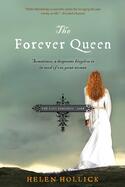 Before I started writing the novel that comes after The Forever Queen, I Am The Chosen King (Harold the King in the UK), I had not heard of Emma either.
You see, I wrote the Harold novel first, the story of 1066, the Battle of Hastings from the English point of view. Queen Emma was one of the more dominant characters, but in this book, she was introduced almost at the end of her life. I still had to research her though – and what a fascinating, intriguing woman she turned out to be!
The only woman to be Queen of England twice, married to two different kings and the mother of two more kings, with different fathers.
The next claimant to this sort of accolade is the more famous Eleanor of Aquitaine, who was Queen of France and then Queen of England. She also saw two of her sons crowned as King, Richard I and John – but they shared the same father, Henry II.
Emma was a Norman, from Normandy – North Man's Land – in other words, of Viking stock. She was married to King Æthelred II of England her marriage occurring probably between the age of thirteen to sixteen, although the younger age is more likely. The marriage was an arranged one of alliance, it is doubtful that the "happy couple" had seen each other before the betrothal.
Æthelred was a weak king who relied too often on his advisors who gave poor advice. His name reflects this, Æthelred means "noble council" but he soon became nicknamed (possibly even before his death) as Æthelred Unraed meaning "ill-counselled. Today we tend to call him Ethelred the Unready.
It is probable that Emma disliked her husband who was at least twice her age. He already had a maturing brood of sons by various concubine and common-law wives, so when her own two sons, Edward and Alfred came along Emma knew she would have a fight on her hands to see either one of them crowned.
When England fell to the invasion of Danish "Vikings" Emma had a choice. Flee into exile or stay and fight for the country that, by this time, had become her own. Exiled once already because of the ineptitude of her husband, once he was dead she was free to make her own decisions. She chose to keep her crown.
Her two sons, and two daughters, were sent to her brother, and safety, in Normandy and she made the new Conqueror of England an offer he would have been a fool to turn down.
There would be no more fighting, England would surrender to the Danes – providing he took her as wife and made her his Queen.
The man was Cnut, his name perhaps more familiar as Canute – the King who is famous for trying to stem the flood of the tide. That story is in The Forever Queen, but it did not happen quite as you think!
Their son, Harthacnut, eventually became King of England, although the whys and hows I will not mention here as I do not wish to spoil the novel too much. Suffice to say there was much intrigue, plotting, fighting and murder along the way.
After Harthacnut, Edward returned from Normandy and was crowned King. He had been in exile for over twenty years, and had embraced the Norman ways of life. He was to become Edward the Confessor, the King who died in 1066 with no heir to follow him. 1066 the year of the Norman Conquest, when Duke William, Emma's great nephew, claimed through his kinship to her, that England was his. But that, as they say, is another story!
Duke William and the events of 1066 must be set aside until March 2011 when I Am The Chosen King is published by Sourcebooks Landmark!
Emma intrigued me. She survived what was more than likely an unhappy marriage to Æthelred, endured a joyless motherhood, was exiled twice, saw one son murdered and reigned as regent for her second husband. She wielded influence, and for a while, power in what was a very much male-dominated world.
I decided to write Emma's story because I felt there should be an end to "Who was she?"
Emma was Queen before the Norman Conquest of 1066, the rich Anglo Saxon culture of England has been swept aside – relegated to the realms of the Dark Ages. Had Harold Godwineson won at Hastings that October afternoon in 1066, Queen Emma in the recorded chronicles of history would probably have outranked her more famous successor, Eleanor.
I wrote The Forever Queen as a small attempt to re-dress the balance of history – and as a tribute to a great and almost forgotten woman. I hope you enjoy her story.
THE FOREVER QUEEN BY HELEN HOLLICK – IN STORES NOVEMBER 2010
What kind of woman becomes the wife of two kings, and the mother of two more?
Saxon England, 1002. Not only is Æthelred a failure as King, but his young bride, Emma of Normandy, soon discovers he is even worse as a husband. When the Danish Vikings, led by Swein Forkbeard and his son, Cnut, cause a maelstrom of chaos, Emma, as Queen, must take control if the Kingdom—and her crown—are to be salvaged. Smarter than history remembers, and stronger than the foreign invaders who threaten England's shores, Emma risks everything on a gamble that could either fulfill her ambitions and dreams or destroy her completely.
Emma, the Queen of Saxon England, comes to life through the exquisite writing of Helen Hollick, who shows in this epic tale how one of the most compelling and vivid heroines in English history stood tall through a turbulent fifty-year reign of proud determination, tragic despair, and triumph over treachery.
ABOUT THE AUTHOR
Helen Hollick lives in northeast London with her husband, daughter and a variety of pets, which include several horses, cats and two dogs. She has two major interests: Roman / Saxon Britain and the Golden Age of Piracy–the early eighteenth century. Sourcebooks Landmark will release the next chapter on Helen's 1066 saga, I Am the Chose King, in Spring 2011. For more information, please visit Helen's website.
To comment for a chance to win please click here.