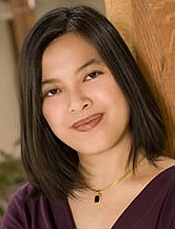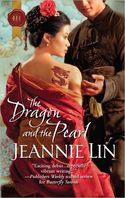 You know you've got one of these. The power suit that you feel you can take on the world in. That dress that always gets you compliments. We take on a different attitude and persona when we wear certain outfits and our characters are the same.
Clothing was especially important in the Tang Dynasty. Though the 8th century is often considered ancient or medieval, but in China this period was a Golden Age and the height of Silk Road trade—which meant it was also the height of fashion.
Elegant ladies wore flowing robes and experimented with gravity-defying hair styles. Bodices were elaborately embroidered and court ladies showed of a scandalous amount of skin. They wore lip stains and face powder and polished their nails.
Women weren't the only clothes hounds. Men also wore embroidered robes and it was fashionable to don vibrant colors as a show of wealth. There were even ordinances passed to regulate the length of sleeves  when fashion started favoring excessively long ones. At times, merchants, who were considered lower class, were prohibited from wearing colors as it seemed they were imitating the noble classes by doing so. Yet the wily businessmen continued to do so, wearing silk tunics beneath their robes so the color remained visible at the edge of the sleeve.
There was written evidence that society appreciated and recognized these trends. Poets wrote about women using the red polish of their nails to frame their face and draw attention to themselves. They complimented women for how they moved like flowing water, how their lips and eyebrows were drawn in fashionable shapes. Popular hairstyles were documented for posterity.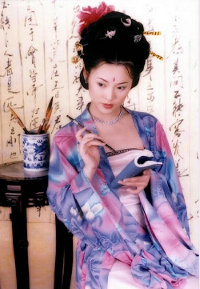 Imperial consorts were like the super-models of ancient China. Catching the eye of the Emperor was considered the ultimate favor and their styles were believed to inspire looks that spread throughout the empire. The legend behind the beauty dot on the forehead was that the Emperor saw how a flower petal had fallen upon his concubine's face and became transfixed by it. As a result, the other court ladies began drawing in the dot and the fashion was copied by noble women. Tang Dynasty fashions were so popular that the hanfu robe influenced kimono designs in Japan.
A theory about the origin of footbinding even traces the practice back to the imperial court in the 10th century Tang Dynasty (much later than when my stories take place!) or early Song dynasty. The dancing girls were known for having especially tiny feet and wore special bow shoes.
In THE DRAGON AND THE PEARL, the heroine is a trained courtesan and a former imperial consort. Costuming her was very important because she was a person who was accustomed to being always watched and admired. This plays into how she interacts with people, how she exerts status, how she commands attention, and thus power. It was a lot of fun working out how the hero, an austere warlord living a stark existence, reacts to her sensuous display.
THE DRAGON AND THE PEARL is available September 20 from Harlequin Historical and is set in the Tang Dynasty, during a time of court intrigue and a great power struggle between opposing warlords. It's a follow-up to my 2010 release, BUTTERFLY SWORDS. A linked short story, THE LADY'S SCANDALOUS NIGHT, is available as an ebook release now from Harlequin Historical Undone.
What are some other examples of costuming affecting character? I'll be giving away a free print copy of the DRAGON AND THE PEARL to one randomly selected visitor.
You can visit me at my website: http://www.jeannielin.com or check out THE DRAGON AND THE PEARL LAUNCH CELEBRATION for a chance to receive books and other Tang Dynasty themed goodies. I'm also on Twitter as @JeannieLin.
To comment on Jeannie Lin's blog please click here.