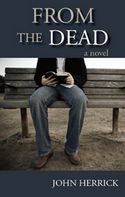 Overcomers intrigue me. When we find ourselves in a pit, our primary desire is to find our way out. Life's valleys aren't enjoyable. And when life throws a major challenge our way—a scary medical diagnosis, a loved one's death, a job loss—it hits us like an emotional blow to the gut. At that point, we begin a journey. We didn't ask for the challenge and wouldn't wish it on anyone. We feel unprepared. Insufficient. Alone. But step by step, we fight through it anyway. And eventually we see a glimmer of light.
Which brings me back to overcomers. We read books and watch news stories of those who faced a serious challenge and prevailed. These people (or characters) inspire us. But isn't it funny how most of these people didn't enjoy their hardships any more than we relish our own? If you think about it, the individuals who inspire us are ordinary people who got up each morning and took another step forward. They had a bad season like we do, but they refused to surrender. They serve as living proof that we, too, never need to give up. They made it through the valley alive—and so can we.
Perhaps that's why I love to write about overcomers. In my novel From The Dead, the main character, Jesse Barlow, hits rock bottom and attempts suicide. In fact, the first hundred pages trace his downward spiral. To be honest, writing those pages broke my heart. I looked forward to the next two hundred pages, which trace Jesse's upward climb out of his personal pit. On Jesse's redemptive journey, we watch him take life one step at a time. He looks at life through eyes of love: romantic love, love for family, and love for God. Jesse also allows himself to be loved. Love becomes the key to his victory. Although it's fiction, I hope Jesse's story encourages readers. I encourage you to share it with a friend or loved one in your life who needs a lift.
Has someone's novel or life story inspired you to press through an obstacle or reach a goal? Feel free to comment about it below. It may inspire another reader to press forward today.
Thanks for having me here at Fresh Fiction! I'd love to hear from you at my website, and invite you to follow my blog at johnherricknet.blogspot.com.
To comment on John's blog please click here.