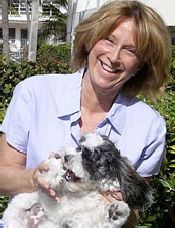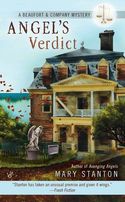 There's a perfectly delightful movie about an Archangel with a screenplay by Nora Ephron called MICHAEL

. In an interview subsequent to the film's release, somebody (inevitably) asked Ms. Ephron if she believed in angels. She replied something to the effect that no, she certainly didn't, but they were terrific to write about. She's right. They are. After initial terrified trepidation—my response whenever I start a new project, whether it's angels or not—I'm having a wonderful time with my Beaufort &Company series from Berkley Prime Crime.
My protagonist, Brianna Winston-Beaufort, is a newly-hatched lawyer who discovers that she's inherited her Great-uncle Franklin's legal speciality; to handle appeals cases for souls condemned to Hell. Bree is a rational woman. Her chosen field of expertise is corporate tax law. She's twenty-eight when the series begins, with a gym habit and a much-loved, if annoying little sister and warm-hearted parents with a habit of loving interference in Bree's affairs.
Like her creator, Bree is frankly skeptical about the appearance of beings from the afterlife in her present life. And again like her creator, Bree quails at the beginning of each new case.
Although I began my writing career twenty-five years ago with two adult fantasy novels, and a series from Scholastic about unicorns for middle grade readers, my career has been aimed at mysteries. I'm addicted to reading them, and my particular addictions are wide-ranging, from Reginald Hill, Stig Larsson and Lee Child right right across the border to Ann B. Ross and the inimitable Miss Julia Springer.  But I agonize over writing them; even after twenty-some Hemlock Falls cozies as Claudia Bishop, I whine, gnash my teeth tear my hair and generally drive my family berserker-bananas for months before I actually sit down and write the novel that was due last Tuesday. Then I write it. Then I'm happy. Then Berkley says, "Sure, why don't we do another Hemlock Falls novel?" and I start the whole miserable cycle all over again–even though I'm dealing with a whole cast of characters I love profoundly; that I know as well as I know anything in this life; and whose exploits are a pleasure to construct.
When Berkley agreed to my proposal for Beaufort & Company, my husband promptly asked our family doctor to prescribe me a super-size bottle of Xanax (no such luck, alas.) He was right to be wary. The burden of adding a well-designed, non-secetarian celestial universe to the already heart-sinking chore of writing an original mystery sends me into a tail-spin every single time. (I think it's the considerable chore of establishing a willing suspense of disbelief in the mystery reader—a being whom I've always envisioned as being smart, canny, and slightly cynical about the worthiness of one's fellow man.) In the Beaufort &Company novel I just turned in, ANGEL CONDEMNED, I took an additional risk, and added some dramatic depth to my protagonist.
So, even though I write about angels, I'm not at all angelic about how I do it. The thought of devising yet another challenging case for Bree and her celestial circle drives me crazy. It drives my poor family crazy. Then I sit down and write the novel that was due last Tuesday, and start all over again.
MARY STANTON is the author of five novels in the paranormal Beaufort & Company mystery series.  There may be a sixth if her nerve holds. As Claudia Bishop, she is the author of two other series, THE CASEBOOKS OF DR. MCKENZIE, and the INN AT HEMLOCK FALLS mysteries.
To comment on Mary Stanton's blog please click here.