Pre-Order THE SUTHERLANDS For Only 99¢ and Help The Reach Out and Read Charity
Looking for a way to do good and read hot? Check out THE SUTHERLANDS, a sexy contemporary romance anthology that tells the story of one family with 11 brand-new, full-length novels and novellas for only 99¢. Twenty percent of the royalties earned from each sale will go to the Reach Out and Read charity, which incorporates early childhood reading into well child doctors' visits.
Inside The Sutherlands you'll find:
Twenty percent of the royalties earned from each copy of THE SUTHERLANDS sold will go to help Reach Out and Read, a non-profit organization that gives young children a foundation for success by incorporating books into pediatric care and encouraging families to read aloud together.
This year, over one million children in the U.S. will enter kindergarten without the language skills they need to learn and succeed. As these children progress through school, they are more likely to fall behind, and stay behind. When families read aloud to their young children, they can give them a better start to life. With unparalleled access to families with young children, Reach Out and Read medical providers give books to children at more than 10 well-child visits from infancy until they start school. More importantly, they encourage families to read aloud and engage with their infants, toddlers and preschoolers every day.
Reach Out and Read currently serves 4.5 million children across the U.S., half of whom are from low-income families. Children like Ruby, a seven-year-old girl who faced significant challenges in her early childhood. Fortunately, Ruby's pediatrician is a Reach Out and Read doctor, who has encouraged her mom to read aloud to her every day, and given her books of her own to keep. He says, "With Ruby's background, I would have expected her to struggle at school, but at her last checkup, her mother told me that she is in advanced reading and attributed her success to the Reach Out and Read program."
Research shows that Ruby is not alone – our program results in more frequent reading at home, accelerated vocabulary and critical brain stimulation. And because over 21,000 medical providers voluntarily integrate Reach Out and Read into pediatric checkups, it costs only $100 to support a child for the full 5-year Reach Out and Read program.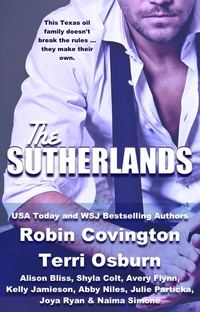 The Sutherlands: One Family Saga, 11 Sexy Stories
This Texas oil family doesn't break the rules…they make their own.
These brand new stories are sexy full-length novels and novellas about the Sutherland family alpha heroes and kickass heroines, from USA Today best-selling author Robin Covington, Wall Street Journal best-selling author Terri Osburn, Avril Ashton, Alison Bliss, Shyla Colt, Avery Flynn, Kelly Jamieson, Abby Niles, Julie Particka, Joya Ryan and Naima Simone. You'll find your next book boyfriend in this family saga filled with stories featuring cowboys, boxers, millionaires, interracial love, gay romance, straight romance, action-adventure, new adult thrills and second chance romance.
This box set will only be available until April 15, 2016 and 20% of royalties earned from the sale of the box set will be donated to Reach Out and Read.
Reach Out and Read is an evidence-based, non-profit organization of medical providers who promote early literacy and school readiness in pediatric exam rooms nationwide by integrating children's books and advice to parents about the importance of reading aloud into well-child visits. Reach Out and Read builds on the unique relationship between parents and medical providers to develop critical early reading skills in children, beginning in infancy. Reach Out and Read serves nearly 4.5 million children and their families annually.