Finally! There is a little bit of a nip in the air, the kids are back in school, and you can almost hear an audible sigh of relief! Fall is Here!
And with the beautiful falls days to come, there is a multitude of fresh new cozy mysteries to be enjoyed! So, with no further ado . . .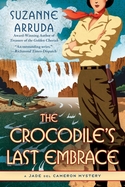 THE CROCODILE'S LAST EMBRACE: A Jade Del Cameron Mystery by Suzanne Arruda
Obsidian: $15.00
No one does historical mysteries better than Suzanne Arruda, and her Jade Del Cameron Mysteries, set in the 1920s, are always thrilling adeventures – and her latest book, THE CROCODILE'S LAST EMBRACE is no exception!
Returning from Europe, intrepid explorer Jade del Cameron arrives in Kenya with bittersweet memories-and the certainty that Africa is her home and Sam Featherstone the man she wants to share her life with. When a letter arrives from America, Jade hopes it's Sam sending word of his return. Instead, it's a message written in the hand of her long- dead fiancé, asking "Why did you let me die?" When two men die under mysterious circumstances and Jade discovers that her old nemesis, Lilith Worthy, has escaped from prison, the deaths and the letter form the most dangerous case Jade has ever faced, pitting her against a ferocious crocodile-and an even more deadly human killer.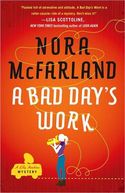 A BAD DAY'S WORK: A Lily Hawkins Mystery by Nora McFarland
Simon and Schuster; $14.99
Nora McFarlan's debut novel is a lively, suspense filled story that is sure please mystery fans with its look at the behind-the-scenes of television news reporting.
Nothing seems to be going Lilly's way. A TV news photographer at her hometown television station, she's one of the hardest working "shooters" there, but her pit-bull personality and a series of unlucky blunders have put her job in jeopardy.
So when an urgent story breaks in the middle of the night, Lilly is determined to turn her bad luck around and get the respect she deserves. But the pressure is on; either she delivers amazing video or she's fired. After busting her butt and dodging the cops, Lilly has what could be the biggest scoop of her career – exclusive video of a murder scene. Or does she have it? Lilly is stunned when the tape played in front of the entire newsroom is nothing but dead air.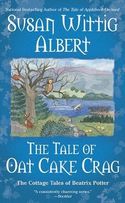 THE TALE OF OAK CAKE CRAG: The Cottage Tales of Beatrix Potter by Susan Wittig Albert
Berkley Prime Crime; $23.95
Susan Wittig Albert's charming Cottage Tales of Beatrix Potter series continues with THE TALE OF OAK CAKE CRAG. Brew up a cup a tea and enjoy the adventures of the famous children's author and her friends, both human and animal!
In the Lake District, noisy test flights of the new hydroplane are disrupting life in the village of Near Sawrey. Miss Beatrix Potter can barely hear herself think-which she needs to do for the new case she's just taken up. Her friend Grace Lythecoe has been receiving some anonymous letters, threatening her good name. Now Beatrix must proceed quietly, so as not to arouse village gossip. And while her visit to Near Sawrey has proven to be anything but quiet, there is yet another piece of business for Beatrix to address: that of her own future. When she's offered a second chance at love, she decides that sometimes causing a disturbance can be well worth the trouble.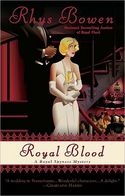 ROYAL BLOOD: A Royal Spyness Mystery by Rhys Bowen
Berkley Prime Crime; $24.95
In ROYAL BLOOD, the fourth book in her A Royal Spyness Mystery, author Rhys Bowen once again delights her readers with the antics and adventures of Her Sleuthiness Lady Georgie as she solves mysteries and avoids scandals.
Penniless and thirty-fourth in line to the throne, Lady Georgiana Rannoch finds herself in a truly draining state of affairs. To escape her hateful brother, Georgie accepts an invitation from the Queen to represent the royals at a wedding in Transylvania. But at the macabre- looking castle, Georgie finds the bride with blood running down her chin, and a wedding guest is poisoned. Now it's up to Georgie to save the nuptial festivities before the couple's vows become: to love and to cherish, till undeath do them part…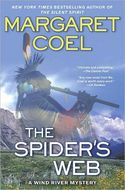 THE SPIDER'S WEB: A Wind River Mystery by Margaret Coel
Berkley Prime Crime; $24.95
When it comes to Native American mysteries, Margaret Coel's Wind River series is the absolute tops. THE SPIDER'S WEB is the 15th book in this series and is consistently as intriguing and well written as the previous 14.
When Arapaho Ned Windsong is shot to death, his fiancée Marcy is the only witness. Even though she identifies two Arapaho troublemakers, Ned's family clings to the belief that Marcy herself was responsible. Convinced of Marcy's innocence, Vicki agrees to represent the outsider- and finds herself at odds with her own people.
She also finds herself at odds with Father John, because the mission priest has glimpsed something in the beautiful girl that shakes him to his core. And when the men Marcy has accused of murdering her fiancé are found dead in an abandoned barn, Vicky and Father John realize they are caught in a web of lies and deceit woven by a master.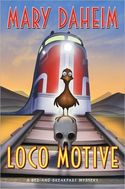 LOCO MOTIVE: A Bed and Breakfast Mystery by Mary Daheim
William Morrow Books; $23.95
Its been a couple of years since Mary Daheim's last Bed and Breakfast mystery, but she come roaring back with the 25th book in the series, LOCO MOTIVE, and it's a doozy!
It's autumn at Hillside Manor B&B, and with the changing leaves come some unexpected guests. There's Judith's son and daughter-in-law, with their two children in tow, a couple with an impossible (and unbelievable?) last name who show up from nowhere, and a pair of giggly young women who don't seem to know where they're going. As Halloween draws nigh, Judith can barely cope with her gala of guests, but at least the worst guest from the first part of the week checks out—almost permanently. Wee Willie Weevil, infamous daredevil and martial-arts movie icon, insisted on performing his dangerous stunts from Judith's roof and left the B&B via an ambulance.
Hoping to escape the domestic mayhem, Judith agrees to accompany her cousin, Renie, on a cross-country train trip to Boston with first-class accommodations on the Empire Builder. Judith's bubble bursts when she discovers that Wee Willie and his entourage are fellow travelers. Although confined to a wheelchair, the diminutive stunt man seems capable of derailing the cousins' vacation.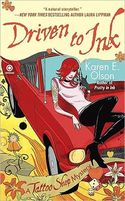 DRIVEN TO INK: A Tattoo Shop Mystery by Karen Olson
Obsidian; $6.99
Roll up your sleeves and prepared to be inked by the best tattoo artist in Vegas – oh and she's pretty good at solving mysteries too! Book No. 3 in this series!
After discovering the corpse of a Dean Martin impersonator-sporting a spider web tattoo and a clip cord from a tattoo machine wrapped around his neck, Brett infiltrates That's Amore, a drive-through wedding chapel, as a bride-to-be looking for the mark of a murderer.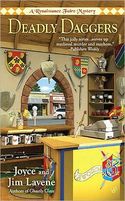 DEADLY DAGGERS: A Renaissance Faire Mystery by Joyce and Jim Lavene
Berkley Prime Crime; $7.99
Hear ye, Hear ye – the Renaissance Faire is back in session and mysteries and adventure abounds! Book No. 4 in this series.
Jessie Morton's latest apprenticeship at the Renaissance Faire is in service to Daisy, the master swordsmith. But when a professional dueler-and Daisy's former flame-is murdered, it's up to Jessie to keep a sharp eye out for the killer.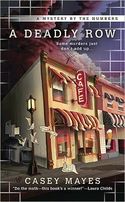 A DEADLY ROW: A Mystery By The Numbers by Casey Mayes
Berkley Prime Crime; $7.99
The first in a new series featuring math puzzles!
Math whiz Savannah Stone makes a living creating Math puzzles in rural North Carolina. But when the mayor starts receiving death threats, Savannah needs to solve this puzzle-before the next box to be filled is the mayor's coffin.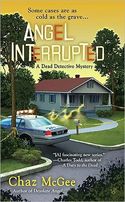 ANGEL INTERRUPTED: A Dead Detective Mystery by Chaz McGee
Berkley Prime Crime; $7.99
Book two in this otherworldly series pairs Detective Maggie Gunn with her deceased partner as they tried to solve the mysteries that haunt their town.
A nurse has been murdered in her home. Across the street, a young boy has been abducted from park. I'm not sure they are connected, but Maggie and I are on the case. See, I can go places she can't, and I know things she doesn't. For the culprit is consumed by darkness – and I'm the only one who can drag the monster into the light.
SCOOP TO KILL: A Mystery a La Mode Mystery by Wendy Lyn Watson
Obsidian; $6.99
A perfect treat for the end of summer days can be found in Book two of Wendy Watson's delicious series!
During the local college's annual Honor's Day festivities, a graduate student is killed. When the English professor suspected of his murder also meets an untimely end, Tallulah Jones steps out from behind the counter of Remember the a-la-Mode to clear the professor's name-before anyone else gets put on ice
BUZZ OFF: A Queen Bee Mystery by Hannah Reed
Berkley Prime Crime; $7.99
This debut novel is a "honey" of a mystery! With its unique theme of beekeeping at its heart, Hannah Reed delivers a hive-full of fun with BUZZ OFF!
After her mentor in the honey business is found suspiciously stung to death in his apiary, beekeeper Story Fischer must sort through a swarm of suspects, including her ex-husband.
Hannah Reed has graciously agreed to be the next in my Author Interview series here at the Cozy Corner, so be sure to stop back by at the middle of the month and see what this lovely lady has to say about stepping into the cozy mystery business!
Ok, that should keep all of you mystery lovers business for a little while! I'll be on the outlook for more of our favorite genre to bring to you next month. Until then, enjoy the pretty fall weather, and cozy reading, ya'll!
---
Sharon Chance has been a freelance entertainment journalist for the past fourteen years. As a regular contributor to the Wichita Falls Times Record News, she has written well over 1,600 articles covering everything from concert and movie reviews to museum openings to interviewing some of the top musicians performing today, including members of Bon Jovi and Guns and Roses.
But her true love lies in the world of books. A voracious reader from a young age, Sharon began reviewing books at the urging of her sister-in-law, who was a big fan of the Oprah Winfrey Book Club. What began as a simple fun attempt at sharing her views of books she enjoyed has developed into a work of passion for Sharon. In addition to being a senior book reviewer for the Times Record News, Sharon is also a regular guest contributor for the Las Vegas Review Journal's Book Nook, as well as having written for several other publications.
A distant relative of the great Edgar Allan Poe, Sharon has a fondness for mysteries, especially those of the cozy kind. In her new column, Sharon's Cozy Corner, Sharon hopes to bring news of the latest in the cozy mystery genre, as well as insightful interviews with the authors who write them.