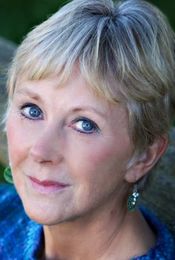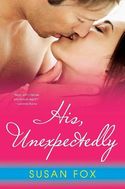 I'm delighted to be at Fresh Fiction today and I look forward to chatting with readers.
People who've read my books won't be surprised to hear me say that, for me, it's all about the characters. My plots only exist to send my characters on challenging emotional journeys where they confront deep insecurities and fears. If they're to win love, they have to find the courage to do some growing. We writers call that "character arc."
Jenna, the heroine of my February release (chosen by Publishers Weekly as one of the Top 10 Romances of Spring 2011!), is a woman I've known for a while. That's because HIS, UNEXPECTEDLY is the third book in my sexy "planes, trains, automobiles, and a cruise ship" Wild Ride to Love series about the four Fallon sisters.
I knew from the first book that Jenna, the third sister, is viewed by her family as a flaky eccentric, and that she sees herself as a free spirited butterfly who flits from place to place, job to job, and man to man as the mood strikes her. I knew that Jenna would need a very special kind of guy to make her consider commitment, and so I sent her a sexy science guy who's been brought up to believe that fun is pretty much a sin. Opposites attract, right? But then what?
Well, the obvious! LOL. Yes, there's chemistry and lots of sexy hijinks as they take a road trip up the coast from Santa Cruz to Vancouver, BC (picnicking at sunset, skinny dipping, camping out by the beach). But if you know my writing, you know there's always a deeper side, and some serious issues for my characters to deal with. When I started writing HIS,UNEXPECTEDLY, I didn't know the details of Jenna's or Mark's deeper issues, so for me the writing of the book was a process of revelation (another journey!) – as I hope it will be for readers.
I'm not going to give away their secrets here, but I will say that it was a bit of a surprise for me to find out that both of them had structured their lives to cope with a deep pain: the belief that they would never be truly loved. Of course a belief like that comes from experience – very hurtful experience. And it takes a lot of guts to overcome such a deep-seated belief and find the courage to risk your heart. To do that, you need really strong motivation. And what stronger motivation is there than falling in love?
For Jenna and Mark, their road trip is indeed a wild ride to love, with a lot of bumps and detours along the way. That's the case in all my Fallon sister books: SEX DRIVE (Dec 2009), LOVE, UNEXPECTEDLY (Feb 2010), HIS, UNEXPECTEDLY (Feb 2011), and YOURS, UNEXPECTEDLY (Dec 2011). Each sister embarks on a physical journey, her traveling companion is a very special man – and for both of them, the journey becomes an emotional one as well.
I'd love to hear your thoughts on road trips and emotional journeys, both from personal experience and from any books or movies you've particularly enjoyed. Someone who comments will win an autographed copy of HIS, UNEXPECTEDLY.
To comment on Susan Fox's blog please click here.