Welcome to Fresh Fiction! Please tell us a little bit behind the inspiration for Big Chance Cowboy and the Big Chance Dog Rescue series.  
Once upon a time, there was an author who though it would be cool to write a series with heroes who were veterans helping veterans and rescuing horses. Her agent said, "Well, let's make them cowboy army veterans, and put them in Montana!"
The author went to a book lover's convention, where she roomed with another author whose day job is to train service dogs for vets with PTSD, and she had her dog, Goose, with her. Goose was completely professional when working, and the author did her best not to distract the working dog, but the author and Goose became great friends during down time (when Goose took off her vest and the author got to take off her Spanx).
The author met with an editor to pitch her cowboy series, and the editor said, "I love it, but I think we just acquired some veterans with horses…what about something else?" And the author whipped out the brochure for Got Your Six Support Dogs, said, "What if our cowboy army veterans rescue dogs and train them to be service animals for other veterans?" and the editor said, "I really love it!"
The next day, the author got a call from her mom, to tell her that her dad, who'd been sick for a long time, had passed away. This was sad, but not terribly shocking, so the author thought she was fine. She changed her flight plans to go home the next day, and returned to the conference, where she ran into Goose–who immediately put her paws on the author's shoulders and gave her a kiss, because Goose recognized what the author didn't–she was really freaking sad and stressed out about being so far from her family on this awful day. Every now and then, throughout the rest of the day, Goose asked for hugs and pets, and distracted the author just a tiny bit and made her grief easier to bear. 
Since then, I got one of my own dogs, Stella, certified as a therapy pet—until her arthritis got too bad, we would visit veterans at our local VA hospital. I also rescued another dog, Homer—who is the inspiration for D-Day, in Big Chance Cowboy.  
Adam Collins suffers from PTSD after a mistake while he was deployed disbands his unit. He only plans on staying in town long enough to make sure his family is ok and sell the family ranch. What changes his mind to stay on longer?
I don't want to give away too much, but it's safe to say that Adam has to learn that the people he loves need him in their lives, and that he's not responsible for shouldering everyone else's pain. He gets this message in a variety of ways, with the help of a big goofy dog, and a spunky woman with a plan.
Lizzie Vanhook, Adam's jaded high school sweetheart, has also returned to their hometown, somewhat against her will. And when she realizes Adams is the one person who can help her with her new dog, D-Day, she's cautious but optimistic. What are your favorite things about Lizzie? 
Lizzie's had her heart broken–a long time ago by Adam, and again recently by a guy she thought she'd be with forever. But that jaded thing? That's temporary. Lizzie's an optimist, and a git 'er done kind of a girl. She doesn't come home to hide out from the world (like a sexy cowboy veteran we know). She's there to get right back on the horse and live life with gusto.
Adam and Lizzie are a second chance romance – a wonderfully delicious romance trope! Because they already have a past together, what does this change about the dynamic of their current situation? 
A second chance romance is great because there is shared history, but even when two people experienced the same event, they viewed it through different lenses–and it affected them differently. Lizzie thought Adam had rejected her way back when because he didn't want her–but in reality, he pushed her away because he didn't think she needed a guy who would take advantage of her when he knew he'd be gone the next day–maybe forever.
Those feelings have persisted–and both parties need to learn to believe in themselves so they can be together.
Dogs play an important part throughout this novel – military duty, adoption, rehabilitation. . . why was it important to you to create these multifaceted canine characters? 
It wasn't planned–it just happened! Dogs have such individual personalities, I think they all deserve representation.
The town of Big Chance, Texas, felt like another character in your novel! Is it based on a real place or completely of your own creation? 
It's completely fictional. I can't remember where I came up with the name–I think I was brainstorming about having a small town in big Texas. I mentioned above that this series was going to be in Montana–but I moved it to Texas when I realized that all military dog training (or at least a huge part) happens in Texas. I spent a lot of time on Google maps figuring out exactly where this town should be–and a lot of time emailing my friend Dawn asking questions like, "Hey, do you have crawdads in Texas?" and "Do you play cornhole in Texas? And do you call it 'cornhole?'"
What can readers expect from you next? 
Marcus is up next, and he's going to be learning some life lessons from Adam's sister Emma. I'm currently working on Jake's story. He's giving me a bit of a hard time, possibly because the traumatic brain injury situation is a little close to home. . . but that's another story!
Rapid Fire Random Questions
Favorite Romance Trope:  I have two: Best friend's sister and secret baby. I've never written a secret baby, though. I think a best friend's sister with a secret baby would be the bomb, don't you?
Go to mani/pedi nail polish color:  Polka dots (Wait, that's not a color, is it?). Black, white, and red polka dots.
Do you dog-ear or use a bookmark in your books?: I try really, really hard not to dog-ear a book, but I can never find a bookmark when I need one, so I usually use a receipt. Or gum wrapper. Or if I'm being fancy and reading hard-cover, the flap of the dust jacket.
Pancakes or waffles?: Pancakes
Favorite book from childhood: Charlotte's Web. I still cry every time that stupid spider (SPOILER ALERT!) dies.
Morning person or night owl: Reluctant early bird, if it's about getting writing done–my brain shuts down after noon. But I also have insomnia, so I spend a lot of the dark hours being grateful for the Kindle app on my phone!
First thing you'd splurge on if you won the lottery: Probably a new laptop. This one's getting a little persnickety.
A song that will always cheer you up: Hmm. "Uptown Funk" or anything by the Grateful Dead. I guess it depends on whether I'm wearing Chucks or Birkenstocks. If I'm in cowboy boots, then I'd have to go with "Friends in Low Places."
Favorite season: Fall.
You have a totally free afternoon – no deadlines, no obligations, no Twitter notifications!  What do you do?: Sit on the back porch with a tall glass of iced tea and watch the clouds float by.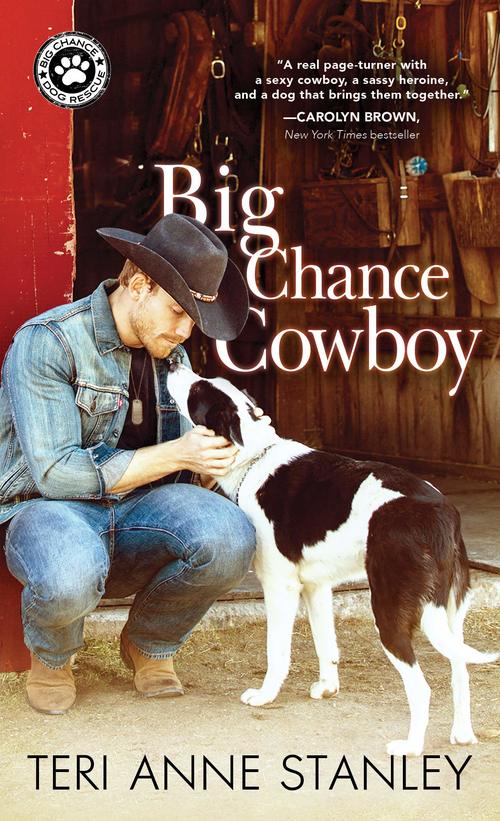 When dog handler and ex-soldier Adam Collins returns home to Big Chance Texas, he knows he's all out of luck. He's ready to sell the family ranch and move on to a quiet life–no more dogs, and no more people. But the ranch quickly becomes a refuge for his ex-army buddies–and a determined past love who marches back into his
life…
When Lizzy Vanhook arrives in town, she's ready to make a difference. Starting with the furry, unruly stowaway who's wound up in her life. And Adam is the only one she knows who can help. But when her plans lead to rescuing pit bulls from a dog fighting ring and re-homing them at Adam's Ranch, it will mean confronting Adam with the pain of the past. And he must finally decide if he can let it go–and fight for a future with those he loves.
Romance Contemporary | Romance Western [Sourcebooks Casablanca, On Sale: August 27, 2019, Mass Market Paperback, ISBN: 9781492674337 / ]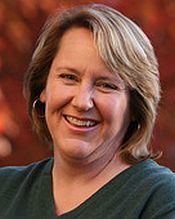 Teri Anne Stanley has been writing since she could hold a crayon–though learning to read was a huge turning point in her growth as a writer. Teri's first stories involved her favorite Saturday morning cartoon characters, followed by her favorite teen idols. She has also authored a recipe column (The Three Ingredient Gourmet), and scientific articles (Guess which was more interesting!). Now she writes fun, sexy romance filled love, angst and nekkid parts.
Teri's career has included sex therapy for rats, making posing suits for female body builders, and helping amputee amphibians recover to their full potential. She currently supplements her writing income as a neuroscience research assistant. Along with a variety of teenagers and dogs, she and Mr. Stanley live just outside of Sugartit, which is–honest to God–between Beaverlick, and Rabbit Hash, Kentucky.
***
Fresh Fiction Editorial Manager Danielle Dresser is an avid reader, lackluster-yet-mighty crafter, and accomplished TV binge-watcher. Once upon a time, she was a publisher publicist and continues to cultivate her love of books and reading by chatting with the best authors in the business. She lives in Chicagoland with her very own romance hero husband, darling daughter, and two tempestuous cats. Follow her on Twitter and Instagram, @dj_dresser.