It's that time of year when all the holiday meals, goodies and treats surround us with the aromas and tastes to kill for… at least in fiction. Hopefully in real life, people will stop short of murder and share a bite of their decadent deserts with their loved one sitting at the table next to them. But with food on my brain twenty-four seven, (no, I'm not pregnant, I'm planning the shopping list for my son's return from college), I found myself drawn to two new releases featuring a quilt shop owner hosting a sleigh ride that makes a stop at every shop in town for a course in the holiday meal, and a food critics adventures at a tropical restaurant enlisting her houseboat up for a lighted boat parade.
Remember to take a break through the holidays and pick up a copy of one of these great cozy mysteries. You don't want to miss these quirky characters, loveable pets, and great settings for a mystery to remember. Look for the added bonuses of tips on how to make an Amish quilted snowman and learn recipes to die for!
MURDER, SERVED SIMPLY by Isabella Alan

MURDER, SERVED SIMPLY

Amish quilt shop owner Angie Braddock has a lot on her plate this Christmas. But things only get worse after someone develops a taste for murder…

Angie's parents are visiting Rolling Brook for Christmas—but unfortunately, her ex is joining them. Luckily, Angie has no time to dwell on her romantic troubles as she prepares her store, Running Stitch, for the town's traditional progressive dinner, featuring a sleigh ride stopping at each shop for a different course of the meal.

The meal ends with an Amish-themed Christmas play at the Swiss Valley Hotel and Barn. But the performance is cut short when an actress falls from the scaffolding to her death. After the sheriff suspects foul play, tensions between the Amish and Englisch heat up, as do rivalries among the acting troupe. Now Angie and her quilting circle must stitch together clues before they're the ones running for cover…
DEATH WITH ALL THE TRIMMINGS by Lucy Burdette

DEATH WITH ALL THE TRIMMINGS

The only snow in Key West this Christmas is Hayley Snow, food critic for Key Zest magazine, who is not getting time off for the holiday…or time off from murder.

It may be Christmastime, but thoughts of peace on earth, good will toward men, don't seem to extend to the restaurant biz. Hayley has been assigned to interview Edel Waugh, chef/owner of Key West's hottest new restaurant. But off the record, Edel reveals someone's sabotaging her kitchen and asks Hayley to investigate.

Things heat up fast when the restaurant is set on fire—and a body is discovered in the charred wreckage. Is someone out to destroy the chef's business—or actually kill her? Amid holiday festivities like the lighted boat parade and visiting relatives who stir up mixed emotions, Hayley needs to smoke out an arsonist and a killer who may turn up the heat on her next…
Until next week, get cozy and read on!
About Kym Roberts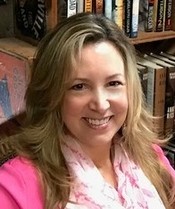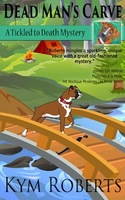 Kym Roberts is a retired detective sergeant who looks for passion, mystery and suspense in every book she reads and writes. She can be found on the web at kymroberts.com, on Facebook at Kym Roberts (author) and on Twitter @kymroberts911. Look for her latest release, DEAD MAN'S CARVE, A Tickled to Death Mystery on Amazon. (All proceeds will be donated to wounded veterans)