Brother, Sister, Can You Spare a Job?
In the wake of the collapse of Borders Books & Music many forget about the numerous people who rely on the company for a paycheck. There is a movement to help the Borders employees who find themselves unemployed. Half-Priced Books has issued a nationwide memo encouraging Borders employees to apply for employment at one of the Half-Priced Book locations found in sixteen states. The initial statement was posted on a blog called Help Ex-Borders Employees started by Colleen Lindsay, an employee at Penguin Group. Lindsay's motivation for creating the blog was stated as: we try to look after our own."
An American Classic Turns 50 — CATCH-22
This October we will be celebrating the 50th anniversary for the publication of CATCH-22 by Joseph Heller. Publishers had started to announce how they plan to celebrate the occasion. This week ONE CATCH: A biography of Joseph Heller by Tracy Daugherty will be released. It will be the first full biography on the author. Later this month Erica Heller will release YOSSARIAN SLEPT HERE, a memoir of her father and A 50th anniversary edition of CATCH-22 is planned to be released in the spring.
Rumors, Series, and Fantasy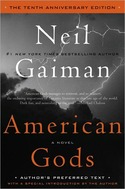 Most of the time rumors are hurtful. Every now and then you wish they were true. When it comes to the rumors surrounding HBO's adaptation of AMERICAN GODS by Neil Gaiman I wished everything I have heard would come true but Michael Lombardo and Richard Plepler of HBO have shed some light behind the actual progress of making the novel into a HBO series. It has been reported that the series has been secured for six season, even though the concept is still in pre-production. Lombardo stated that the length of the series hasn't even been discussed yet. Many have speculated that the success of the series Game of Thrones has put the production of the American Gods series in jeopardy. Lombardo and Plepler want fans to know that the success of one series has no effect on the production of another. Even though both have fantasy elements the stories are different on many levels. Fear not Gaiman fans, we may not have the instant six seasons we wanted but Shadow and friends should be gracing our TV sets as planned.