I'm time travel romance author Angela Quarles, and I'm excited to be here on Fresh Fiction. The first book in my new time travel series is out this week from Entangled Publishing–Some Like It Plaid–and the bulk of it is set in Roman-era Scotland.
Writing a book set in the past is challenging for a number of obvious reasons, one of which is trying to bring a reader into that time period–a time period we've never seen ourselves. I bought scads of scholarly works and immersed myself in the era before and during the drafting process. But one of the main sources that proved extremely helpful came about quite by accident.
I was in Scotland the summer before last, researching the setting by visiting museums that still housed Roman artifacts, as well as by tramping to whatever bits of the Antonine Wall and its buildings were still visible. It was while I was visiting the Auld Kirk Museum in Kirkintilloch to see its Roman exhibit that I came across a docent who, when I asked if there were other places I should see related to the Antonine Wall, told me of a historical reenactment happening during my stay. "Look for my husband Martin, he'll be dressed as a centurion," she advised.
So on my last day in Scotland, I drove down to Dumbarton Castle for the Rock of Ages event–a living history demonstration on their grounds featuring reenactors from different periods of Scottish history. A stream of people with their kiddoes in hand were going through the ticket gate, which made this history-lovin' gal happy.
I made straight for the Roman encampment and found her husband, who quickly took me under his wing and introduced me to the other reenactors. I peppered them with questions and took loads of pictures and video, even down to pics of the soles of their shoes.
Martin and some of the other helpful reenactors
It's these tiny details that can bring history to life and help a writer. I got a much better sense of what a Roman encampment would be like than I could ever read in a book. For instance, one can learn from a book that red was a typical color for their tunic and shields, etc., but seeing it live drives it home—that's a lot of red in one spot and that kind of visual helps paint the picture for the reader.
One did a prayer to Mithras for me and told me about the different religious rituals typical for a Roman soldier. Lots of these little tidbits and more I was able to sprinkle into scenes and bring them alive.
Recently I was talking to another writer about her 1940s-era novel and she mentioned off-handedly that she couldn't quite picture a certain artifact she'd read about in her research. I suggested she look for a World War II reenactment group, as I felt sure they'd have one near where she lived, and she was excited about the idea—it hadn't occurred to her as a resource.
Reenactors research the heck out of their chosen time periods, and are usually very eager to share that knowledge. Thank you, members of The Antonine Guard, for helping me flesh out my scenes!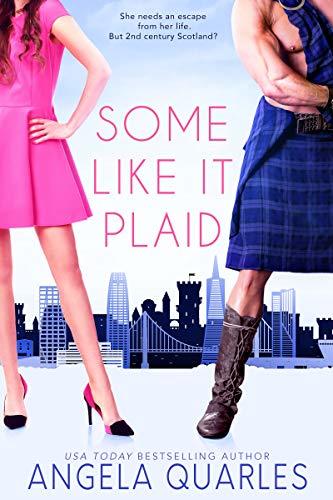 When Ashley Miller sees a Craigslist ad for an all-expense paid vacation to Scotland with a handsome Highland "escort", she's all over it. Worn out from working two jobs to pay off the debts her scam artist ex-husband left her with, she just needs a friggin' break already. Rolling, misty mountains of the Scottish Highlands, here she comes!
But one minute she's sipping a latte and the next she's zapped to the 2nd century and promptly informed she's managed to wed her handsome Highlander without even an "I do." Oh, hell no.
After a devastating tragedy, Connall's tribe is left with few marriageable women. When his Druid priest suggests a place filled with bonnie lasses, he of course agrees to go fetch one for himself. But nothing prepared Connall for his sassy new wife, nor his tribe for a woman determined to see equal rights for all women.
Now the men are threatening revolt if he can't rein his young wife in, but it might be too late. The women are demanding the men get "woke"–which of course makes no sense because they already woke that morn–and give women "the vote," whatever the bloody hell that is. Despite all that, Connall can't stop wanting to convince his wife to get naked, and he's starting to wonder if he's been bewitched.
Only the more he gets to know her, the more he starts to think she's just what they needed. If only he survives her next demand. . .
Romance Time Travel [Entangled: Amara, On Sale: November 18, 2019, e-Book, ISBN: 9781640638044 / eISBN: 9781640638044]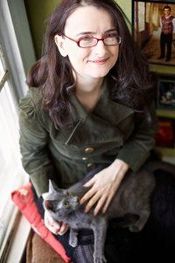 Angela is a geek girl romance writer. What makes her romances geeky? Whether it's fan girling over Ada Lovelace by having her as a secondary character in Must Love Breeches, or outright geek references with geek types in her romantic comedy with paranormal elements, Beer and Groping in Las Vegas, or going all Southern steampunk in Steam Me Up, Rawley, she likes to have fun with her romances and hopes her readers do too. Angela works at an independent bookstore and lives in a historic house in the beautiful and quirky town of Mobile, AL. When she's not writing, she enjoys the usual stuff like gardening, reading, hanging out, eating, drinking, chasing squirrels out of the walls and creating the occasional knitted scarf. She's had a varied career, including website programming and directing a small local history museum, and has discovered that writing allows her to explore all her interests. She has a B.A. in Anthropology and International Studies with a minor in German from Emory University, and a Masters in Heritage Preservation from Georgia State University. She was an exchange student to Finland in high school and studied abroad in Vienna one summer in college.