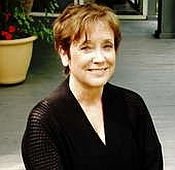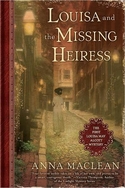 Reunions are tricky and usually I avoid them. But when I had the chance to reconnect with a childhood girlfriend, I jumped at it. I'm speaking of course about the sleuth of my mystery series, Louisa May Alcott. I read LITTLE WOMEN several times in my early years; Jo was a model for me, a girl of strength and strong opinions, independent, temperamental, yet also solid, steady, gentle. Later I realized that Jo was Louisa's alter ego: both of them were writers, both chose independence and work over being a wife and mother, both worked hard to keep the wolf from the door and their family intact.
Working with Louisa as a character in my novel, LOUISA AND THE MISSING HEIRESS, required getting to know her very well. I read her works, this time delving particularly into some she published under a pseudonym, the somewhat lurid tales she called her 'blood and thunder' stories. Because Louisa was a lady from a good family, when she wrote fiction of what some might deem a questionable nature, she did not use her family name. But the reasons for sometimes publishing under a pen name are deeper than that: Louisa and her family were abolitionists, actively working to help runaway salves, to do what they could to put an end to slavery. And sometimes their work was on the wrong side of the law, since the law favored property owners, even in the north, and slaves were property. So, Louisa had to be especially careful to be above reproach, even in her writing.
Despite financial troubles, a somewhat domineering father and the constant fear of running afoul of the law, Louisa also had a great sense of fun and adventure. Reading some of her witty and often very humorous diary entries made me laugh out loud. Often, researching my mysteries, I wished I could sit down her over a cup of tea and just talk! I spent many hours imagining conversations between Louisa and her mother, Abba, and her sisters, conversations where politics and philosophy mixed with stew ingredients and knitting stitches.
When I realized Louisa, as the sleuth in my mystery, would need a sidekick, someone to contrast with her and complement her, I decided that Ms. Sylvia Shattuck would join our reunion. Sylvia, unlike Louisa, is very wealthy and more than a little frivolous. She could afford the things Louisa could not: stylish clothes, dancing instructors, horses and a carriage for making calls. Yet Sylvia, for all her wealth, does not have the one thing Louisa cherishes most: a very close, very supportive family. It made sense to me that these two young women would become close and that Sylvia would become almost like a member of the Alcott family.
She would need their strength and warmth, because there are some dark turns in the plot of LOUISA AND THE MISSING HEIRESS. Boston, like all mid-nineteenth century cities, could be dangerous, especially for women who were so bound by fashion, by tradition, by the law. In this imaginary reunion between myself and Louisa and that new young woman, Sylvia, we faced the limits of a family's protection and the risks of loving all too well, especially when the man is not 'the right sort.' In writing this new adventure of Louisa May Alcott I was able to get to know her even better by imagining a story that could have happened, that she might have heard gossiped about at a friend's house!
One commenter will win a copy of LOUISA AND THE MISSING HEIRESS, just tell us if you've ever imagined any literary characters having their own life or adventures besides the ones between the covers.
To comment on Anna Maclean's blog please click here.