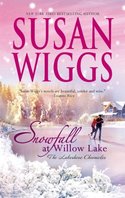 Susan Wiggs was the Plano (Texas) book club's author for our April get together. I was really looking forward to this month's call because I had just read and enjoyed Susan's latest book, Snowfall at Willow Lake. This is the fourth book in The Lakeshore Chronicles series, but don't fear. Those of us who had read Snowfall at Willow Lake and not the other Lakeshore Chronicles did NOT feel like we had just landed in the middle of the series. We didn't feel like we were missing any information nor were we trapped in a series summary for the first few chapters. The book truly stands alone…That's not to say I don't want more!
But back to book club.
Susan was super excited to be part of our book club. She had recently been to visit her publisher and been treated to the full Queen for day routine in Toronto and had not had a chance to rave about it to anyone. By Queen for a day routine, we're talking about large flower bouquets, limo ride, 1st class seat during flight, 5 star meal out with publisher, etc. Of interest to Susan's fans, the publisher expressed interest in a Lakeshore Chronicles Christmas story as well as a cookbook. They also talked about wanting hardcovers, but worry not readers, Susan said there were no plans at this time to have future Lakeshore Chronicles' books come out as hardcover. Her next book, however, called Just Breathe is planned to be released this September as a hardcover. While not part of the Lakeshore Chronicles, the main characters apparently did come and stay at the inn in Dockside (which she also mentioned was the book that she got the least amount of reader feedback on).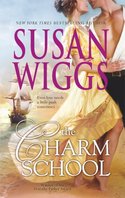 Regarding Just Breathe, Susan is asking that when the reprint of her historical The Charm School (complete with new cover art) is released, that you send Susan an email telling her what you think about the excerpt for Just Breathe included at the end of The Charm School.
Speaking of historicals, Susan is planning to do another historical, but it likely will not be one of the hardcovers that I mentioned earlier.
Susan is currently writing Fireside, the next in The Lakeshore Chronicles and featuring Noah's friend Bo from Snowfall at Willow Lake. We also heard that there will be at least another story after Fireside BEFORE Susan writes Daisy's story. She gets a lot of reader comments about Daisy what with her being an unwed teenage mother, but what can I say she was one of my favorite characters in the book!
Odd trivia:
The names of Sophie & Noah's adopted children came from names in SPAM emails. You know those banking or money transfer scams I'm talking about. She just "…can't let those go to waste."