I have so much to tell you about this month. First of all, those of you who are fans of M.J. Rose' The Reincarnationist might want to check out Past Life on Fox, which was inspired by the by the book. For those of you who are familiar with the book, basically the institute is there and they deal with past life regression cases, but that's where the similarities end. Kelli Giddish, Richard Schiff , Nicholas Bishop and Ravi Pate star.
I like the concept, but I feel like maybe they should have picked a different episode for the pilot. It starts out kind of slow, but I liked the second episode. My fear is that Fox is the worst at giving shows a chance. If it doesn't hold the ratings, it won't be around for very long. And, not unlike Dollhouse, it's a show that needs a little time to find its footing. There is some decent chemistry between Giddish and Bishop His character has just lost his wife; so don't expect a big romantic bang up top. It's certainly worth checking out.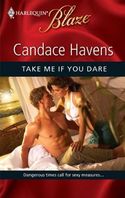 I'm super excited about the release of my first Harlequin Blaze, TAKE ME IF YOU DARE. I love this line of books and I'm proud to be a part of it. I'd always wanted to write about spies and detectives and with the Stonegate Investigative Agency, I was able to mix the two. My hero, Jackson, is my idea of the perfect man, Mariska, my heroine, can hold her own. I hope you guys will check it out.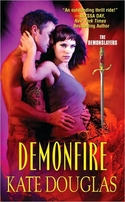 Kate Douglas says DEMONFIRE is her first "not erotic" mass market paranormal. "I'm a basket case about the release," she says. "My readers love the over-the-top-no-boundary-is-sacred Wolf Tales series, and I'm never nervous about those books coming out. Why is it I can write sexy stories that would cur Grandma's toes without a worry, but I'm really freaked out about the release of a really cool story about a demon who gets kicked out of hell for being too good, and ends up fighting demons on Earth in a borrowed body. Go figure." Kate, trust me when I say, I know exactly how you feel. It's because we're trying something new, and we can only hope readers jump on for the ride.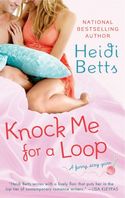 KNOCK ME FOR A LOOP is the third in Heidi Betts' Chicks with Sticks trilogy. "But it is actually the first of the three stories I plotted out in my head," she says. "From the beginning, I just loved Zack and Grace – to mention their adorable Saint Bernard, Bruiser. I had the best time developing the ups and downs of their relationships."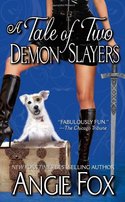 Angie Fox's latest A TALE OF TWO DEMON SLAYERS is the third book in the Accidental Demon Slayer series. "It's about a preschool teacher who finds out she has powers and has to run off with her grandma's gang of Harley riding biker witches," Fox says. "Lizzie, the heroine, also has a talking dog and in this book, the dog gets a pet. It goes something like this:
Lizzie: You can't have a pet. You are pet.

Pirate: I know how to treat a pet. First rule: no Healthy Lite dog chow.
To celebrate Fox has created a fun quiz to help you find out What Supernatural Pet is Right for You.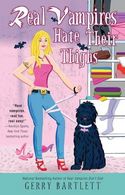 Gerry Bartlett has another funny one out, Real Vampires Hate Their Thighs. "Who doesn't hate their thighs?" Bartlett asks. "And if a vampire has a figure issue, to bad, she's stuck just the way she is when she's turned. Forever. In this book, vampire Glory St. Clair can finally get her dream figure when she meets a vampire diet guru. Too good to be true? First, he's her lover's ancient enemy. Then there are the weird side effects from the drugs he gives her. With a chance to walk down the red carpet at the Grammys though, Glory is willing to risk a lot to look great for that one special night. Wouldn't you?"
Well, that's it for this month, see you next year with more news…Candy
---
Candace Havens is a columnist for FYI Television, an online news and media service, where she writes five weekly columns for an overall audience of 44 million readers. She is also an entertainment reporter for 96.3 KSCS in Fort Worth. She lives in Fort Worth, Texas. She is the author of the Charmed & Dangerous series including CHARMED & READY, CHARMED & DANGEROUS, CHARMED & DEADLY, and LIKE A CHARM as well as the Caruthers sisters: DRAGONS PREFER BLONDES and THE DEMON KING AND I. Her latest book, TAKE ME IF YOU DARE is in stores in February 2010.
Her non-fiction prose includes JOSS WHEDON: THE GENIUS BEHIND BUFFY, and essays in ALIAS ASSUMED: SEX, LIES AND SD-6, and FIVE SEASONS OF ANGEL.