Thank you so much to Sara and all the gang at Fresh Fiction for inviting me back to visit about ONE TEXAS COWBOY TOO MANY. It is always a delight to prop up my boots and talk to all y'all about my newest release. ONE TEXAS COWBOY TOO MANY is the third book in the Burnt Boot series. A COWBOY CHRISTMAS MIRACLE will be out in September and finish the series. I absolutely loved writing this whole series but having Rhett O'Donnell and Leah Brennan in my head for all those weeks was so much fun that I sure hated to write THE END when the story ended.
To all you folks who have read the first two books, ONE TEXAS COWBOY TOO MANY">COWBOY BOOTS FOR CHRISTMAS (COWBOY NOT INCLUDED) and THE TROUBLE WITH TEXAS COWBOYS, you already know there is a big feud going on in Burnt Boot. It started almost a hundred years ago during Prohibition Days and the Gallaghers and Brennans have kept it going strong.
Rhett is a cowboy from the bone marrow out to his tough cowboy hide but he rides a tricked out motorcycle with steer horns mounted to the front and he has a cute little pony tail at the nape of his neck. He has no notions of a romance until he sees Leah Brennan, a school teacher at the Brennan private school on River Bend Ranch and he loses his heart to her pretty quick. But he might as well be whistlin' in the wind because Leah Brennan's grandmother hates him and forbids Leah to even be seen with him much less date him.
On the other side of the coin, Betsy Gallagher would love to date him just to get back at Leah and show her that a Gallagher can have what she can't. So she's flirting with Rhett every chance she gets and her cousin, Tanner Gallagher, is trying to get Leah to go out with him to put a big wedge in the Brennan family. Talk about having one Texas cowboy too many in a school teacher's life!
My favorite scene in the book is when Rhett is taking both women home from the Burnt Boot Bar and Grill one night and a literal shit storm hits. The Brennans have burned the Gallagher's school house so the Gallaghers are out for revenge. Only they didn't realize that they only needed one stick of dynamite to blow up the septic tank so they Brennans couldn't use their school. So they used six sticks and poor old Rhett, Betsy and Leah are stuck right beside the school when the storm hits.
Maybe a little snippet of what happens when too much dynamite is put into a septic tank
SNIPPET: (teasing you)
Suddenly, the ground rumbled and the truck shook. Rhett held on to the steering wheel and jammed his foot against the brake, throwing gravel and dust every which way. He'd never heard of an earthquake hitting in northern Texas, but they were sure enough experiencing one right then.

"Sweet Jesus, I promise I won't ever step foot on River Bend again," Betsy squealed.

It only lasted a couple of seconds, but it seemed like eternity. Rhett got control of the truck, stopped it right in the middle of the road beside the school, and threw his arm around Leah, drawing her closer to his side as the truck rocked from side to side.

Then a shaft of black shot up from the ground and Rhett's first impression was that the Brennans had been drilling for oil and had hit an old-time gusher. It went straight up in the sky, past the top of the school and the huge old oak trees surrounding it, before it mushroomed and started back down.

All the windows in the school exploded outward and debris flew through the air as the black cloud fell to earth. Betsy screamed and covered her head when something bounced off the truck's hood. Then something else hit a truck tire and the explosion sounded like a shotgun blast at close range. In no time, the truck was sitting at an angle, sliding all three of them against the driver's side and plastering Leah even tighter against Rhett.

Then another heavy object landed in the truck bed, raising the front end up until the passengers were practically looking at the ceiling before it finally popped back down. It slowly settled back down and what was in the mushroom cloud started raining down on the truck.

Rhett took a deep breath then grabbed his nose. "That's not oil."

"Hell, no, that's shit!" Betsy screamed.

Leah gasped. "I thought it was a tornado."

Rhett saw a couple of headlights through the fog of the stuff falling all around them as it blew in the same breeze that made the swings move. He squinted to see if it was help or the culprits, but then they were gone. He took out his cell phone and punched in the number to the bunkhouse, but nothing happened. When he looked down, his phone was registering no service.

"Looks like we're stuck, ladies," he said.
Giveaway
Tell us what you think of the "shit storm" and you might win a ONE TEXAS COWBOY TOO MANY. I mean, seriously, Carolyn has the BEST scenes. Be sure not to drink and read, you'll be spewing all over the place. Or waking your bed partner if you read in bed as I do ~ Sara Reyes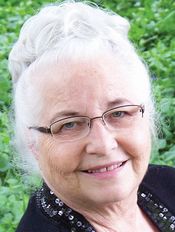 NY Times and USA Today Bestselling author and RITA Finalist, Carolyn Brown, has published more than seventy books. She has written historical single title, historical series, contemporary series and single titles, cowboy romance and women's fiction. These days she is concentrating on her two loves: romantic women's fiction and cowboy romance. She and her husband, a retired English teacher, make their home in southern Oklahoma. They have three grown children and enough grandchildren to keep them young. When she's not writing she likes to spend time in her back yard with her two cats, Boots Randolph Terminator Outlaw and Chester Fat Boy, and watch them protect the yard from vicious critters like field mice, crickets and spiders.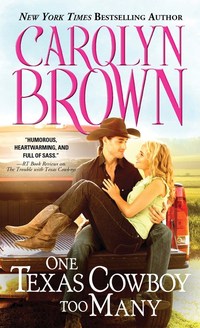 Carolyn Brown's New York Times and USA Today bestselling cowboys prove that love is bigger in Burnt Boot, Texas
She's got too many cowboys on her hands
Leah Brennan has always been the good girl of the Brennan family, groomed to become the matriarch of the clan. When a dark-eyed, tattooed, ponytailed bad boy saunters into her life, Leah knows he's off-limits—but his mesmerizing gaze makes her forget everything she used to think was important. As town-wide tension rises, Leah wonders if love really can conquer all
And the whole town's taking sides
When Rhett O'Donnell roars into Burnt Boot on a hot July evening, the first thing he sees is a beautiful blonde. She puts a little extra giddy-up in his heartbeat, but when Rhett's desire throws him into the middle of a love triangle and a hundred-year-old feud, he realizes that winning his cowgirl's heart will be a lot more complicated than he thought.