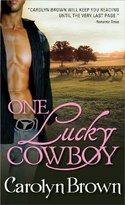 Thank you for having me on your website today. It's a pleasure to be here. Tell me, has a character in a book ever become so real that you wish you could interview her to find out a little more than what was written? Well, I have many times so I thought we would interview the heroine of ONE LUCKY COWBOY today. She had a big pair of ladies cowboy boots to fill after Milli Torres in Lucky in Love but I think she did a fine job of kicking up the Texas dirt when she inherited them. So let's see what she thinks about her story in One Lucky Cowboy.
Carolyn Brown: What did you think the first time you laid eyes on Slade Luckadeau?
Jane Day: I thought he was a pompous ass who'd been spoiled his whole life and didn't have a clue about me even though he thought he'd figured out the whole big picture that first two minutes. I wasn't about to let him intimidate me. I needed a place to hide out for a few weeks and he could live with it or drop dead. Right then, I didn't care which one he chose.