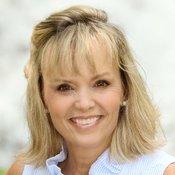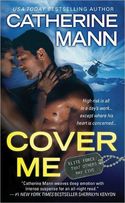 So, imagine the biggest family reunion ever, where the amazing people in your life gather at a hotel.  Nobody has to clean up.  All the meals are at amazing restaurants at some mega-cool tourist site.  Best of all, you get to catch up with so many people at once.
Sound awesome?  You bet!  And that's what the Romance Writers of America (RWA) annual convention feels like to me – the coolest kind of family reunion.
I joined RWA when I lived in Shreveport, Louisiana back in… (cough, cough, long time ago, don't want to age myself too much, LOL!)  Since then, I've attended annual RWA conferences held in DC, NYC, Denver, Reno and Dallas.  And it's always the highlight of the year for me, catching up with my "family" of romance writers and readers.
This year's conference was held in NYC and I hope you'll enjoy my "family reunion" photos.  I started off the first morning having coffee with reader friends I met years ago through the incomparable Suzanne Brockmann.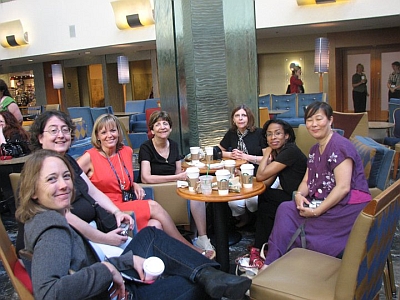 The time in between was amazing too – four booksignings – where I got to catch up with readers.  Remembering face to face time with readers is a real treat that has kept me motivated through many deadlines.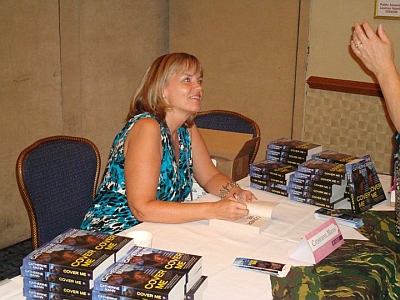 I presented a workshop with my critique partner, Joanne Rock (pictured below), and treasured author buddies Winnie Griggs, Tanya Michaels and Renee Ryan.  We've all known each other since pre-publication.  How fun, fun, fun to sit on a panel together!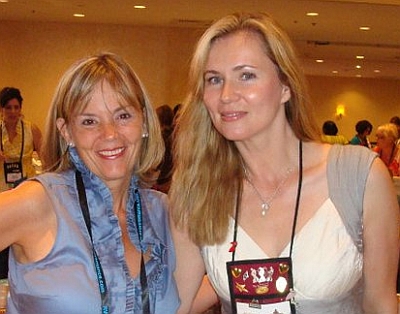 The conference always ends with the RITA and Golden Heart Awards ceremony.  This year I had the great honor of presenting a RITA.  (Such a kick to open that envelope and say, "The RITA goes to….")  And after the awards ceremony, Joanne Rock and I hung out with a group of new readers (including awesome Paula from Facebook pictured below) to toast the truly stellar week!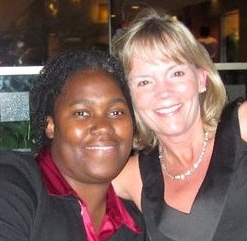 Do you schedule family reunions?  What are some of your favorite potluck dishes from neighborhood, office or family gatherings?  Two lucky commenters will receive a copy of my July release – COVER ME.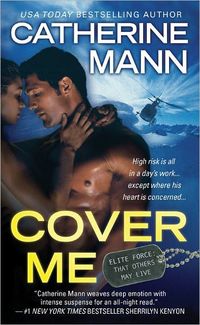 Here's what others had to say about COVER ME:
"An exciting storyteller, Catherine Mann weaves deep emotion with intense suspense for an all-night read." -#1 New York Times bestseller Sherrilyn Kenyon
"Adventure and suspense are the hallmarks of Mann's award-winning military romances, and this first book in the Elite Force series won't disappoint her many fans." –Booklist Reviews
"Mann delivers plenty of thrills and charged erotic situations with this first in a new series featuring pararescue men, elite U.S. Air Force heroes ready for tense 'land, sea, or mountain, military missions or civilian rescue' around the globe… bracing thriller with a strong-willed heroine and sensitive, hard-bodied hero." -Publishers Weekly
To comment on Catherine Mann's blog please click here.