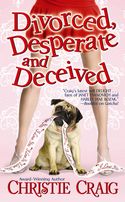 Recently I blogged about ten things a Christie Craig heroine would never say. Well, living in an equal opportunity world, giving the male gender their equivalent time in Blog Sphere-hey, I love my heroes!-it's only fair that I tell you the things their testosterone-laden counterparts would never say. Then for kicks, I'm gonna explain why one of my yummy guys would never let those words slip from their lips. Please note, that I didn't say they wouldn't think the words-my heroes are still men, they are just smart enough to never say them. Or at least smart enough to only say 'em once.
1)"Wanna hear me make farting noises with my armpits?"
We all know men are just little boys at heart. And we love it when they are nervous and go out of their way to impress us. But a CC hero has come to understand that what impresses his homies, i.e. burping lyrics to songs, clearing out a room after ingesting a bean burrito, isn't always appropriate behavior with his woman. At least not until after the honeymoon.
To read more of TEN THINGS A CHRISTIE CRAIG HERO WOULD NEVER SAY please click here.