Editorial Manager Danielle Dresser chats with bestselling author CHRISTY CARLYLE!
Welcome back to the Fresh Fiction blog! For readers who aren't familiar, can you tell us more about the Duke's Den Series?
The idea behind the series is that it's a Victorian take on the reality TV show, Shark Tank, in which inventors present their ideas to venture capitalists. In this case, those with capital are dukes (except for the hero of this book) and they are investing in the wild plethora of inventions and innovations that were popping up with regularity during the Victorian era.
I really loved that Diana Ashby was an independent woman, focused on her inventions and work. What inspired Diana's tenacity and creativity?
I know lots of women creators: writers, artists, and innovators, and I'm inspired by their tenacity. Diana wasn't inspired by one single woman I know but by many who believe in themselves and their work and don't let disappointments or even rejection stop them. Diana definitely embodies the kind of woman I'd like to be.
Aidan Iverson had humble beginnings, but has become a successful and wealthy man. Nonetheless, he still strives to be accepted by high society. Why is this acceptance so important to him? Was he an easy or difficult character to work with?
I adored writing Aidan. I loved that he was kind and good-hearted despite all he'd been through as a child. I think Aidan was responding to society's expectations, which is hard not to do, and that yearning for acceptance into high society probably got tangled up in a desire for belonging that was rooted in his childhood.      
Diana's inventions are very practical and make life easier! If you could come up with an invention to make your life easier, what would it be and why?
I feel like it's already been invented and it's called the Instant Pot. 🙂 I used to love cooking, but I often don't have time or energy for it lately. It's definitely nice to have a cooking apparatus that makes that task quicker!     
I love a set-up where the characters think they're doing favors for the other and they can keep things strictly business, but then love swoops in and mucks things up! Diana and Aidan are no different, LOL! What was your favorite part of their love story?
I liked that there was an attraction and an, admittedly very brief, history between them. They didn't go into their deal completely unaware of each other in the sense of attraction, but they are both practical and driven enough to think they could, as you say, keep things strictly business. I loved writing them trying to do that. And failing. 🙂
My favorite thing about their romance overall is how kind they are to each other. I love banter as much as the next romance reader, but I also love moments when characters show each other understanding and meet each other's emotional needs.     
What do you love about writing Victorian romance, as opposed to other time periods?
I love the era so much, the inventions, the personalities, the literature, art, and fashion. I think if you love history, you tend to have a time period that resonates with you, and that's how I feel about the Victorians and that era. I remember seeing the film Oliver! when I was young and thinking how much I'd love to walk into that Dickensian world. It's been a love affair with the late 19th century for me ever since.
What can readers expect next from you?
I'm working on the third and final book in the Duke's Den series. For readers who've read A DUKE CHANGES EVERYTHING, this is the third man who makes up the Duke's Den trio. Rhys is my true rogue of the group, so it's been so much fun giving him a romance that, for him, is entirely unexpected.
Rapid Fire Random Questions
Favorite animal: Ugh, hard! I love animals, but I'd probably have to say cats. Though I once had a horse and they're grand too.
Coffee or tea: Both? Coffee is a necessity. Tea is a special treat.
Favorite book to re-read: Austen. Probably Pride and Prejudice, but I've read Emma a lot too.
Beach or mountains: Hmmm. I love the ocean, so probably the beach, but I live near both mountains and ocean and sometimes you can sort of have both when you're in the Pacific Northwest.
When you were younger, what did you want to be when you grew up?: An archaeologist (particularly an Egyptologist) or a librarian, so basically Evie from The Mummy. 🙂
Dream vacation: A tour of Europe, including Eastern and Western European countries.
Aside from reading and writing, what are your hobbies?: I have just started getting back into sewing, but I also love knitting and crocheting and making beaded jewelry.
Five people you'd invite to your book club (dead or alive): Mary Shelley, Edgar Allan Poe, John Steinbeck, Oscar Wilde, and Charles Dickens.
Favorite movie: Any Star Wars movie. I am a huge Star Wars fan.
You have a totally free afternoon – no deadlines, no obligations, no Twitter notifications!  What do you do?: READ. Since I've started writing full-time, finding time to read is a challenge, and I miss it a lot. I try leveraging the convenience of audiobooks, but I find that I try to listen and do five other things and get distracted. But they still allow me to consume books when I don't have time to sit down with them quietly.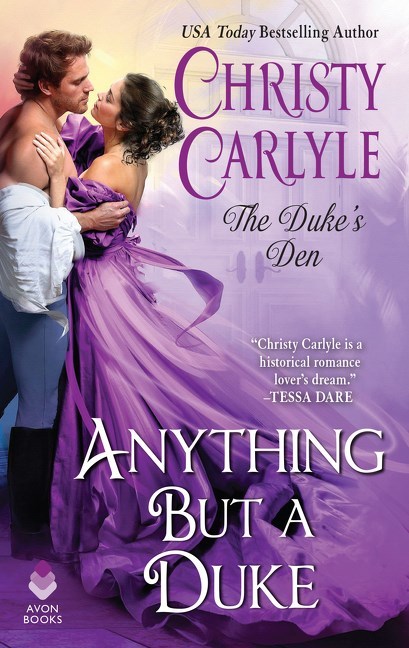 Self-made man Aidan Iverson has seen more closed doors in
his thirty years than he's ever cared to count. As a member
of the elite Duke's Den, he has all the money he could
possibly need but the one thing he can't purchase is true
power. If roguish Aidan can't buy his way into society's
hallowed halls, he'll resort to a more extreme measure:
marriage.
Brought up to be a proper lady, the only thing Diana Ashby
desires is to be left alone to the creation of her own
devices. But when her dreams are crushed, she must find
another way to secure the future of her invention. Knowing
his desire to enter her world, Diana strikes a deal to
arrange Aidan's marriage to the perfect lady—as long as that
lady isn't her. She doesn't need any distractions from her
work, particularly of the sinfully handsome variety.
As Diana and Aidan set out to find him an aristocratic
match, neither are prepared for the passion that ignites
between them or the love they can't ignore.
In the Duke's Den, can happiness ever be a winning prospect?
Romance Historical [Avon, On Sale: April 30, 2019, Mass Market Paperback / e-Book, ISBN: 9780062853974 / eISBN: 9780062854001]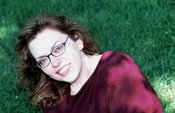 Fueled by Pacific Northwest coffee and inspired by multiple viewings of every British costume drama she can get her hands on, Christy Carlyle writes sensual historical romance set in the Victorian era. She loves heroes who struggle against all odds and heroines who are ahead of their time. A former teacher with a degree in history, she finds there's nothing better than being able to combine her love of the past with a die-hard belief in happy endings.
***
Fresh Fiction Editorial Manager Danielle Dresser is an avid reader, lackluster-yet-mighty crafter, and accomplished TV binge-watcher. Once upon a time, she was a publisher publicist and continues to cultivate her love of books and reading by chatting with the best authors in the business. She lives in Chicagoland with her very own romance hero husband, darling daughter, and two tempestuous cats. Follow her on Twitter and Instagram, @dj_dresser.