In my book, OPERATION PROM DATE, Kate is a huge fangirl and often talks about all the fictional couples she ships (the couples who she really, REALLY wants to be in a relationship, in case you're new to the term shipping. It baffles my husband when my daughter and I start having conversations about our fandoms). Kate and I have that in common. Whether it's Olicity on Arrow, Stydia on Teen Wolf, or Captain Swan on Once Upon a Time, Kate gets rather involved with what's going on with her favorite couples. (I've also been known to scream "KISS ALREADY" at my TV shows and books. You know, like a calm, normal person. LOL)
Cooper, the guy who's made a deal to help Kate land her crush in time for prom (AKA "Operation Prom Date") doesn't know what half of her fangirl jargon means, but he loves how passionate she is about it. He loves having her as his temporary rowing partner as part of their deal, too, because it means lots of time with just him and Kate in his rowboat on the lake. What he doesn't love is how jealous he is when all of his help starts working a little too well. And the deeper they get into the mission, the more Kate's starting to wonder if she's set her sights on the wrong target.
After I turn in a book, you'll find me binge watching the newest seasons of the Originals, Arrow, Teen Wolf, the 100, and my very favorite to re-watch when I need some cheering up, New Girl. (I could go on and on) Then there are the countless book series I read as quickly as possible, hoping and encouraging the right people to finally get together. I've only switched teams a few times in my life, once during book two of the Hunger Games Series, CATCHING FIRE (I mean how could you not love Peeta by then? It's not possible). And to be honest, sometimes I find myself falling a little hard for the heroes myself. For example, I kind of ship myself and Captain Hook from Once Upon a Time, the one show where guyliner + Irish accent + hook = BE MINE NOW! Even my daughters argue that they should be with Hook, because after all, I'm already married. (Love you, honey!) For the record, my awesome husband, who is perfectly fine with all my fictional boyfriends is the guy I crush on the hardest. <3
So who else loves fangirling over TV & book series? Which ones are you obsessed with, and what couples are you dying to get together & STAY TOGETHER?
(Seriously, writers. I know you & I share a career, but don't mess with my couples. LOL)
Kate ships tons of fictional couples, but IRL her OTP is her and Mick, the hot quarterback she's crushed on since, like, forever. With only one semester left of senior year, it's now or never if she wants to land him in time for prom. Since she's flirtationally challenged, she enlists Cooper Callihan, the guy who turned popular seemingly overnight but who used to be a good friend.
Cooper lives and breathes rowing, but his partner just broke his wrist. When he remembers Kate's good with a set of oars, he strikes a deal: help him train, and he'll make sure her crush notices her. Only he didn't know how addicting spending time with her would be. Or how the more successful the Operation is, the more jealousy he experiences.
The mission has been set. The troops have their marching orders. But what if the target is the wrong guy all along?
Young Adult [Entangled Crush, On Sale: March 6, 2017, Hardcover / e-Book, ISBN: 9781682814482 / ]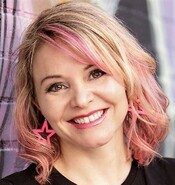 Cindi Madsen sits at her computer every chance she gets, plotting revising, and falling in love with her characters. Sometimes it makes her a crazy person. Without it, she'd be even crazier. She has way too many shoes, but can always find a reason to buy a new pretty pair, especially if they're sparkly, colorful, or super tall. She loves music, dancing, and wishes summer lasted all year long. She lives in Colorado (where summer is most definitely NOT all year long) with her husband and three children.