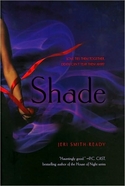 Some cool books coming out this month, including from adult author Sherrilyn Kenyon and deceased (or possibly undead) author Louisa May Alcott. And more!
We start with the lovely and talented Jeri Smith-Ready. She's already a successful author of grown up urban fantasy (WICKED GAME) and romantic fantasy (EYES OF CROW). Now she debuts a new YA series with SHADE. Mystery, ghosts, romance… This one is right up my alley. I asked Jeri a little about her spooky new project.
RCM: So, what's the pitch?

Jeri: 16-year-old Aura can see ghosts. Then again, so can everyone around the world who was born after her. In fact, they have a word for the moment of her birth: the Shift. Aura suspects that the Shift might be connected to her missing mystery dad and an event that happened at Newgrange tomb in Ireland a year before her birth.
Ghosts can be annoying at their best. At their worst, as dark, powerful "shades," they can be deadly. So Aura's major goal in life is to undo the Shift and make the ghosts go away.
And then, her boyfriend dies and becomes a ghost.
RCM: Well, there's an obstacle to True Love for you. What inspired you to write this story?
Jeri: SHADE contains so many things I love: music, stars (twinkly orbs, not celebrities), and Scotsmen.  But what kept me going through all those drafts was the heart of Aura's story: her grief at losing her first love, then her joy at getting him back as a ghost.  It's the ultimate fantasy for anyone who's lost someone close.  We wish they could return to us—as themselves, not just a memory or an idea or "a flat image in a hundred photographs," as Aura says.  So I tried to hold onto that longing and be true to it on every page.
Check out Jeri's webpage for a beautiful book trailer, plus excerpts from the book.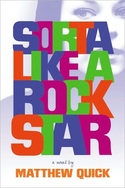 I am also very excited about SORT OF LIKE A ROCK STAR, by Matthew Quick. It absolutely didn't sound like anything I'd want to read; I was just going to skim the first bit of the ARC to tell you about it, and ended up devouring this story. It's funny and sad and hopeful, full of oh-so-quirky (genuinely, humanly quirky) characters.
Amber Appleton and her mother (and her dog) live in a bus. But the self-proclaimed princess of hope refuses to sweat the small stuff. She awesomely holds together a merry band of school misfits, teaches English to a group of soul singing group of Korean immigrants… and deals with terrible tragedy.  Will she keep her optimism and hope?
Literary and lovely, I didn't think I'd love this (Lives on a bus? Terrible Tragedy? Quirky misfits? Present tense?) but I couldn't put it down. Besides the present tense, there are a couple of verbal tics I was unsure of, but I loved Amber Appleton so much that they just rolled into her voice, and all I cared about was her journey. (There was Kleenex involved, people. Copious Kleenex.)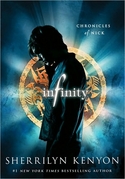 Also on the horizon, NYT Bestselling paranormal romance author Sherrilyn Kenyon branches into the YA market with INFINITY, the first in the Chronicles of Nick series. It's sort of a prequel to one of her popular characters, Nick Gautier. Here, Nick is 14 years old, still mortal, and clueless to the world of the supernatural. That's all about to change as he falls in with the immortal vampire slayers, the Dark Hunters. (Fans of the series will find familiar characters here.)
Nick must battle zombies and demons, as well as bullies and the travails of a misfit teen, on top of finding out about the Dark Hunters. Nick's voice is appropriately young and there's a good bit of humor as the tone swings from comedic carnage (he is aided by a zombie hunter named Bubba) interspersed with the more adult points of view of the villains and the Dark Hunters. Despite the presences of a pretty, spunky love interest, the focus is squarely on Nick's paranormal adventures. Fans who read Kenyon primarily for the romance may be disappointed, but fans who enjoy the band of brothers camaraderie will likely find much to enjoy. (May 25th)
Here are some more quick takes: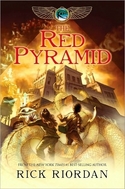 Rick Riordan, author of the popular Percy Jackson series, starts a new series with THE RED PYRAMID, this one based on Egyptian Mythology. In the first of the Kane Chronicles, siblings Carter and Slade are raised apart, but their famous Egyptologist father brings them together for an experiment… One which unleashes the Egyptian god Set, who banishes their father and sets the sibs running for their lives in a globe-trotting adventure. (This is middle grade, but the Percy series had broad appeal.)
I suppose it bears mentioning that there is a book coming out called LITTLE VAMPIRE WOMEN by "Louisa May Alcott" and Lynn Messina. It begins "Christmas won't be Christmas without any corpses!" If these humorous retellings are your thing, this one is being described as hilarious. I'll let you make up your own mind about that. I'm just the messenger on this one.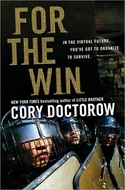 NYT Bestseller Cory Doctorow had a new dystopian book out this month. FOR THE WIN features the same subversive spirit and prescient topic as the author's previous book, LITTLE BROTHER. Here's the highlights: A shadow economy built on multiplayer online games, virtual dystopia, rebellion of the youth against a corrupt system… Different and cool, this will appeal to the wired generation.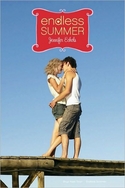 ENDLESS SUMMER, by Jennifer Echols, is a sequel to her romantic comedy THE BOYS NEXT DOOR, following immediately on it's heels. Lucky for you, "ENDLESS SUMMER" is both books in one volume, so if you missed the first, it's no prob. Jennifer's GOING TOO FAR, is a finalist in this years RITA contest. Her characters are wonderful, her stories are emotional, and even the comedies have meat to them. Just trust me on this. Buy her books.
There are just a few of the May releases to get you started. Lots of books come out in the summer, so expect great things in the next few months, when I'll catch you later!
(Thanks to Jamie Harrington (www.totallythebomb.com) and Jenny Martin (http://jmartinlibrarian.wordpress.com/) for their helpful suggestions. My friends have great taste.)
Rosemary Clement-Moore
Rosemary Clement-Moore writes Young Adult books because she loves to read them.
Visit her webpage or blog
to find out more about her award winning Maggie Quinn: Girl vs. Evil series, and
her gothic romance, THE SPLENDOR FALLS.