Crime writing can be a challenge at times, but it can also be barrels of fun— double barrels. Where else can you get even with a boss who lays you off with the line: "I wanted to do this myself because it's such good experience for me as a new executive!" (No kidding. That's how she did it.)
In one of my mysteries, I cast this sadistically perky charmer as the murderess and brought her to justice via a smack to her noggin with a thick bestseller. In another, her lifeless body was found on the floor of a women's room. (She'd mistakenly ingested a poisoned soy muffin.)
I put a version of her in my latest culinary mystery, MURDER BY MOCHA, too. But I won't spoil the fun for you. You can guess how I cast her by reading the book yourself. (Click here to see the first chapter.)
When Crime (Writing) Pays
Eight years after my ignominious layoff, I am happy to report that the pen is mightier than the corporate pink slip. I am now fully self-employed writing THE COFFEEHOUSE MYSTERIES—an urban cozy series set in a landmark coffee shop that blends crime, romance, and humor.
I also write the HAUNTED BOOKSHOP MYSTERIES, in which a prim New England widow solves murders with the help of a dead PI—i.e. the prickly spirit of a hard-boiled detective who was gunned down in her shop sixty years before. Look for these "Ghost" titles under my other pseudonym, Alice Kimberly.
My husband, Marc, is my collaborator on all of these books; and, thanks to the popularity of the cozy mystery (and our very kind readers), both series have been national bestsellers. Our latest title, MURDER BY MOCHA, even nailed a Top-7 spot on Bookscan and two Top-10 Cozy Reads lists.
Note to former boss: Stick that in my exit interview file! (Kidding, kidding…)
Growing Our (um…) Assets
Of course, there are drawbacks to this full-time writing life. For one thing, failure is only one book away. All authors know that; but, if you're going to write for a living, you should know something else, something that's seldom discussed in literary circles. We authors are continually challenged not to stuff our faces.
For most of us, a trip to the fridge constitutes a brain break. New chapter, new sequence, new reason to nosh.
What should Clare retort to her ex-husband when he gives her grief? Perhaps I'll find the answer inside a square of that Hazelnut Fudge I made last night…(Click here if you'd like my fudge recipe.)
I've battled the bulge all my life. I was a chunky monkey as a kid and I'm far from svelte now. The good news: my love of food has helped my career. As a culinary mystery writer, it's now my job to dream up and bake up delectable treats like Chocolate-Stuffed Peanut Butter Cookies. (Click here for that recipe, which was recently picked up by New Jersey Family magazine.)
The bad news: putting my protagonist through heart-pounding perils doesn't do much for my own cardiovascular health. In fact, most of my days are spent sitting on my assets.
So what's my solution?
Walking Around Your Writer's Block
Lately, when cogitating, I've taken to strolling around the block instead of to the fridge. When I do drift toward the kitchen, I try to eat healthier fare. Raw veggies and low-fat dips help. (Click here for my Roasted Garlic Dip recipe.)
I also rely on coffee—and I'm not talking "Thunder Thighs," which is actual coffee shop ordering slang for a mocha latte with whole milk and extra whipped cream. For me, a regular old cup of joe can help tame the Snack Monster, especially with a few of my Healthier Oatmeal Cookies. (For that recipe click here.)
Food for Thought
The legendary Julia Child once said that she loved the food world because she learned something new every day. That's why I love the culinary world, too, along with this world of writing.
Sure, writer's block can rear its ugly head. Ironically, I battle it the same way I battle the Snack Monster—I look for new things to feed me. This is something most writers know, yet we still need to remind ourselves…
If you feel a block coming on, learn something more about your setting, background, or characters' occupations. Dig deeper into your research and you'll soon be discovering inspiring ideas that (like a good meal) fuel and renew.
Thanks for listening, everyone, and a big thank you to Fresh Fiction for letting me visit with you today.
Finally, I can't help wondering—if any of you have trouble with the Snack Monster, how do you battle or feed it? What are your favorite healthy (or not-so-healthy!) snacks?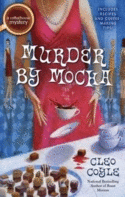 Leave a comment on this post today and you will be entered to win a Gimme Coffee Latte Cup and Saucer (made in Italy) and a signed copy of Cleo Coyle's new bestselling culinary mystery, MURDER BY MOCHA: A Coffeehouse Mystery.
More Contest Fun!
Win a $25.00 Gift Card
Part of my Fresh Fiction prize package this month. Click here to enter.
Win a Gourmet Chocolate Tasting
Tell me your favorite Coffeehouse Mystery character, other than Clare Cosi, and you could win a gourmet chocolate tasting. Learn how to enter by clicking here.
Win Free Coffee
To download more of my recipes; sign up to win free coffee in my weekly drawings; or learn about my two bestselling mystery series, visit my online coffeehouse at www.CoffeehouseMystery.com
Three recent titles in Cleo Coyle's long-running Coffeehouse Mystery series…
To comment on Cleo Coyle's blog please click here.