It's official. After sixteen books, our Greenwich Village coffeehouse manager, Clare Cosi, finally becomes engaged to her boyfriend, NYPD Detective Mike Quinn. Unfortunately, the vintage diamond Mike slips on Clare's finger in DEAD COLD BREW, opens a Pandora's box to a cold case murder that occurred sixty years before.
This chilling homicide happened in a stateroom of the Andrea Doria, a luxurious Italian ocean liner that tragically sank off the coast of Nantucket in 1956. On board that ship was a gifted Italian artisan named Gus Campana, the jewelry designer who created Clare's engagement ring.
When Clare finds Gus poisoned behind his West Village workshop, she won't rest until she uncovers who may have done it and why. Her search uncovers family scandal, a charming thief, and a deadly adversary.
If you are new to our long-running Coffeehouse Mystery series, don't hesitate to pick up DEAD COLD BREW. You can read it as a stand-alone, and if you like it, you have 15 more mysteries to enjoy. But don't miss this latest entry. It's embedded with twists, turns, and wonderful secrets about New York City that we've discovered over the years—from an exclusive room in the legendary 21 Club, to the underbelly of the city's Diamond District, to a hidden train platform beneath the Waldorf-Astoria.
"A fabulous diamond, blackmail, embezzlement, surprise inheritances, murder, and a decades-old family scandal…with lusciously rich recipes."
—Publishers Weekly on Dead Cold Brew
CLEO COYLE is a pseudonym for Alice Alfonsi, writing in collaboration with her husband, Marc Cerasini. Both are New York Times bestselling authors of the Coffeehouse Mysteries, now celebrating over ten years in print. Alice has worked as a journalist in Washington, D.C., and New York City, and has written popular fiction for adults and children. A former magazine editor, Marc has authored espionage thrillers and nonfiction for adults and children. Alice and Marc are also bestselling media tie-in writers who have penned properties for Lucasfilm, NBC, Fox, Disney, Imagine, and MGM. They live and work in New York City, where they write independently and together, including the national bestselling Haunted Bookshop Mysteries.
CLEO'S NEWSLETTER: Fun contests, bonus recipes, book news, and videos. To sign up, simply write an e-mail that says "sign me up" and send it to CoffeehouseMystery@gmail(dot)com
FREE TITLE CHECKLIST: Get a title checklist with mini summaries of all 16 Coffeehouse Mysteries and links to free recipe guides. To download the list as a PDF document, click here.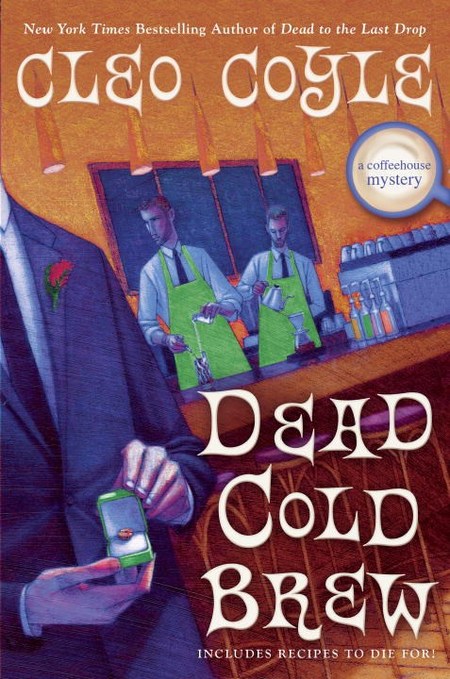 From Cleo Coyle, the New York Times bestselling author of Dead to the Last Drop, comes a gripping new entry in the "highly satisfying"* Coffeehouse Mystery series. (*Publishers Weekly)
THE PERFECT PROPOSAL LEADS TO A CHILLING COLD CASE…
Coffeehouse manager Clare Cosi sheds tears of joy when her NYPD detective boyfriend surprises her with an engagement ring. But her bridal bliss is put on hold when a chilling mystery brings a wave of deadly danger to those she holds dear…
After everything Clare and Mike have been through, they deserve a little bit of happily ever after. So when Mike decides to put a ring on Clare's finger, Clare's eccentric octogenarian employer is there to help. She donates the perfect coffee-colored diamonds to include in the setting and the name of a world-famous jeweler who happens to be an old family friend. But while the engagement is steeped in perfection, the celebration is not long lived.
First, a grim-faced attorney interrupts their party with a mysterious letter bequeathing a strange, hidden treasure to Clare's daughter. Next, the renowned jeweler who designed Clare's ring is found poisoned in his shop. Both events appear to be connected to a cold case murder involving a sunken ship, an Italian curse, a suspiciously charming jewel thief, and a shocking family secret. With deadly trouble brewing, Clare must track down clues in some of New York's most secret places before an old vendetta starts producing fresh corpses.
With recipes to die for, including how to make cold-brew coffee at home!
Mystery Cozy | Mystery [Berkley Prime Crime, On Sale: January 10, 2017, Hardcover / e-Book, ISBN: 9780425276112 / eISBN: 9780698167407]
DEAD COLD BREW is also a culinary mystery, with an appendix of more than 25 recipes, including Cannoli Cream Cupcakes, Perfect Pumpkin Quick Bread, Blueberry Buckle Cake, (Meatless) Baked Ziti, Chicken Cacciatore (Red and White Versions), American Fettuccine Alfredo, Irish Cream Chocolate Chip Cookies, Chocolate-Espresso Cookies, tips on how to make Cold Brew Coffee like a pro, and much more.
To see the book's Free Recipe Guide, click here.