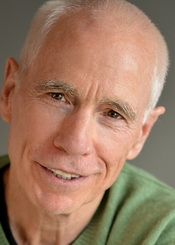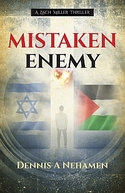 I am writing this note to you before everything is set to happen. You know, just in case I don't make it out of here alive. I really appreciate you taking the time to read my manuscript, and if I'm still around by the time you're done… hey. I'd love to hear what you think.
Sincerely,
Zacchaeus Miller
That's me. I'm the protagonist in Dennis Nehamen's MISTAKEN ENEMY, the first in a series of Zach Miller Thrillers. Revealing that I did live to tell my story gives away little—there were lots of shocking, mysterious and terrifying moments along the journey that I'll refrain from revealing.
Most important, besides my survival, is that I grew as a person from the experiences I was forced to endure. Looking back at myself when I left for Israel, I'd have to say I was an early thirties young man needing to find a purpose. I wrote but was never inspired from the deeper well of my soul. Then I met Jivin, a mystic Mescalero Indian boy…and everything changed.
It was toward the end of the adventure when we had a discussion I'd like to share.
"So what you're saying is our lives are beyond our control?" I posed after he seemed to be telling me that the role I played in the terrorist plot in Israel was not of my doing.
"Not at all," he said, with a tiny giggle. "You always have to have it one way or the other, don't you? Did you ever think it might be both? You are responsible for many aspects of your life, yet at the same time there are elements, like your role during the trip to Israel, that are part of a deeper destiny you will live out regardless of your own volition—and they each may be equally important." He paused to emphasize a point. "Life is not about using fate to absolve ourselves of duty and obligation."
He was right. I thought it easier to bundle the entirety of my life into one neat package that I would then turn over to a higher power. That could never be the case, and Jivin was not the type of character to leave one with a false impression.
There were other areas of personal growth that resulted from my travels. I'll credit Nehamen with infusing in me a level of wisdom and insight about the human condition I might not have achieved had he not placed me within a whisker of my last breath. When I read the words I spoke, it's hard for me believe what I said. Yet I had matured tremendously from what I had lived through.
"Here were people—the Israelis—heisting property from others because they believed it sanctioned by God. I knew also that in response, the perceived victims—the Palestinians—were sending out deadly projectiles that God had ordered them to fire on the offenders with mortal intent. Was there sanity here? Was "here" any different from "there" or "anywhere" man dwells?"
Some time after it all ended, when enough of my wounds had healed so that I could reflect on the situation, I was able to explicate what the journey Nehamen had commissioned me to complete had taught me. It was about survival, the triumph of the human spirit, and the adaptive capacity of humans to tolerate and grow through even the worst of conditions. It was about the impossibility of mankind to monitor his emotions, especially fear, which is the driving force behind most everything that is ugly and evil in life. It was about love peaking its head out of the darkness of chaos and softening the hurt from which man has no escape. It was about the awesome power of humor, laughter and imagination assisting man to cope with despair, to find the bright side of a prayer.
I never thought I'd say it, but I'm grateful for having made the trip.
To comment on Dennis Nehamen's blog please click here.