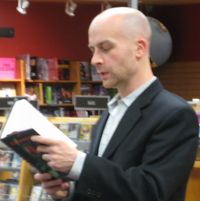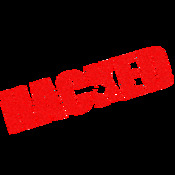 Friday nights are always better with friends and good stories. This week was no different, since I had the chance to catch up with some good friends I hadn't seen since the beginning of 2009. We started our night at the Cheesecake Factory, a favorite of ours because who doesn't love cheese and cake? After we thoroughly stuffed our gullets with deliciousness, I headed over to Borders for Scott Sigler's signing of his new book CONTAGIOUS. The moment I walked into the store I knew I was in for a great night. He read for over 20 minutes, enthralling the over 100 people with his wonderful storytelling. He ended up selling out of CONTAGIOUS and promised if the crowd was the largest on this leg of the tour, everyone present would be mentioned, by name, in his next book. I thought that was pretty sweet, so you better believe Guinevere Reyes was the first to sign her name! I couldn't get a book, but I did get a few pictures of Scott reading.
Over at the other big Friday night book signing, was the Oprah fitness guru Bob Greene at Barnes & Noble Lincoln Park. Even though Oprah has topped 200 pounds, Greene is still a voice to reckon with in the fitness biz. But apparently not as much as before or simply because it was a Friday night. Anyway, we arrived early expecting crowds and little seating. We were right about the seating — none because he had to abbreviate his schedule and wasn't planning on talking, just signing his book, THE BEST LIFE DIET and leaving. But because there were only about 25 people waiting he took the time to do a bit of talking about his ideas, book and fitness plans. The crowd grew! He was very articulate and emphasized that people have to make life changes — big ones — to keep fit and weight off. So true I'm afraid. Again, he was a great speaker and seems to have a good plan for better fitness. Oh, and if you bought his book you got a cool free green bag. Some of us are suckers for free shopping bags you know!
Then we met up again — the two halves of the book club — went over the two authors and signings and took our Cheesecake Factory dessert to-go boxes and went home. Did I mention we bought books because after all what do readers do when they are in a bookstore? Answer: BUY BOOKS, you can never have enough!
Up tonight is the kick off social gathering for FenCon — the local Science Fiction and Fantasy literary conference in September. Time to meet more friends!
Sara Reyes
DFW Tea Readers Groups
Readers 'n 'ritas … celebrate passionate literary obsessions