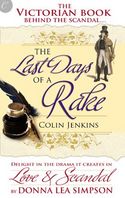 My Mom and I had a conversation once that still makes me laugh to think about it. Concerning some movie set in historic times, my Mom commented that she didn't think it was very accurate because it had people behaving in a – ahem – sexual manner. "People back then didn't behave like that!" she stated, with some emphasis. "They just didn't jump into bed with each other."
Well, mother is not always right! With all the sexual scandals in the news lately, it is easy to forget that 'plus ça change, plus c'est la même chose'. That's my fancy French way of saying, the more things change, the more things stay the same!
Here is a look at just a few of the sexy scandals of the last two hundred years!!
Charles Dickens and Ellen Ternan – By 1858 Dickens was a well-loved and well-respected author, adored by the public for his moral and piquant tales. But in a well-chronicled 'oops' moment worthy of any Hollywood writer, a bracelet intended for his mistress, Ellen Ternan, was delivered to his wife of 22 years, Catherine. TMZ woulda loved that story, but with no tabloid press to capitalize on the tale, Dickens quietly separated from his wife, and traveled with Ternan from then on. No one said a word!
Mary Ann Evans (aka George Eliot) and George Lewes – Mary Ann Evans was a well-educated, pious young woman, the kind of quiet, modest, proper girl that… NOT! Evans, though well-educated and intelligent, was also forward-thinking. She not only formed romantic attachments on a couple of occasions with married men, she ultimately ended up living with George Lewes, the very married father of at least three (his wife, Agnes, had other children, purportedly by other men, but George supported the whole mélange) for over 20 years, until his death. At least Brad Pitt divorced his wife to live with Angelina Jolie!!!
Prinny (aka the Prince Regent, aka King George IV) and… well, lots of women? – Prinny had a wide-spanning scandal-ridden romantic career. He not only contracted a marriage to his almost-first love, the Catholic Maria Fitzherbert, but then went on to blithely ignore this marriage, conducting affairs with other women, and eventually marrying Caroline of Brunswick, which marriage he then proceeded to ignore in favor of a series of strong-willed mistresses. Loyalty in sexual affairs was never his strong suit.
Thomas Jefferson and Sally Hemings – Jefferson, an intelligent and complex man, if oddly dual-sided, is alleged to have had, for many years, a 'scandalous' affair with his slave, Sally Hemings, and the two purportedly had children together. Though disputed by some, the story is widely believed, but has never altered his reputation as one of the Founding Fathers of the United States of America.
Oscar Wilde – Does anyone even need to be reminded of how notorious Wilde was in his own time? What would be considered mildly salacious gossip nowadays – that he had conducted homosexual liaisons – was ruinous and potentially life-threatening in Victorian London of the 1890s. Still, he was ultimately triumphant, in that what we remember best today is his brilliance as a playwright.
So… far from what my mother believes, there was indeed abandoned sexuality, indiscreet affairs and wildly physical lovemaking in days gone by. In Love & Scandal, (Carina Press – June 2010 – eBook) my historical romance set against the backdrop of the literary world of mid-Victorian London, Collette, a naïve but deeply intelligent young woman, not only explores her own sexuality with the devastatingly handsome and charming rake, Charles Jameson, she also expresses a moral ambiguity in the pages of her novel, The Last Days of a Rake. 'Last Days' scandalizes London society with its frank portrayal of a rake's behavior and death, and Carina Press, wonderful folks that they are, allowed me to write – and are offering FREE of charge – The Last Days of a Rake. By writing that novella, I got to explore Collette's uncertainty about the true meaning of sexual morality, and let the readers of Love & Scandal see what all the fuss was about!.
But I was able to do something even more interesting, in the pages of my romance. In Love & Scandal I created a fictionalized version of Collette's meeting and friendship with the famous and infamous Mary Ann Evans, who was living out her own scandal, dealing with the consequences in her stoic and yet so-human way. Putting words in her mouth was a pleasure, though I tremble to know what devout George Eliot fans will say.
I enjoyed thoroughly the process of writing these two books, and I hope readers enjoy it just as much!
Lots of historical love,
Donna Lea Simpson
* Those who comment on this blog will be entered to win a copy of Love & Scandal in whatever eBook format (among those offered) they prefer. Say something, and you'll be entered to win!!
Important note: If you've never tried an eBook, and aren't sure you'll enjoy it, download The Last Days of a Rake for a free example of Carina Press's well executed digital formats. eReading softwares like Kindle, etc., are available for free for your computer on various websites, and there are a lot of free books online to explore in this manner. You don't need a dedicated eBook device to read Love & Scandal!
Find Donna Lea Simpson online at her website.
(There is a click-thru there to order the book directly from Carina)
To read an excerpt click here.
To comment for a chance to win on Donna's blog please click here.