There is a lot to be learned about writing by going to see Billy Joel in concert.
Hang on. I'll prove it.
My family and I attended one of Billy's (we're close personal friends, as he was with the other 17,000 people in attendance) Madison Square Garden shows recently. He plays there once a month as he said, "for the rest of my natural life." The kids had never seen him live and their birthdays are close enough to each other that we could justify the expense.
Because the shows are monthly, Mr. Joel is given to dredging up album cuts you might not expect and playing around with songs in inventive ways. But he makes sure the huge hits are represented, if not all covered, and he doesn't ever lose sight of the fact that there's an audience.
At three separate stages during the concert, he looked out over the enormous, incredibly appreciative crowd (never an empty seat, month after month) and offered what he called "fielder's choice" songs—he'd mention two titles and whichever drew more applause would be played.
It's a classic way to engage an audience by making them feel they're driving the show. And it worked. A little scrutiny could clearly discern which song Billy wanted to play and that was the one chosen on every occasion. But the audience felt like it was their selection. Brilliant.
You're wondering what this has to do with writing. I can tell.
I'm thinking about music and writing because GHOST IN THE WIND, the seventh and latest (December 1) Haunted Guesthouse mystery, deals with a famous musician, Vance McTiernan, idolized by Alison Kerby, our protagonist. When Vance shows up in ghost form at Alison's Jersey Shore guesthouse and asks her for help in discovering who murdered his daughter, she is driven by nostalgia and awe for the artist, and might not see the man for who he is (was).
There's also a concert scene in the middle of the book (p. 107) that gathers a group of my favorites together, alas all posthumously, to play a very intimate gig at Alison's.
But the point is that a writer, like a singer, is an entertainer. The job is to attract and maintain the interest of an audience. In an author's case, it's one at a time. If you're Billy Joel, you get tens of thousands.
So how does the written word manage to captivate? My contention is the process is not dissimilar, particularly in a series rather than a standalone novel. The greatest hits must at least make an appearance, meaning character relationships and story staples (running gags in my case) should be alluded to in order to reward the loyal audience. But newcomers should not feel left behind or overwhelmed, so the premise of the series is explained at the beginning of every novel in the series.
But it's also possible—and advisable—to bring in new elements, to change up the formula so it doesn't appear so… formulaic. Each book will advance some themes but introduce new ways of looking at the characters that might not have been in the forefront in previous installments. In GHOST IN THE WIND, the idea was to get Alison excited about taking on an investigation while the resident deceased gumshoe Paul Harrison, usually the driving force in such situations, is reluctant. Hence Alison's idol worship.
The idea is to maintain pace, so ballads are okay but have to be interwoven with the rockers to keep the crowd happy. New material should be introduced, where familiar themes can simply show up unannounced. Encores? What are epilogues for?
The key is remembering to leave them wanting more. Which is why there will be an eighth Haunted Guesthouse book next December.
Excuse me. The band is playing "Only the Good Die Young."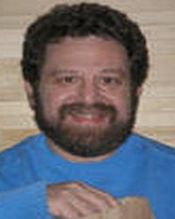 E.J. Copperman is the author of the Haunted Guesthouse mystery series and the co-author with Jeff Cohen of the Asperger's Mystery series. Next year E.J. will also unveil the Mysterious Detective Mystery series in which a crime fiction author is confronted by the flesh-and-blood incarnation of her fictional sleuth.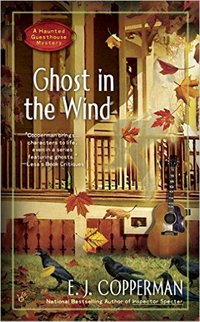 Murder and mystery on the Jersey Shore from the national bestselling author of Inspector Specter…
Never meet your heroes—especially when they're dead
Guesthouse owner, single mother, and reluctant ghost whisperer Alison Kerby is about to sit down to movie night with her family and friends when she's struck speechless. Floating before her is the ghost of her musical idol, 1960s English rock star Vance McTiernan. He's in desperate need of help from Alison and her resident ghostly gumshoe, Paul Harrison.
Reports claim that four months ago, Vance's daughter died from a drug overdose. Vance, however, thinks she was murdered. While Alison agrees to help, Paul is suspicious of Vance's motives. But after the body of the alleged killer is found in the movie room, Alison and Paul must act quickly before someone else finds a stairway to heaven…
Buy GHOST IN THE WIND: Amazon.com | Kindle | BN.com
| iTunes/iBooks | Kobo | Google Play | Powell's Books | Books-A-Million | Indiebound