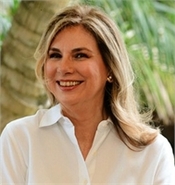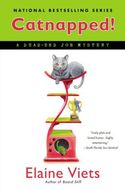 No cozy is complete without a cat. Mysteries have talking cats, crime-solving cats, and in Sofie Kelly's Magical Cats series, felines walk through doors and materialize in strange places. Sofie's cats transported her series to the New York Times bestseller list.
My Dead-End Job mysteries also have cats. Thumbs is a six-toed polydactyl cat who belongs to South Florida private eyes Helen Hawthorne and Phil Sagemont. Thumbs is a more earthbound feline, but he has practical magic.
CATNAPPED!, my 13th Dead-End Job mystery, is set in the world of cat shows. A pedigreed Chartreux show cat has been kidnapped for half a million dollars. Helen and Phil, the husband and wife PI owners of Coronado Investigations, are waiting for the catnapper to call. During this tense time, Thumbs uses all his feline powers to comfort Helen Hawthorne:
Cats are magical creatures, Helen thought, as she sipped her coffee on the couch in Phil's apartment. Her own cat, Thumbs, was curled up next to her, purring. Cats can't talk or walk through walls, though they seem to have those powers. But they are calming.

Since nine o'clock this morning, I've downed four cups of coffee, waiting for the catnapper's call. Phil's worked himself into a sweaty, twitching mess of caffeine nerves.

We both know we have to recover that kidnapped kitten. Our reputation—the future of our agency—is wrapped up in Justine's small gray paws.

I'm scared, too. Phil may be the only man in the world for me, but he can't help me wait out this crisis. All we can do is worry together. Thumbs and his rumbly purr ward off the gnawing anxiety.

Thumbs only weighs fifteen pounds. He has no pedigree. By any breed standard, his soft, six-toed paws are deformed. Yet he rules our household through the force of his personality. Phil and I run on his schedule: his breakfast is served at seven a.m., his dinner is at seven p.m., his litter box is cleaned, his ears are scratched and he scores an occasional shrimp treat.

He's smart enough to be content with that. Thumbs knows the secret of serenity. He gives it, too. He has an uncanny knack for coolly sidestepping mayhem. His first owner was murdered. I swiped him from his second owner, and used the cat's DNA to send that person to prison.

Thumbs has stayed with me ever since. He adopted Phil, and now he's sitting with me during this crisis, watching me with those shrewd golden-green eyes outlined with dark feline mascara. His sturdy body is a patchwork of stripes and pure white fur. He's a creature of many parts.

Helen was scratching the thick fur along the cat's shoulders when she heard the special ring tone for the kidnapper's line.

She checked the clock: 10:45.

Phil pounced on the phone.
---
Elaine Viets's national bestselling Her Dead-End Job mysteries are a satiric look at a serious subject – the minimum wage world. Her character, Helen Hawthorne, works a different low-paying job each book. She's been everything from a telemarketer to a hotel maid. The South Florida series has been called "Janet Evanovich meets The Fugitive."
CATNAPPED!, the 13th book in the series, is set in the world of show cats. A Cat Fanciers' Association judge checked the show details. Fresh Fiction's Betty Cox said, "Cozy mystery tales just can't get any better than Catnapped!"
Elaine has won the Agatha, Anthony and Lefty Awards.
Order your copy of CATNAPPED! here:
To comment on Elaine Viets's blog please click here.