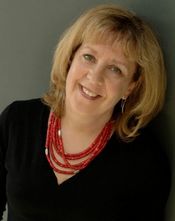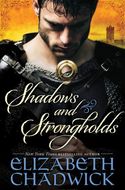 Shadows and Strongholds is largely set in a part of England very close to the Welsh border, in a beautiful county called Shropshire.  Much of the story takes place at Ludlow Castle which was once a great medieval fortress and still consists of substantial ruins today in the town centre.   It was begun in the late 11th century by the de Lacy family and continued to be built upon and maintained until the 16th century.
The de Lacy family rebelled against the king and Ludlow castle was taken away from the male line and given  instead to a lady of the de Lacy bloodline called Sybilla Talbot.  King Henry I married her to one of his own men, Payn FitzJohn.  She bore  Payn two daughter, Cecily and Agnes. Payn was killed by Welsh raiders in 1137, leaving Sybilla a widow still of child-bearing age and in possession of a major Welsh border fortress.   At this time, old King Henry had died and the throne had been taken by his nephew, Stephen.  However, Henry's daughter, Matilda also felt she had a right to the crown and set out to try and topple  Stephen from his throne.  The disinherited male de Lacy line threw in their lot with her, intent on making a determined effort to have Ludlow restored. Stephen counteracted their efforts by marrying the widowed Sybilla to one of his best knights, a Breton mercenary named Joscelin de Dinan who came from the line of the Counts of Brittany.
Sybilla and Joscelin also had two daughters – Sybilla, and Hawise.  The second one is the heroine of SHADOWS AND STRONGHOLDS, a sparky, smart girl who is the apple of her father's eye.
For a while Jocelin de Dinan continued to fight for King Stephen, but as the young future Henry II took over the struggle for the throne from his mother, it became obvious that his was the better faction to support.  Not only that, but by backing the same side as his de Lacy rivals, Joscelin took the sting out of their tail.   The De Lacys, however, were still determined to get their castle back and tried all sorts of ways to obtain it. When legal proceedings fell on deaf ears, they tried to seize  it by force of arms but were beaten off in spectacular fashion by Joscelin and his future son in law, Brunin FitzWarin, the hero of SHADOWS AND STRONGHOLDS.  Brunin came to Ludlow as a boy to  learn the knightly arts from Joscelin de Dinan, and was a lynch pin in his lord's efforts to hold the de Lacys at bay.
Undaunted by earlier failed efforts,  the de Lacys attempted subterfuge.  One of their knights seduced a lady in waiting and persuaded her to open a window in one of the towers for them so that they could get a ladder up at night. From there they infiltrated the castle.  What happened next I'll let you read in the novel!
If ever you do get the opportunity to visit Shropshire and Ludlow, do go. It is a beautiful  county with many places of historical interest and Ludlow itself, still standing after almost a  thousand years is an opportunity not to be missed. The ghost of the lady in waiting who let the de Lacys into the castle is still said to wander the castle precincts.  I've been told by two people, one of them a historian, that they have felt her presence!
To comment on Elizabeth Chadwick's blog please click here.