For many historical fiction fans, one of the draws of the genre is watching woman of past confront challenges and restrictions to open up new opportunities for themselves.  In honor of the recent birthdays of some extraordinary women—my mother-in-law, my stepmother and my daughter—this month I showcase a group of enterprising women who dare to dream of doing something more than filling a woman's conventional place in society.
We begin chronologically with THE DARING LADIES OF LOWELL by Kate Alcott.  Searching for independence and a better future, in 1832 farm girl Alice Barrow moves to Lowell to become one of the "mill girls."  Though the hours are long and the work grueling, she finds a new best friend in outspoken, feisty Lovey Cornell, camaraderie with the other mill girls, and intellectual stimulation in attending lectures at the Lyceum and working on the mill's literary magazine—where she catches the attention of mill owner's son Samuel Fiske.  As working conditions become more dangerous and the workers protest, Samuel invites Alice to represent the other mill girls at a meeting with his family.  But when her friend Lovey is found strangled and she suspects the Fiske family of withholding information about the crime, she is pulled by conflicting loyalties to her friends and to her budding relationship with Samuel.  Based on an actual murder of a mill girl and the sensational 1833 trial that followed, Alcott's book paints a vivid picture of industrial revolution America and the women set on carving out a place within it.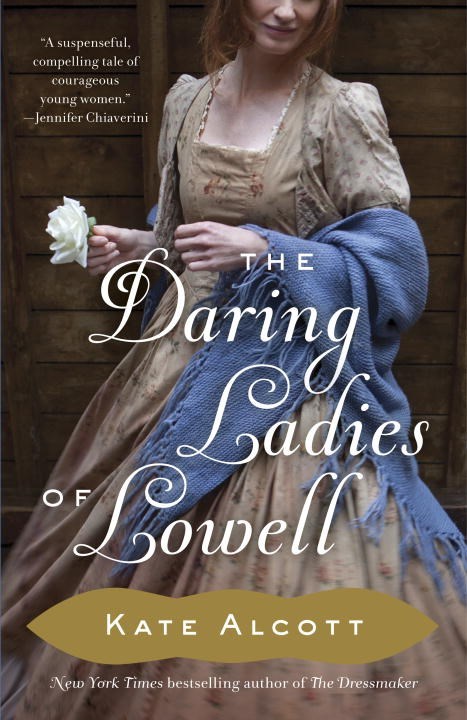 From the New York Times bestselling author of THE DRESSMAKER comes a moving historical novel about a bold young woman drawn to the looms of Lowell, Massachusetts–and to the one man with whom she has no business falling in love.
Eager to escape life on her family's farm, Alice Barrow moves to Lowell in 1832 and throws herself into the hard work demanded of "the mill girls." In spite of the long hours, she discovers a vibrant new life and a true friend—a saucy, strong-willed girl name Lovey Cornell.
But conditions at the factory become increasingly dangerous, and Alice finds the courage to represent the workers and their grievances. Although mill owner, Hiram Fiske, pays no heed, Alice attracts the attention of his eldest son, the handsome and reserved Samuel Fiske. Their mutual attraction is intense, tempting Alice to dream of a different future for herself.
This dream is shattered when Lovey is found strangled to death. A sensational trial follows, bringing all the unrest that's brewing to the surface. Alice finds herself torn between her commitment to the girls in the mill and her blossoming relationship with Samuel. Based on the actual murder of a mill girl and the subsequent trial in 1833, THE DARING LADIES OF LOWELL brilliantly captures a transitional moment in America's history while also exploring the complex nature of love, loyalty, and the enduring power of friendship.
Mystery Historical | Romance Historical | Historical [Anchor, On Sale: October 28, 2014, Trade Size / e-Book, ISBN: 9780345802569 / eISBN: 9780385536509]
Also defying conventional expectations to pursue their careers in Sara Donati's THE GILDED HOUR are Anna Savard and her cousin Sophie, pioneer women doctors in an 1883 New York that contains both fabulous wealth and grinding poverty.  In their efforts to help the poorest and most vulnerable, they treat patients facing desperate choices and attempt to care for orphans who have lost everything.  But their unconventional profession and their commitment to their patients' welfare brings them the unwelcome attention of anti-vice crusader Anthony Comstock, a powerful man determined to eliminate everything he considers "indecent"—and anyone who stands in his way.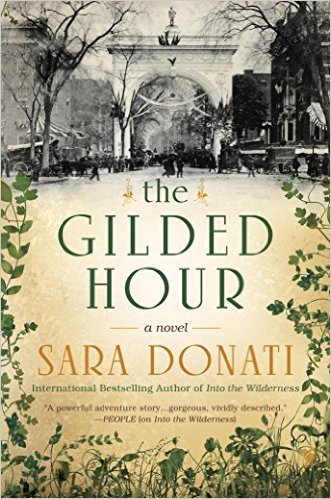 The international bestselling author of Into the Wilderness makes her highly anticipated return with a remarkable epic about two female doctors in nineteenth-century New York and the transcendent power of courage and love…

The year is 1883, and in New York City, it's a time of dizzying splendor, crushing poverty, and tremendous change. With the gravity-defying Brooklyn Bridge nearly complete and New York in the grips of anti-vice crusader Anthony Comstock, Anna Savard and her cousin Sophie—both graduates of the Woman's Medical School—treat the city's most vulnerable, even if doing so may put everything they've strived for in jeopardy.
Anna's work has placed her in the path of four children who have lost everything, just as she herself once had. Faced with their helplessness, Anna must make an unexpected choice between holding on to the pain of her past and letting love into her life.
For Sophie, an obstetrician and the orphaned daughter of free people of color, helping a desperate young mother forces her to grapple with the oath she took as a doctor—and thrusts her and Anna into the orbit of Anthony Comstock, a dangerous man who considers himself the enemy of everything indecent and of anyone who dares to defy him.
With its vivid depictions of old New York and its enormously appealing characters, The Gilded Hour is a captivating, emotionally gripping novel that proves Sara Donati is an author at the height of her powers.
Historical [Berkley, On Sale: September 1, 2015, Hardcover / e-Book, ISBN: 9780425271810 / eISBN: 9780698140677]
Moving into the twentieth century, we have THE TUMBLING TURNER SISTERS by Juliette Fay.  With the Turner family struggling in 1919 after their father loses his job, their ambitious mother decides the key to a better life lies on the road—in Vaudeville.  Turned by their stage mother into a sister act, the four girls and their mother join a company of diverse entertainers who travel from town to town, often skirting the law as they encounter Prohibition, Jim Crow, and the dangers facing women living on their own.  Told mainly through the eyes of teenagers Winnie and Gert, Fay's novel vividly recreates a lost world as the girls come of age, deal with heartache and loss, and experience the ultimate triumph of a family's love.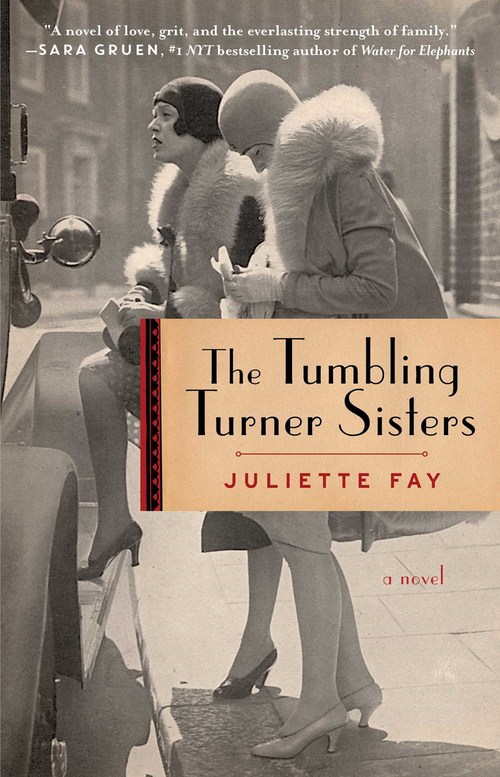 For fans of Orphan Train and Water for Elephants, a compelling historical novel from "one of the best authors of women's fiction" (Library Journal). Set against the turbulent backdrop of American Vaudeville, four sisters embark on an unexpected adventure—and a last-ditch effort to save their family.
It's 1919, and the Turners are barely scraping by. When their father loses his job, their irrepressible mother decides that vaudeville is their best chance to make the rent—and create a more exciting life for herself in the process.
Traveling by train from town to town, teenagers Gert, Winnie, and Kit, and recent widow Nell soon find a new kind of freedom in the company of performers who are as diverse as their acts. There is a seamier side to the business, however, and the young women face dangers and turns of fate they never could have anticipated. Heartwarming and surprising, The Tumbling Turner Sisters is ultimately a story of awakening—to unexpected possibilities, to love and heartbreak, and to the dawn of a new American era.
Historical [Gallery Books, On Sale: January 3, 2017, Trade Size / e-Book (reprint), ISBN: 9781501145346 / eISBN: 9781501134487]
The rollicking era of the Roaring Twenties is also featured in DOLLFACE by Renee Rosen.  Determined to trade her dull life for one of excitement and glamour, Vera Abramowitz bobs her hair, raises her hemline and colors her lips.  Although she works as a humble typist by day, at night she's a beautiful flapper, earning the name "Dollface" as she dances the Charleston at nightclubs and speakeasies.  Her beauty and vivacity ultimately attract the attention of two rival men—booklegger Shep Green, who rescues her during a raid one night and introduces her to the high-stakes world of gin, jazz and untold wealth, and Tony Liolli, one of Al Capone's henchmen.  Not realizing at first that the two men are mobsters from rival gangs whose Beer Wars are about to explode in violence, Vera falls for Tony, even though she knows he's not the staying kind.  Finding herself pregnant, she marries the "safer" Shep…and is drawn into a world of crime and retribution she could never have imagined, a world hurtling toward the climatic St. Valentine's Day Massacre, a world that will demand all the determination and perseverance she can muster to survive and escape.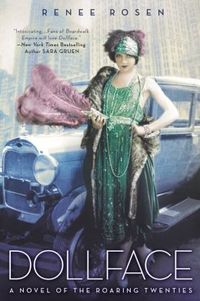 A Novel of the Roaring Twenties
America in the 1920s was a country alive with the wild fun of jazz, speakeasies and a new kind of woman—the flapper.
Vera Abramowitz is determined to leave her gritty childhood behind, and live a more exciting life, one that her mother never dreamed of. Bobbing her hair and showing her knees, the lipsticked beauty dazzles, doing the Charleston in nightclubs and earning the nickname "Dollface."
As the ultimate flapper, Vera captures the attention of two high rollers, a handsome nightclub owner and a sexy gambler. On their arms, she gains entree into a world filled with bootlegged bourbon, wailing jazz and money to burn. She thinks her biggest problem is choosing between them, until the truth comes out. Her two lovers are really mobsters from rival gangs during Chicago's infamous Beer Wars, a battle Al Capone refuses to lose.
The heady life she's living is an illusion resting on a bedrock of crime and violence unlike anything the country has ever seen before. When the good times come to an end, Vera becomes entangled in everything from bootlegging to murder. And as men from both gangs fall around her, Vera must put together the pieces of her shattered life, as Chicago hurtles towards one of the most infamous days in its history, the St. Valentine's Day Massacre.
Historical | Suspense | Thriller Historical [Berkley, On Sale: November 5, 2013, Paperback / e-Book, ISBN: 9780451419200 / eISBN: 9781101617717]
Curious now to follow these pioneering ladies as they take on the world? Grab a book (or an e-reader) and dive in!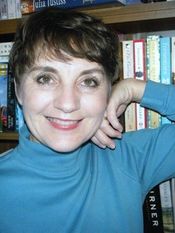 Real, intense, passionate historical romance
After twelve years as a vagabond Navy wife, an adventure that took her from Virginia Beach, VA, to Monterrey, CA, to Tunis, Tunisia to Oslo, Norway and back, Julia Justiss followed her husband to his family's East Texas homeland. On a hill above a pond with a view of pasture land, they built an English Georgian-style home. Sitting at her desk there, if she ignores the summer heat, she can almost imagine herself in Jane Austen's Regency England.
In between teaching high school French and making jaunts to visit her three children (a Seabee in Gulfport, MS, a clothing buyer in Houston and a mechanical engineer in Austin, TX) she pursues her first love—writing historical fiction.
Series: Regency Silk & Scandal | Hadley's Hellions | Ransleigh Rogues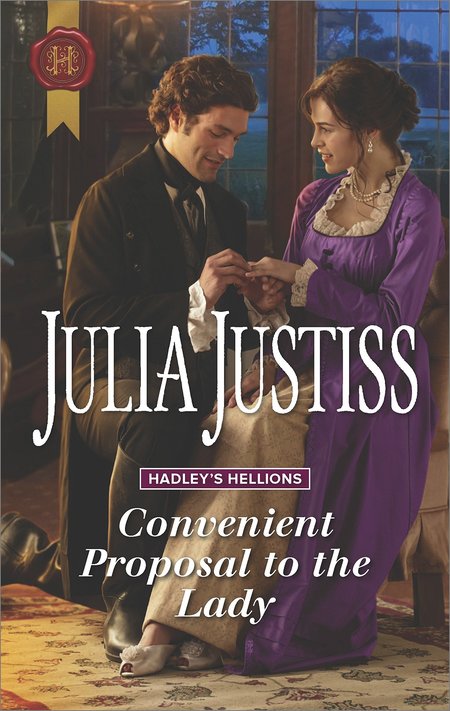 "Duty can also be pleasure, Lady Alyssa…"
When politician Benedict Tawny set out to save Lady Alyssa from a nefarious plot, he never expected to find himself trapped in a compromising situation with the alluring lady! Now duty demands he propose…and claim her as his bride!
Tainted by his illegitimacy, Ben knows he can't give Alyssa the life of luxury she deserves. But if he can convince her to succumb to the undeniable heat between them, their convenient marriage might just lead to the love of a lifetime!
Romance Historical [Harlequin Historical Romance, On Sale: February 21, 2017, Paperback / e-Book, ISBN: 9780373299218 / eISBN: 9781488021190]