1–What is the title of your latest release?
2–What is it about?
In an intergalactic empire, charismatic social butterfly Prince Kiem is commanded to marry Count Jainan, a serious and duty-conscious diplomat from a vassal planet. But Jainan's last husband died unexpectedly, and Jainan himself is under suspicion of murder. The pair must work together to solve the mystery of his last husband's death, while they find themselves unexpectedly falling for each other.
3–What do you love about the setting of your book? 
I had fun writing a royal family under a media spotlight and what that meant for the public perception of the main relationship. And while I was working on it, I enjoyed living in a world where queer relationships are so normalized they're totally unremarkable.
4–How did your main character(s) surprise you? 
Prince Kiem is one of those people who reacts to every situation by opening his mouth and starting to talk—some of the time I had no idea what he was going to say, but it always took the scene to fun places.
5–Why will readers relate to your characters? 
I found it very easy to write Jainan, a habitual overthinker completely baffled by his extrovert husband. I think we've all been both the person doing too much talking in a situation and the person doing too little!
6–What was one of your biggest challenges while writing this book (spoiler-free, of course!)? 
I'd published a first draft of it online, and made major changes to it after that, so I kept second-guessing myself during the revision process and wondering whether the original readers would like the changes! There was a lot of work to do developing the setting and the plot so it felt more layered. I'm excited for how the finished product has turned out.
7–Do you look forward to or do you dread the revision process? 
I always feel I'm making the book worse at the time, but invariably I come out the other end and realise it's much improved.
8–What's your favorite snack to have on hand while writing? 
I go through so much chocolate and tea.
9–Where would you go for an ideal writer's retreat? 
Somewhere with warm weather – or maybe that's just because it's currently sleeting outside my window 🙂
10–What's the best piece of writing advice you've received? 
For me, doing a bit of planning upfront helps me get to the end of the book. It doesn't work for everyone, but I need to know roughly where I'm going.
11–Who is the fictional character you want to hang out with the most? (anyone in literature!)
Probably Sam Vimes from the Discworld series, though chances are we'd get interrupted by a crime halfway through drinks.
12–What's one of your earliest book memories? 
Trying to explain to my parents why I was in floods of tears at the end of The Lord of the Rings! Honestly, I'm not even sure I could read it now without sobbing.
13–If you had to write in a different genre, what would it be and why? 
I love historical fiction. I've never tackled it because of the amount of research you'd need to do, but I admire writers who do.
14–What song will automatically put you in a good mood? 
Never Look Away by Vienna Teng
15–What is your favorite way to practice self-care?
More tea, more chocolate, and in bad cases lying dramatically on the floor.
16–What can you eat and never get sick of? 
I'm really into soup at the moment. I never realised it was so easy to make.
17–Will you share a favorite, recent-ish book you recommend? 
I'm currently reading Get a Life, Chloe Brown, by Talia Hibbert – contemporary romance with a protagonist who has chronic fatigue – and I'm loving it, it's so much fun!
18–Do you have any hobbies? 
I like playing the piano, though I'm extremely bad at it.
19–Are you an early bird or a night owl?
I've shifted to early bird; it's easier to get out of bed if you know you're writing before work.
20–What can readers expect from you next? 
I'm in the middle of drafting another emotions-in-space book, so I'm excited about that!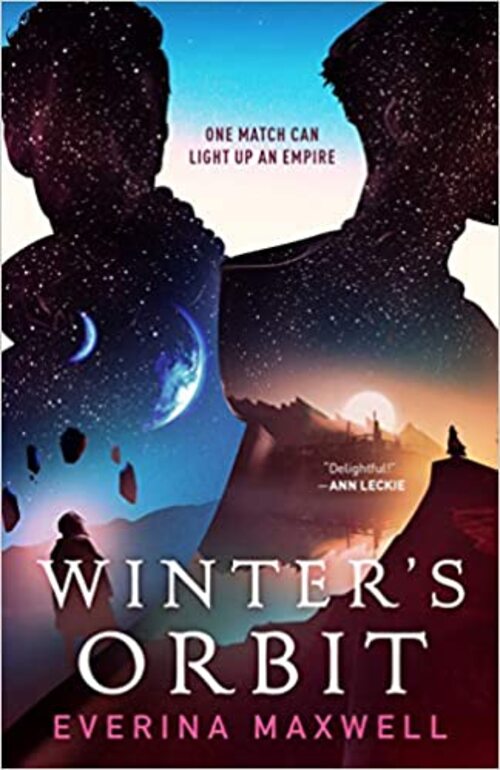 ANCILLARY JUSTICE MEETS GIDEON THE NINTH IN EVERINA MAXWELL'S EXCITING DEBUT
While the Iskat Empire has long dominated the system through treaties and political alliances, several planets, including Thea, have begun to chafe under Iskat's rule. When tragedy befalls Imperial Prince Taam, his Thean widower, Jainan, is rushed into an arranged marriage with the disreputable Kiem, in a bid to keep the rising hostilities between the two worlds under control.
But when it comes to light that Prince Taam's death may not have been an accident, and that Jainan himself may be a suspect, the unlikely pair must overcome their misgivings and learn to trust one another as they navigate the perils of the Iskat court, try to solve a murder, and prevent an interplanetary war…
Fiction Family Life | Science Fiction Space Opera | LGBTQ [Tor Books, On Sale: February 2, 2021, Hardcover / e-Book, ISBN: 9781250758835 / eISBN: 9781250758859]
Everina Maxwell is the author of Winter's Orbit, a queer romantic space opera about a diplomat who enters into an arranged marriage to save his planet.
She grew up in Sussex, UK, which has come a long way from the days of Cold Comfort Farm and now has things like running water and Brighton Pier. She was lucky enough to live near a library that stocked Lois McMaster Bujold, Anne McCaffrey and Terry Pratchett, so spent all her spare time devouring science fiction and doorstopper fantasy, with her family's Georgette Heyer collection always a reliable friend when the library books ran out.
She first took part in NaNoWriMo in 2004 and continues to precariously balance writing, a day job, and watching Let's Plays of video games she claims she doesn't have time to play. She lives and works in Yorkshire.