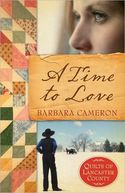 Quilts of Lancaster County #1
October 2010
On Sale: October 1, 2010
Featuring:
Matthew Bontrager; Jennie King
320 pages
ISBN: 1426707630
EAN: 9781426707636
Trade Size
$14.99
Inspirational Fiction Romance
Buy at Amazon.com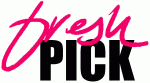 A Time to Love
by Barbara Cameron
Does time really heal all wounds?
War correspondent Jennie King thinks she's just a temporary guest in her grandmother's Amish community while she recuperates from the devastating injuries sustained in a car bomb attack that changed her world. But when she meets Matthew Bontrager, the man she had a crush on as a teenager, she wonders if God has a new plan for her. Jennie has emotional and physical scars and though she feels she has come home to this man and this place, she's not sure she can bridge the difference between their worlds.

A beautifully inspirational story of the Amish people and of the seasons we go through in our lives.
Excerpt
Jenny woke from a half-doze as the SUV slowed to approach a four-way stop.
"No!" she cried. "Don't stop!"
"I have to stop."
"No!" she yelled as she lunged to grab at the steering wheel.
David smacked her hands away with one hand and steered with the other. The vehicle swerved and horns blared as he fought to stop. "We're in the States!" he shouted. "Stop it!"
Jenny covered her head and waited for the explosion. When it didn't come, she cautiously brought her arms down to look over at David.
"We're in the U.S.," he repeated quietly. "Calm down. You're safe."
"I'm sorry, I'm so sorry," she whispered. Covering her face, she turned away from him and wished she could crawl into a hole somewhere Read More… Previous Picks