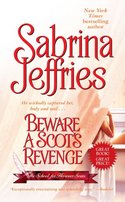 The School For Heiresses #3
May 2009
On Sale: April 28, 2009
Featuring: Venetia Campbell; Lachlan Ross
384 pages
ISBN: 1439140170
EAN: 9781439140178
Mass Market Paperback (reprint)
$5.99
Romance Historical
Buy at Amazon.com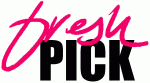 Beware A Scot's Revenge
by Sabrina Jeffries
Lady Venetia Campbell's visit to her childhood home in Scotland takes a dramatic turn when she's kidnapped at pistol point by her father's sworn enemy. Sir Lachlan Ross is widely feared in his guise as The Scottish Scourge, but Venetia remembers her former neighbor as a handsome youth whose attentions she craved.
Now a wickedly sexy man, Lachlan's appeal is even more intoxicating…and much more dangerous. Though Lachlan tries to treat her as his foe, his scorching kisses tell another story. And despite his plan to use her as a weapon against her father, Venetia is determined that Lachlan's lust for revenge will be trumped by an even more powerful desire….
Excerpt
The music began, and Sir Lachlan Ross forced himself to move, forced himself to ignore the throbbing in his half-healed ribs and the ache in his recently-broken thigh bone. Although certain steps proved a minor agony, dancing with Lady Venetia was better than standing about, listening to her aunt talk of his family, unraveling his plans with each casual word.
How in God's name had the woman seen the resemblance between him and Father? For that matter, how had Lady Venetia noticed it? He was wearing a wig and mask! Not to mention that neither lady had laid eyes on him in years.
No one must recognize him, or this would be over before it began. His mother and clan had worked hard to hide the fact that he was alive by holding a pretend funeral for him. He mustn't Read More…