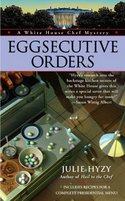 White House Chef Mystery #3
January 2010
On Sale: January 5, 2010
Featuring:
Olivia Paras
352 pages
ISBN: 0425232034
EAN: 9780425232033
Paperback
$7.99
Mystery Cozy, Mystery Amateur Sleuth
Buy at Amazon.com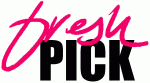 Eggsecutive Orders
by Julie Hyzy
The third installment in the exciting and award winning series featuring Olivia Paras, an assistant chef for the White House.
Chef Olivia Paras has too many eggs in one basket-and is feeling like a basket-case…
When NSA big shot Carl Minkus dies right after eating the dinner Olivia Paras's staff had prepared, all forks point to them. Now the Secret Service is picking apart the kitchen-and scrutinizing the staff's every move. The timing couldn't be worse with the White House Lawn Easter Egg Roll to prep for without access to a kitchen. Olivia must find the real culprit-before she cracks under pressure.

An entertaining, well-written mystery with fascinating characters and a satisfying conclusion.