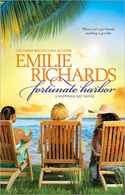 Happiness Key
July 2010
On Sale: June 29, 2010
Featuring:
Janya Kapur; Tracy Deloche; Wanda Gray
400 pages
ISBN: 0778327701
EAN: 9780778327707
Paperback
$13.95
Women's Fiction
Buy at Amazon.com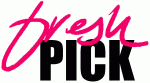 Fortunate Harbor
by Emilie Richards
When you've got friends, anything is possible
Join five women connected only by their growing friendship and the road that runs like a lifeline between their cottages in a run-down Florida development called Happiness Key.
Tracy Deloche finally gets a chance to swap business for a romantic evening with Marsh Egan, but dinner goes cold when she spots her ex-husband prowling outside her cottage. CJ is supposed to be in prison and out of her life for good. Exactly what is this modern-day pirate seeking and what will it mean for Tracy's future?
Janya Kapur envies every pregnant woman she sees, but Rishi, her husband, is suddenly reluctant to talk about children. Is he disappointed in her inability to conceive? Their marriage was a contract between strangers. Can they ever hope for anything more?
Waitress Wanda Gray loses her job after new owners turn the Dancing Shrimp into a tapas bar. Wise neighbor Alice Brooks's suggestion that Wanda start her own business seems like a brilliant solution, until Wanda starts Pie War I with the owners of the local bakery.
When the empty cottage at Happiness Key is rented by single mother Dana Turner, everything seems perfect. With Alice volunteering to watch Dana's daughter while she works and Wanda's offer of a job, this spit of Florida Gulf Coast land should be a fortunate harbor for a mother and daughter who have moved far too often. Except for Dana's shocking secret.
As the women of Happiness Key struggle to discover the truth in time to help their new neighbor, their only weapon is friendship. But will friendship be enough?

A delightful read about friends genuinely caring for each other as they deal with everyday problems.
Excerpt
So much time had passed since Tracy Deloche had gotten it on with a man that last night she'd actually made a list of things she needed to do, just so she wouldn't make an embarrassing mistake.
"Shave everything that needs it." Now she paused beside her dresser to check that one off. An hour ago she had taken a long scented bath and made sure that not one hair, one patch of stubble, remained where it shouldn't.
"Insert diaphragm." She wasn't fond of number two. She'd been on the pill most of her adult life, but at her last checkup, the doctor had asked a series of questions, then recommended she take a break for at least a year. The woman, who was even younger than Tracy's thirty-five Read More…