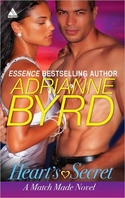 Match Made
June 2010
On Sale: June 1, 2010
Featuring:
Melanie Harte; Jaxon Landon; Zora Campbell
304 pages
ISBN: 0373831854
EAN: 9780373831852
Paperback
$6.99
Romance, Multicultural Romance
Buy at Amazon.com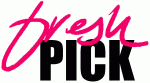 RT Book Reviews 2010 Reviewers Choice Multicultural Romance
Heart's Secret
by Adrianne Byrd
Melanie Harte's latest matchmaking assignment comes with a catch. Her client, Jaxon Landon, can never know that his grandmother hired Melanie to find him a woman of substance—someone more interested in making the handsome banker happy than in spending his money. With Melanie's help, Jaxon meets Zora Campbell, a former model whose thriving agency proves she's just as brilliant as she is beautiful.
For the first time Jaxon is falling for a woman who is his equal—and their combustible chemistry proves the feeling is mutual. But the hotter their relationship gets, the more Zora worries about what will happen when Jaxon discovers the ploy behind the passion. A simple lie brought them together—but will it also tear them apart?
Excerpt
"Zora, when are you gonna stop teasin' and go out with a brotha?"
Zora Campbell looked up from her script and flashed Todd Brady a smile. Though her supermodel days were behind her, it was still a boost to her ego that men continued to go out of their way to try and impress her. "C'mon, Todd. You know the rules. I don't date men I work with."
"All right then. I quit," he said, shrugging his mountainous shoulders and then spreading his LL Cool J-looking luscious lips into a wide smile. "There. That solves everything."
"You can't quit. I need you." She poked out her bottom lip and fluttered her long lashes up at him.
Todd clutched a hand over his heart and sighed. "Ahhh. If only that was true."
Zora laughed at his silly Read More…