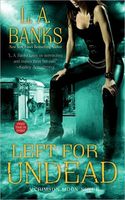 Crimson Moon #6
October 2010
On Sale: September 28, 2010
Featuring:
Hunter; Sasha Trudeau
304 pages
ISBN: 0312943024
EAN: 9780312943028
Mass Market Paperback
$7.99
Romance Paranormal, Fantasy Urban
Buy at Amazon.com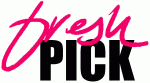 Left For Undead
by L. A. Banks
Secret government operative Sasha Trudeau earned a long vacation with her lover and fellow Shadow Wolf, Hunter, after the brutal wolf-like attacks that left New Orleans in an uproar. But when her team calls with news of vampire slayings, Sasha knows it's only a matter of time before another war breaks out among the supernatural denizens of the world …
The vampires are nobody's ally, but the cold-hearted deaths of their own kind make them even more bloodthirsty than usual. But who is the culprit? With the Seelie and Unseelie courts claiming innocence and aligning together, Sasha's team is at a loss. Until they discover that they're facing ancient creatures from the depths of hell itself, bent on unleashing pure fury …
Excerpt
Elder Vlad stood by the desecrated mausoleum peering down at the charred male corpse. Blue blood slowly blackened beneath the visible pulsing veins in the paper-thin skin of Vlad's bald head while his black irises completely overtook the whites of his eyes. The Vampires around him were quiet and still under the blue-white wash of moonlight in the cemetery, awaiting his permission to investigate. Fury threaded through his body like dark tendrils of hatred, although the ancient vampire remained stoic.
"Who did this?" His rhetorical question was uttered between his fangs with deadly calm. He already knew the culprits; his angry query was simply a command for external confirmation. Elder Vlad glanced up, holding his top hunter lieutenant's gaze, and impatiently waited for an answer.
"We believe it had to be Unseelie Fae, Your Excellency. Just like the others." Caleb dropped to Read More…