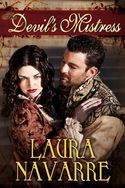 June 2010
On Sale: May 25, 2010
Featuring:
Allegra Grimaldi; Joscelin Boleyn
191 pages
ISBN: 1609280288
EAN: 9781609280284
Mass Market Paperback
$5.50
Romance Historical
Buy at Amazon.com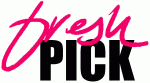 The Devil's Mistress
by Laura Navarre
Desire has never been so dangerous.
Living breath-to-breath beneath the shadow of violence, Italian perfumer and apothecary Allegra Grimaldi was forced to learn the killing arts from the Hand of God—a religious assassin. She has sworn never to use her deadly skills, but now a blackmailer has her by the proverbial throat.
To save her family from an ugly death, she must do the unthinkable. Infiltrate the court of King Henry VIII, poison the heretic Anne Boleyn before she becomes queen—and frame Anne's bastard brother for the crime. Honest and principled, Sir Joscelin is the perfect pawn.
Allegra is clever, captivating…and her warning to Anne immediately rouses Joscelin's suspicion. Sworn to protect his sister, and striving for recognition from the powerful father who disdains him, Joscelin has no choice but to put aside his attraction to the mysterious lady and gather evidence to see her burn for witchcraft.
To avert a disaster that will change the face of Europe, this stalwart soldier of incorruptible integrity and the fallen woman who breathes deception must learn to trust each other—and discover the one truth that could save them all.

Historical romance at its best in this intriguing, passionate novel full of political betrayal.
Excerpt
As she offered the goblet to Anne Boleyn, Allegra glimpsed a tumult at the edge of her vision: a large man in a russet doublet cursing as he shoved through the crowd. Her trained mind was scrambling for a defense before his hand locked around her wrist, halting the cup a breath from Mistress Anne's fingers.
Damnation. Allegra pivoted toward him, ready words springing to her lips. Then her eyes locked with his, and her world tilted on its axis.
His eyes spat fire at her—green shot with topaz—piercing through a lifetime of cunning and artifice to reveal her secrets. Alone of the hundreds swirling through the banquet hall, this man wore no mask. His strong tanned features were open, square-jawed, handsome in the rugged way of an outdoor man. Creases fanned out from his eyes, as though he smiled Read More…