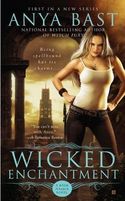 January 2010
On Sale: January 5, 2010
Featuring: Aislinn Finvarra; Gabriel Mc Braire
336 pages
ISBN: 0425232018
EAN: 9780425232019
Paperback
$7.99
Romance Paranormal
Buy at Amazon.com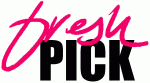 Wicked Enchantment by Anya Bast
When you're a half incubus, your reputation precedes you…
All eyes are on Gabriel Mac Braire the day he makes his first appearance in the Seelie Court, including those of Aislinn Finvarra. Despite deep bitterness over her last failed relationship, Aislinn cannot help but be curious about the half incubus who is known to possess dark magick, both lethal and sexual in nature. Rumors abound of the women who have become enslaved to his irresistible charms.
So when the Summer Queen of the fae orders Aislinn herself to act as his guide in the court, she is understandably on guard. She's fallen under the spell of far less persuasive men before. In addition, Gabriel might be more than he seems and his true mission is far from innocent.
This time, Aislinn must protect not only her heart, but her very life…
Excerpt
Having no particular interest in women's clothing other than when he was taking it off, Gabriel watched Aislinn. She touched the gowns, examined their size and length. Talked to the clerk about alterations, but she did it all with a dull look in her eyes. Whereas Carina seemed beatific in the shop with the ability to buy new things for court, Aislinn touched the garments with listless, roaming hands, as though searching for something that wasn't there, something she knew she'd never find between the four walls of the building. While all the time she kept glancing out the plate glass window to the street and the passersby.
Aislinn Christiana Guinevere Finvarra of the Seelie Court, supposed purebred Tuatha Dé Danann, was bored. Bored with her life, yearning for more. That was another secret she kept from her peers. Add it to Read More…