14.
Crab Crack
Six blue crabs rattle in a white bucket at my feet, blowing bubbles and pinching one another's legs. A gigantic stainless-steel pot boils on the stove. Steam billows overhead, making the already-toasty kitchen even hotter. I dump the blue crabs in-ide. They die instantly, I hope. When they pinken, I drain the pot and carry our Monthly Monday dinner to the porch. For the crab crack, Weezy and I have assembled newspapers, paper towels, heavy spoons, and a bowl of water. Weezy wears an old nursing bra and some stretchy biker shorts. Her grow- ing belly pokes out beneath a tank top. Our legs need shaving. Dirt collects in the spaces between my toes, beneath my nails. We've wrapped our hair in careless buns, high off our necks. We sit on the floor.
Weezy goes for the claws first. She cracks the shell open with a mallet. I start by prying off the carapace. Warm goop drips from my fingers to the newspaper. I use a spoon to scrape away the gills. I swish the carcass around in the water bowl to clean off excess innards. After I break the body in half, it strikes me that everything about cooking and eating crabs is somewhat violent.
A small pile of smashed, broken shells accumulates between us. We take turns feeding Francie pieces of the sweet flesh. She asks for more, and we give her as much as she wants. I sink into the rhythm of our picnic, enjoying the companionable absence of conversation as we hammer on the shells and suck the legs hollow.
"Simons, you have something you want to tell me?"
"What?"
"You've barely said a word since we left town."
Four days have passed since I kissed Harry, three days since my phone call with Trip. I haven't told a soul other than Laudie, and Laudie keeps her secrets. I guess Trip hasn't said anything either, because in the insular world of Old Charleston, news travels fast. I was going to tell Weezy about the breakup; I've been waiting for the right time, but there will never be a right time. Best to get it over with. "I told Trip I don't want to get married."
"What?!" Weezy is all eyes. "What happened?"
"I think we just grew apart. Or at least I grew apart."
"It's the long distance. Most couples can't survive it. I said that. I said you should just quit your job and move to Columbia."
"I remember."
"Columbia isn't that bad. It's actually a lot of fun. There's that river running through the city, and that art museum is really top-notch."
"I know."
Crab juice pools on the funnies section. The ceiling fan churns noisily above us. "It's not about Columbia, is it?"
"No."
"Why didn't you tell me?"
I keep my head down, avoid eye contact. "I didn't want to upset you. Or disappoint you. Everyone seemed so happy."
"Yeah, but you are the one who is getting married. You are the one who is supposed to be happy."
"Thanks."
She gasps at a new thought, holding her spoon high like a weapon. "Did he cheat on you?"
"No. Of course not." I wipe my chin with a paper towel and debate whether to tell her about the kiss. I don't think she would ever understand; she'd never look at me the same. "Weezy, can we not talk about this anymore?"
"I'm your sister. I'm supposed to know these things. How did I not know y'all were having problems? I feel terrible."
"Don't feel terrible."
Weezy scoots over and pulls me in for a hug. "Are you sure this is what you want?"
"I think so." My voice has risen into a high, mewling register and won't come down. "It felt wrong to be with him. Something wasn't right. But not being with him doesn't feel exactly right either. Did it feel right with Ashley?"
"Yes. I have to say it always felt right." She lifts her shoulders as though Ashley is behind her this very minute, giving her a squeeze.
"Like, you never felt you had to change to make your relationship work?"
"Change who I am? No. Definitely not." She bangs open another claw with a spoon. "Don't get me wrong. We have our moments."
"Like what?" They don't get along sometimes? They seem to always get along.
"Like when he watches Francie, he calls it 'babysitting.' And he leaves the toilet seat up. Little stuff like that. Of course, I'm not perfect, either. I'm a slob. I don't dress as nicely as I used to."
"Weezy, you're pregnant."
"Anyway, it's a give-and-take. But marriage is worth it, for sure."
"Hmm."
"What about babies? I've got at least two single friends sleeping with random men without protection they're so desperate to have kids. The biological clock thing is real."
"I don't know if I want kids. Francie is adorable, but I don't feel a strong desire to have one."
"Then what do you want?"
I pile the glistening white flesh on the newspaper. "I guess I need to figure that out."
Weezy half frowns, half smiles. "Mom's going to lose it when she finds out."
"I know."
"When are you going to tell her and Dad?"
"Tomorrow."
Weezy coughs out a piece of crab. "Dangit. While I'm here?" "Jeez, Weez. I'm sorry to inconvenience you."
"Just kidding. You know I have your back." "Thanks. That means a lot."
"I know."
***
After Francie falls asleep, Weezy and I slip on our flip-flops and ease open the creaky front door. I told Weezy we might be able to see some phosphorescence. She surprised me by saying she'd like to check it out. There are no other docks in sight, no houses, no man-made lights. We don't bring a flashlight; our eyes adjust to the darkness. It's a spectacular Lowcountry night. Beneath this dome of stars, we could well be inside a jewel box.
Weezy cranes her neck to look up. "Thanks for dragging me out here, Sims. I'm half thinking of waking Francie up to see this."
In single file, we make our way down the warped boardwalk planks. Beneath us, in the low plain of the marsh, tidal creatures treat us to a percussive performance. Shrimp pop as they leap from the water to escape predators. The oyster beds click, expelling old water for new. Marsh hens squawk in the spartina grass. Trolling stingrays splash in the shallows.
I guide Weezy onto the floating dock. We step carefully on the wobbly platform, its bobbing motion creating a wake in the otherwise still waters of the slack tide. I bounce on the dock's edge to agitate the water. The dinoflagellates ignite; tiny bursts of unearthly, surreal-green sparks flare and die—an entire cosmos at the tips of my toes. I dip a foot into the warm water to stir up more magic.
I fetch a paddle from an overturned kayak and hand it to Weezy. She drags the paddle through the water, making figure eights. The motion brings millions of microscopic creatures to life. What we see is an underwater fireworks show. "Wow," says Weezy. "I never grow tired of seeing this."
"I know. Magic." I don't just want to look at it; I want to be in it. I strip. A light breeze slides over my shoulders and down my spine. I jump high into the pewter night and plunge into the luminous water. It's like swimming in a liquid Milky Way.
Weezy lowers herself in from the swim ladder. "Oh my God, it feels great in here." She flips onto her back. Her bulging breasts and belly are radiant in the bath of starlight and phosphorescence. I watch her for a moment to be sure she's got her bearings. Because of the slack tide, she doesn't need to fight a current. But still, she's a pregnant lady. When it's clear she's floating comfortably, I swim toward the creek's center.
I turn onto my back, too, baring my body and soul to the world. A scintillating dome is formed by Orion's Belt, the Big Dipper, and a million other stars, visible and invisible. A shooting star courses overhead, slicing the sky. When is the last time Laudie saw a comet? I should take her out to see the stars.
"Simons?" The voice is faint. "I need some help, Simons." Twenty feet away, Weezy struggles to pull her body out of the river. I race toward her. She's made it to the middle rung of the swim ladder, but can't manage to hoist herself up. I grip the rails and ram my shoulder beneath her bottom to give her a push.
"Ouch! You are so bony," she says, laughing. "Are you okay?"
"I'm fine. I've just lost all ab muscle already and I'm not even halfway done with this pregnancy."
"Just take your time."
"Oomph." She moans as she lumbers up the ramp. I scramble behind her to gather our clothes. Wet and naked, beneath the stars, we walk back to the cabin.
(c) Gervais Hagerty, William Morrow, 2021. Reprinted with permission from the publisher.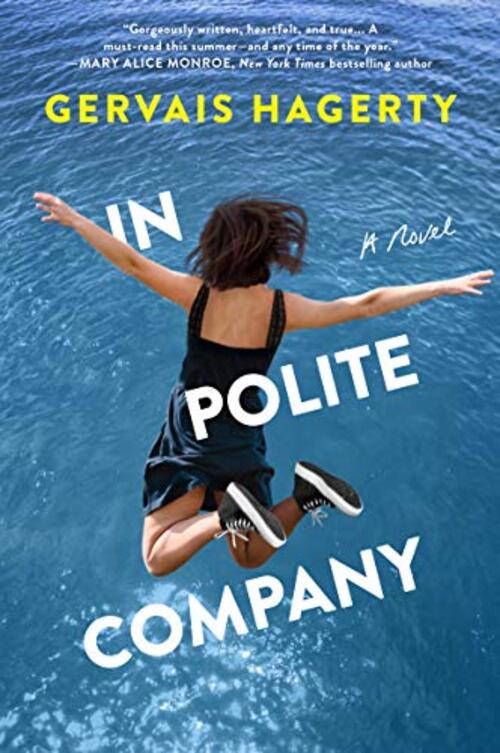 "This terrific debut lifts the veil on the charming old city of Charleston and a prominent Lowcountry family to deliver an entertaining story about becoming yourself without totally rejecting your past. Plus: debutante balls! I loved this novel." —Lauren Weisberger, #1 bestselling author of The Devil Wears Prada and When Life Gives You Lululemons 
A captivating debut novel that looks inside the private lives of Charleston aristocracy, where a former debutante learns that sometimes good behavior leads to bad decisions.
Tourists think they see the real Charleston, but there's more to this popular travel destination than sweet tea and Southern hospitality. Behind the walled gardens of the fabled historic homes live Charleston's elite. Simons Smythe was born into this powerful network that has quietly ruled the city for centuries, and she's waking to its arrogance.
Her family has a banner year ahead. In October, her older sister will give birth to her second child. In November, her younger sister will make her debut—a series of cocktail parties and balls to introduce her to society. And the following May, Simons is due to marry Trip; she hopes a year is enough time to fall back in love.
Simons produces the news at a local TV station. A judge—a family friend—was taken to jail and released just hours later with no charge. Airing the full story of this prominent local strains Simons's relationship with her family. Calling off the wedding jeopardizes those ties even more.
On her days out of the office, Simons surfs the waves of Folly Beach, crabs the salty rivers of Edisto Island, and follows her wayward heart to King Street bars. She also visits her grandmother and confidante, Laudie. They were born with the same traits: wide-set eyes and a rebellious nature, but something happened to Laudie in her youth that crushed her spirit. Since then, she's harbored a secret. It's stamped in the soles of her Capezio dancing shoes; it's coiled into her low ballerina bun. A dramatic turn of events threatens Laudie's life—and her ability to tell Simons what really happened long ago.
In this sparkling novel, Simons unlocks riddles from the past while discovering that some rules are made to be broken.
Women's Fiction Contemporary [William Morrow Paperbacks, On Sale: August 17, 2021, Paperback / e-Book, ISBN: 9780063068865 / eISBN: 9780063068872]
Gervais Hagerty grew up in Charleston, South Carolina. She earned her B.A. in psychology from Vanderbilt University. After a post-college stint in Southern California, she returned to the East Coast, where she worked as a news reporter and producer for both radio and television broadcasts.
In 2013, she earned her M.B.A. from The Citadel, The Military College of South Carolina, and soon after became a professor teaching Leadership Communications. As the director of Patricia McArver Public Speaking Lab, she coached students, faculty, and staff to become effective speakers. She also advised the college's public speaking club.
She is a board member of The Charleston Council for International Visitors and serves on Charleston's Bicycle and Pedestrian Advisory Committee.
She lives in Charleston with her husband and daughters.