Howdy y'all—
I couldn't squeeze all the happenings around the blogsphere into just one post! Like I said before this is probably the best month ever in the blogsphere.
Haunted Halloween: True Tales of the Paranormal (Oct 1st-31st)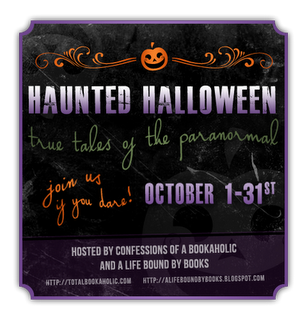 Hosts: Jess from Confessions of a Bookaholic and Lisa from A Life Bound by Books
What Can You Expect?
Last year we gave away around 150 books and featured over 65 authors. This year we are expecting it to exceed that amount by quite a few! And, that's not all. We have added other giveaways to the mix. We have some incredible donations from a few etsy stores and other "bookish" places.
But it gets better! You know how we all love authors, right? They are pretty much our celebrities? Well what if you had something unique and custom made from one of your favorite authors? Not just signed…but actually designed by them and completely one-of-a-kind. Stay tuned for more information on that! We gotta keep a few things secret 🙂
A Month of Treats (Oct. 3rd-Oct. 31st)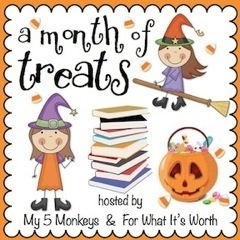 Hosts: Julie from My 5 Monkeys and Karen from For What It's Worth
Week One: Author Stacey Kade and Ghost themed book giveaway!
Week two: Author Sara Beth Durst interview and Vampire themed book giveaway!
Week three: Author Leigh Fallon on My 5 Monkey's and Logan (from Jeri Smith-Ready's Shade series) On For What It's Worth with interviews and a Witches & Ghost & Werewolves Oh My giveaway!
Week four: Author Jesse Peterson interview and a Zombie themed book giveaway!
Enter on both our blogs and double your chances of winning!
All book giveaways last the entire month of October with a total of four winners (for each blog) announced October 31st! International entries welcome if you're on The Book Depository shipping list!
Every Friday we'll be having a Bag of Treats giveaway (US only)! Answer our question of the day and be entered to win a bag of treats and a $5 Amazon Gift Card! Winners announced each Saturday!
I'll be linking both My 5 Monkey's and my posts/giveaways right here throughout the month so you won't be missing out on any of the awesome giveaways we have planned!
Particular Halloween Bash (Oct. 1st-Oct. 31st)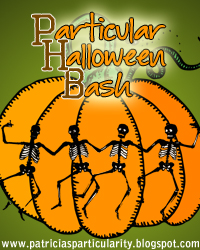 Host: Patricia from Patricia's Particularity
Over the entire month of October Patricia's Particularity will be hosting reviews, guest posts, discussion, giveaways and overall ghouly-ghostly-spooky fun.
I will be updating this schedule everyday, with links to everything that will be going on!
Helluva Halloween (Oct. 1st-Oct. 31st)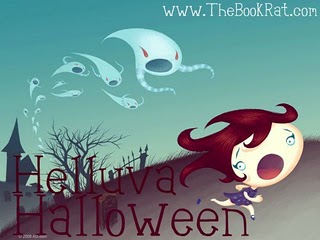 Host: Misty from The Book Rat
A month-long celebration of all things supernatural, quirky, and spooky! There will be reviews, activities, and giveaways!
Murder, Monsters, Mayhem (Oct. 1st-31st)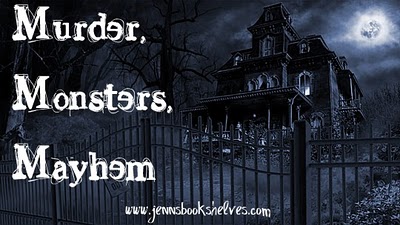 Host: Jenn from Jenn's Bookshelves
It's a month long celebration of horror and thriller books!
Spooky Legends (Oct. 1st- Oct. 31st)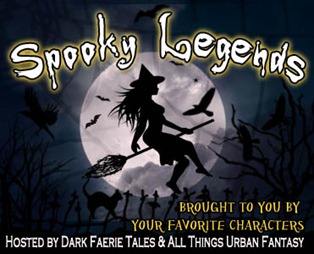 Hosts: Abigail from All Things Urban Fantasy and Angela from Dark Faerie Tales
Are you ready for another supernatural, spine-chilling, and sexy event? Are you ready for twice the talent, twice the scares, & twice the giveaways? This year's Spooky Legends is bigger and better than ever and will take place during the entire month of October!
Once again, Dark Faerie Tales and All Things Urban Fantasy are teaming up for this wickedly wonderful event that will feature some of the biggest names in paranormal fiction writing Brand New accounts of the most infamous urban legends from the perspective of the characters we love. Beginning on October 1st and running every day through Halloween, Angela and I will each be featuring different authors, legends, characters, and BIG giveaways for all these author's new releases coming out this fall:
I know I probably missed a few but hopefully you find them! Have a heck of a good time Trick or Treating around the blogsphere this year!
Felicia, the Geeky Book Blogger
Visit Felicia at her blog, GeekyBloggersBookBlog.com