Instead of trying to find your perfect match in a dating app, we bring you the "Author-ReaderMatch" where we introduce you to authors as a reader you may fall in love with. It's our great pleasure to present Heidi Chiavaroli!
Writes:
Dual timeline women's fiction. My latest release, The Tea Chest, hit stores yesterday, February 4!
About:
Thirty-something women's fiction author seeks readers for entertaining and emotional novel with a brave but conflicted historical heroine who must choose between her Loyalist family's wishes and her true love, a Patriot. After the Boston Tea Party, a mysterious chest becomes part of her legacy—a legacy that will change the future of a present-day woman who seeks to do what no woman has done before.
What I'm Looking For In My Ideal Reader Match:
Their idea of a perfect date is a trip to the local bookstore followed by dinner and a movie—maybe a compelling romantic drama.
Loves history and loves imagining the people who actually lived in the past and formed our country.
Likes reading both contemporary and historical stories and considers it a bonus when they are included in one novel with a satisfying connection.
Loves heroes who are caring and passionate about their causes—particularly the cause of liberty—and who are willing to risk their lives for the women they love.
Likes a little mystery and doesn't mind a little war in their novels.
Wants to learn more about the American Revolution.
Loves a good romance, but is also open to stories that explore some of the authentic challenges in a marriage.
Doesn't mind a few tears while reading a novel or staying up late to turn the pages.
Would love to spend a day on Boston's Freedom Trail.
What To Expect If We're Compatible:
Award-winning novels released regularly that will make you think and entertain.
Free short story and other special offers through my newsletter, Facebook, and Instagram.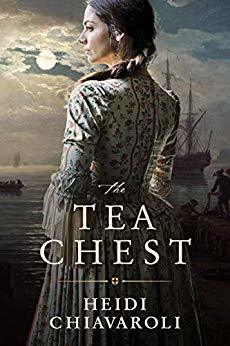 Boston, 1773
Emma Malcolm's father is staunchly loyal to the crown, but Emma's heart belongs to Noah Winslow, a lowly printer's assistant and Patriot. But her father has promised her hand to Samuel Clarke, a rapacious and sadistic man. As his fiancée, she would have to give up Noah and the friends who have become like family to her—as well as the beliefs she has come to embrace.
After Emma is drawn into the treasonous Boston Tea Party, Samuel blackmails her with evidence that condemns each participant, including Noah. Emma realizes she must do whatever it takes to protect those she loves, even if it means giving up the life she desires and becoming Samuel's wife.
Present Day
Lieutenant Hayley Ashworth is determined to be the first woman inducted into the elite Navy SEALs. But before her dream can be realized, she must return to Boston in order to put the abuse and neglect of her childhood behind her. When an unexpected encounter with the man she once loved leads to the discovery of a tea chest and the document hidden within, she wonders if perhaps true strength and freedom are buried deeper than she first realized.
Two women, separated by centuries, must find the strength to fight for love and freedom. . . and discover a heritage of courage and faith.
Inspirational Historical [Tyndale House Publishers, On Sale: February 4, 2020, Hardcover / e-Book, ISBN: 9781496434777 / eISBN: 9781496434777]
Heidi Chiavaroli is a writer, runner, and grace-clinger who could spend hours exploring places that whisper of historical secrets. She is an ACFW Carol Award winner and a Christy finalist. Both her debut novel, "Freedom's Ring" and her sophomore novel, "The Hidden Side" are Romantic Times Top Picks. "Freedom's Ring" was also a BOOKLIST Top Ten Romance Debut. She makes her home in Massachusetts with her husband and two sons.