I belong to several online readers groups, and that question has been coming up frequently, lately.
I'm glad to see it being discussed. For me – no. I DON'T read crime fiction for entertainment. When I pick up a crime novel as a reader, I want to see intelligent treatment of societal evils that focuses on bringing awareness to problems and proposing activist solutions.
That's my goal as an author, too.
My Huntress Moon series is intense, page-turning psychological and procedural suspense. I worked as a Hollywood screenwriter for ten years before I wrote my first novel, and I'm well aware that I need to deliver a satisfying genre experience to my readers. If they're not biting their nails and staying up way past their bedtimes, I'm not doing my job.
But within the context of a ripping thriller, I am writing about issues I care passionately about and want to eradicate for good – meaning the good of everyone on the planet. Violence against women. Child sexual abuse. Human trafficking.
After this stunning, horrific election, more than ever these are evils I am committed to fighting against.
The last thing I want to do is show these scenes in a way that anyone could get pleasure out of. The few times I show anything on the page, it's very brief and absolutely not there for entertainment. And I am very suspicious of any book that starts with a beautiful woman obviously being set up to be raped and tortured. Sexualizing rape and torture is not solving any problem – it's actually contributing to the atrocity of sexual abuse. Personally I won't support any book or author that sexualizes scenes of abuse.
I suppose as an author you can avoid these tough issues by writing cozies, or another genre entirely. But I don't read cozies, and I wouldn't know how to write one. I used to teach in the Los Angeles County prison system. I want to explore the roots of crime, not soft-pedal it. For better or worse, my core theme as a writer is "What can good people do about the evil in the world?"
So my choice is to confront the issue head on.
The fact is, one reason crime novels and film and TV so often depict women as victims is because it's reality. Since the beginning of time, women haven't been the predators – we're the prey. Personally, I'm not going to pretend otherwise.
But after all those years (centuries, millennia) of women being victims of the most heinous crimes out there… wouldn't you think that someone would finally say – "Enough"?
And maybe even strike back?
Well, that's a story, isn't it?
So my Huntress Moon series is about just that.
The books take the reader on an interstate manhunt with a haunted FBI agent on the track of what he thinks may be that most rare of criminals – a female serial killer.
And here's what's really interesting. Arguably there's never been any such thing as a female serial killer in real life. The women that the media holds up as serial killers operate from a completely different psychology from the men who commit what the FBI calls "sexual homicide" (including most of the famous serial killers you know of: Bundy, Dahmer, Gacy, and yes, Jack the Ripper…)
So what's that about? Why do men do it and women don't? Women rarely kill, compared to men — but when it happens, what does make a woman kill?
Because another pet peeve I have about crime fiction is the way so many authors present serial killers for entertainment – seemingly having no clue what a serial killer actually does. What we see on the page is criminal masterminds who stage their murders like artistic masterpieces or leave poetic clues in a cat-and-mouse game they're playing with the cops or FBI.
What serial killers actually do is rape, torture and kill for their own gratification. They are NOT masterminds. There is NO art or poetry to their sadism.
Within the context of my Huntress series I can explore the psychological and sociological questions that most trouble me, and invite my readers to ask – Why? I can realistically bring light to crimes that I consider pretty much the essence of evil – and turn the tables on the perpetrators.
And I've created a female character who breaks the mold – but in a way that makes psychological sense for the overwhelming majority of people who read the books. I am thrilled when readers find themselves as conflicted about the Huntress as Roarke is.
One of the profilers says in the book: "I've always wondered why we don't see more women acting out this way. God knows enough of them have reason."
For me, that's a question that's worth exploring.
Alexandra Sokoloff
Alexandra Sokoloff is the Thriller Award-winning and Bram Stoker, Anthony, and Black Quill Award-nominated author of the supernatural thrillers The Harrowing, The Price, The Unseen, Book of Shadows, The Shifters, and The Space Between; The Keepers paranormal series, and the Thriller Award-nominated, Amazon bestselling Huntress/FBI Thrillers series (Huntress Moon, Blood Moon, Cold Moon), which has been optioned for television. She has also written three non-fiction workbooks: Stealing Hollywood, Screenwriting Tricks for Authors, and Writing Love, based on her internationally acclaimed workshops and blog, and has served on the Board of Directors of the WGA, West (the screenwriters union) and the board of the Mystery Writers of America.
Alex is a California native and a graduate of U.C. Berkeley, where she majored in theater and minored in everything Berkeley has a reputation for. She lives in Los Angeles and in Scotland, with Scottish crime author Craig Robertson. www.Alexandrasokoloff.com
This month you can get the first three Huntress books on Amazon US for just $1.99 each. Amazon Prime members can read Book 1, Huntress Moon, for free.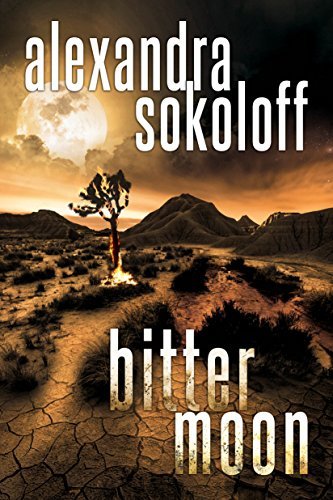 FBI agent Matthew Roarke has been on leave, and in seclusion, since the capture of mass killer Cara Lindstrom—the victim turned avenger who preys on predators. Torn between devotion to the law and a powerful attraction to Cara and her lethal brand of justice, Roarke has retreated from both to search his soul. But Cara's escape from custody and a police detective's cryptic challenge soon draw him out of exile—into the California desert and deep into Cara's past—to probe an unsolved murder that could be the key to her long and deadly career.
Following young Cara's trail, Roarke uncovers a horrifying attack on a schoolgirl, the shocking suicide of another, and a human monster stalking Cara's old high school. Separated by sixteen years, crossing paths in the present and past, Roarke and fourteen-year-old Cara must race to find and stop the sadistic sexual predator before more young women are brutalized.
Thriller [Thomas & Mercer, On Sale: November 1, 2016, Paperback / e-Book, ISBN: 9781503940369 / ]
The Huntress / FBI