As I'm finishing up writing my now 13th book, I've realized something about my stories.
I'm stuck in a trope rut.
What is a trope? By definition, the word trope is a commonly recurring literary device or cliché in works of fiction. Once you recognize a trope in a book or movie, it's like slipping into a pair of comfy slippers. You get a general idea of how the story will play out and don't care that you know. You just want to see it again and again, especially if done in different ways.
And it seems I happen to have a few favorite tropes that I automatically go to when I create a story. And not only do I love to write these specific tropes but naturally, I love to read them as well. They seem to hit a sweet spot with me and make me happy.
What are they? I'm so glad you asked!
1) Enemies to Lovers   Apparently I wrote four books with this trope, and I know exactly why. For a sweet romance writer like myself, an enemies-to-lovers trope is where I can create the most chemistry without resorting to sex—just fun banter, witty one-liners, and funny ways they can torture each other. The possibilities are endless, thus so much fun to write—and read. And coincidentally enough, it's the trope of my newest release: Romancing His Rival.
2) Friends to Lovers  I wrote four books with this trope, too. Why? I love to show characters seeing their friends in a new light. Having a basis of friendship in romance is so wonderful because it assures the reader that when my characters' looks fade, they will still have a bond of mutual like, respect and friendship. I can write from my heart with this trope since I happened to have formed a friendship with my husband before I fell in love and married him.
3) Forbidden Romance  I wrote three books with this trope. And I consider "forbidden" to be falling for the boss or co-worker, or falling for the older brother's best friend, or even falling for a movie star or royalty. I really like this one, because characters always want most what they can't have. That makes it super fun to dangle the proverbial carrot in front of my characters. And when they can finally have what they've wanted, the victory is all the sweeter.
So that's my jam for now. But I am trying to branch out a bit and connect with a different trope in my writing. Maybe I can get some ideas for my next book here.
What are a few of your favorite tropes?
Accidentally Yours #3
Hopeless romantic Elena Mason doesn't often hate people, but she hates her ex-fiancé's insufferable best man, Lucas Albright III. She just knows Lucas is the one who talked her ex out of getting married—so Lucas is clearly the cause of all her problems.
And now she's expected to work with him? Oh, heck no.
Lucas Albright wants nothing more than to make partner at his advertising firm, and he knows he works best alone. But then Elena ends up as his partner on an account that could win him a promotion. He had a great reason to end her engagement, not that she'd ever believe him. Still, he's willing to try working as a team.
Unfortunately, his new "partner" wants him dead.
Elena knows she's going to have to give in and work with her nemesis, though nobody said it had to be easy for him. But what happens when fighting starts feeling a whole lot like falling in love?
Each book in the Accidentally Yours series is STANDALONE:
* Bargaining with the Boss
* Catch Him If You Can
* Romancing His Rival
Romance Contemporary [Entangled: Bliss, On Sale: February 11, 2019, e-Book, / ]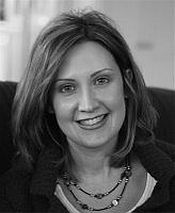 Jennifer Shirk has a bachelor degree in pharmacy-which has in NO WAY at all helped her with her writing career. But she likes to point it out, since it shows romantic-at-hearts come in all shapes, sizes, and mind-numbing educations.
She writes sweet (and sometimes even funny) romances for Samhain Publishing, Avalon Books/Montlake Romance and now Entangled Publishing. She won third place in the RWA 2006 NYC's Kathryn Hayes Love and Laughter Contest with her first book, THE ROLE OF A LIFETIME. Recently, her novel SUNNY DAYS FOR SAM won the 2013 Golden Quill Published Authors Contest for Best Traditional Romance.
Lately she's been on a serious exercise kick. But don't hold that against her.