Jen: What inspired you to write The Invisible Husband of Frick Island?
Colleen: A few years ago I ran across a newspaper article about a woman in Australia whose husband had died, and she was in such denial about it, she left his body in their bed and continued to live her life as though everything were completely fine. It wasn't until a neighbor noticed an… odor, that people found out. I know that's so morbid, but as a novelist I found it fascinating—the idea that grief can make us do such strange things, and that no two people grieve the same way. And that woman's story was the initial spark of the idea for The Invisible Husband of Frick Island, about a woman who is in such denial about her husband's death, she wakes up every morning and lives her life as if he is right there beside her (fortunately, without the rotting corpse in the bed).
Let's talk about Piper and Tom Parrish. Who are they and what's their connection to the island?
Piper and Tom are high school sweethearts turned young newlyweds who live on Frick Island, a tiny strip of land smack in the middle of the Chesapeake Bay (and only reachable by boat). Tom was born and raised on Frick, one in a long line of men who have lived there, making their living by fishing the waters surrounding the island—and Tom is expected to do the same. Piper moved to the island at the age of 11 with her mom and as with most newcomers to Frick, it took her some time to win over the Islanders. But once she did, everyone was smitten—including Tom. Unfortunately, Tom goes missing and is presumed dead during a freak storm when he's out on his boat one day—which is what sets off this unusual tale.
When Tom's crab boat capsizes and his body is lost at sea, how does Piper's reaction differ from the townsfolk?
While the townsfolk understand that the worst has likely happened to Tom— that he drowned when his boat capsized and is likely at the bottom of the seas—Piper absolutely refuses to accept it. Tom is her one true love and life without him just doesn't make sense. She believes with all her might that he will come back to her one day. And so he does! Just not in a way where everyone else can see him too…
Who is Anders Caldwell and what brings him to Frick Island? And, what spurs his return?
Anders Caldwell is a fresh-out-of-college journalist that rather hoped he'd be working at the New York Times, instead of stuck at a very tiny newspaper in Maryland, writing inconsequential fluff pieces. He gets an assignment to go out by boat to Frick Island to cover their annual Cake Walk, and experiences one calamity after another and swears he will never return. But then, he receives an email from an anonymous source telling him he missed the biggest story on the island and he's intrigued. He dabbles in podcasting and returns to the island in the hopes that whatever mysterious story he missed could be the big break he's been needing to become a world-renowned podcaster.
What do you hope readers take away from this heartwarming story?
Though this book has a lot of heavy themes—grief, loss, climate change, to name a few—ultimately it's a book about hope and love and faith in one another and community, so my first hope is that it brings people who read it a lot of joy, which is something our country could use more of right now. And secondly, I hope people come away from the book reminded of the fact that there is more that connects us as humans than separates us. No matter how different you might think you are from someone else, at our core, we mostly are driven by what we love and what we want to protect.
What's the best way for readers to stay connected with you?
They can find me on Facebook, Twitter, or Instagram. I am not on Tik-Tok, because my kids have assured me that I am far too old and uncool to understand it. I fear that they are correct.
Thank you for taking the time to stop by and chat. I live in Maryland, so I especially enjoyed the Smith Island cake reference and of course the crabs. Best of luck with your fabulous release! I absolutely loved it.
Thank you so much, Jen! Mmmm, I could definitely go for some Maryland crab cakes right about now…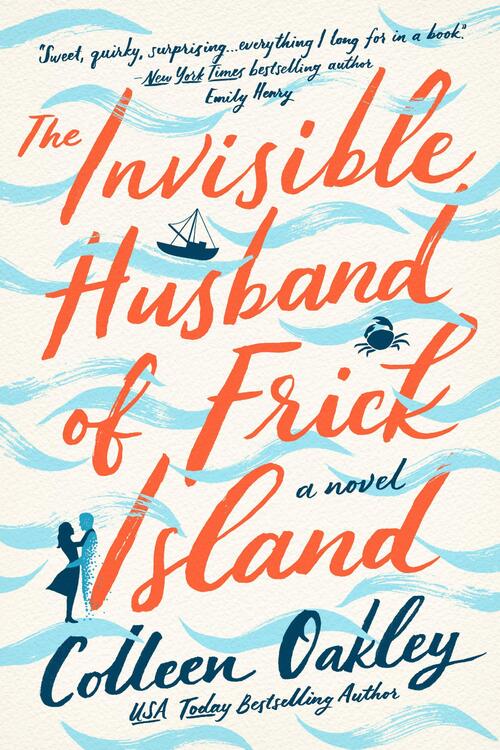 Sometimes all you need is one person to really see you. 
Piper Parrish's life on Frick Island—a tiny, remote town smack in the middle of the Chesapeake Bay—is nearly perfect. Well, aside from one pesky detail: Her darling husband, Tom, is dead. When Tom's crab boat capsized and his body wasn't recovered, Piper, rocked to the core, did a most peculiar thing: carried on as if her husband was not only still alive, but right there beside her, cooking him breakfast, walking him to the docks each morning, meeting him for their standard Friday night dinner date at the One-Eyed Crab. And what were the townspeople to do but go along with their beloved widowed Piper?
Anders Caldwell's career is not going well. A young ambitious journalist, he'd rather hoped he'd be a national award-winning podcaster by now, rather than writing fluff pieces for a small town newspaper. But when he gets an assignment to travel to the remote Frick Island and cover their boring annual Cake Walk fundraiser, he stumbles upon a much more fascinating tale: an entire town pretending to see and interact with a man who does not actually exist. Determined it's the career-making story he's been needing for his podcast, Anders returns to the island to begin covert research and spend more time with the enigmatic Piper—but he has no idea out of all the lives he's about to upend, it's his that will change the most.
USA Today bestselling author Colleen Oakley delivers an unforgettable love story about an eccentric community, a grieving widow, and an outsider who slowly learns that sometimes faith is more important than the facts.
Women's Fiction Southern | Romance [Berkley, On Sale: May 25, 2021, Trade Size / e-Book, ISBN: 9781984806482 / eISBN: 9781984806499]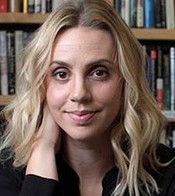 Colleen Oakley is an Atlanta-based writer. Her articles, essays, and interviews have been featured in The New York Times, Ladies' Home Journal, Marie Claire, Women's Health, Redbook, Parade, and Martha Stewart Weddings. Before she was a freelance writer, Colleen was editor-in-chief of Women's Health & Fitness and senior editor at Marie Claire.
***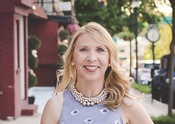 Jennifer Vido is best known for her nationally syndicated Jen's Jewels author interview column. A savvy book blogger she dishes the scoop on the latest happenings in the publishing business. As a national spokesperson for the Arthritis Foundation, she has been featured by Lifetime Television, Redbook, Health Monitor, The New York Times, The Baltimore Sun, Healthguru.com, and Arthritis Today. She is the author of the Piper O'Donnell Mystery series. Currently, she lives in the Baltimore area with her husband and two sons.