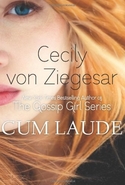 If I were able to turn back the clock and revisit any period of time in my life, I would have to choose my college days. Words just can't describe that feeling of exhilaration experienced when I first tasted the sweetness of freedom. Sure, I made mistakes (many of them); however, they were of my own doing. And somehow, that made them seem less painful and perhaps even okay.
This month's Jen's Jewels Cecily von Ziegesar explores this very topic in her latest release, CUM LAUDE. Known as the mastermind behind the Gossip Girl series, she has written a hip, yet edgy look at life through the eyes of college-aged young adults. With a juicy storyline and salacious characters, she creates the perfect read for a hot July day.
As part of this interview, Hyperion Books has generously donated five copies of CUM LAUDE for you, my favorite readers, to try to win. So, don't forget to look for the trivia question at the end. And, thanks for stopping by and making Jen's Jewels a part of your summer reading.
Jen: Most readers would associate your name with your highly popular Gossip Girl series upon which the television show is based. So that my readers may have a better understanding of the path that led to publication, please share with us your educational and professional background.
Cecily: I went to a private girls' school on the Upper East Side of Manhattan from first through twelfth grade. We wore uniforms. There were 35 girls in my graduating class. If you've read Gossip Girl, this should all sound sort of familiar. From there I went to Colby College in Maine, which had an outstanding creative writing department, and I took every class it offered. I went on to graduate school at U of AZ Tucson for my MFA in creative writing, but the program wasn't as strong as my undergraduate program so I quit after a year. I traveled and dabbled in various jobs before going to London to live with my boyfriend. After we were married and I was legal to work, I got a job as an editorial assistant at a children's book publisher. Three years later we moved to Manhattan where I got a job as an assistant editor at the book packager for whom I later developed Gossip Girl. I wrote the proposal for the series and when a certain editor at a certain publisher expressed interest in publishing the series she requested that I be the one to write the books. I'd always wanted to write, not just be an editor, so I felt very lucky. I gave birth to my daughter a week after I'd finished the manuscript for the second book and three months before the first book was published. When the third book hit the bestseller list, I realized I could quit my editing job and write full time.
Jen: Let's talk about the Gossip Girl series. First of all, why did you choose to write a teen drama rather than an adult series? And, how did you arrive at the premise?
Cecily: I was editing young adult books at the time so it was logical for me to try to write in that genre. But so many of the books I was working on took place in fictional suburban towns that didn't resonate for me. And the boys were all objects of desire with no point of view. I thought, why not set something in NYC and give the boys as much play as the girls? The premise of the book is very much based on my experience of going away for 6th grade (my family lived in Rome for a year) and coming back to my school and finding out that none of my friends would talk to me and had all been gossiping about me while I was away. There were also two girls who entered my class in junior year who had been kicked out of boarding school. When their old schools in the city wouldn't take them back, they came to mine. We were all fascinated by them—why had they been kicked out? What had they done? One of them was blonde and beautiful. Thus, Serena's story was born—with a little inspiration from Edith Wharton's Age of Innocence.
Jen: In terms of feedback, how did you determine your manuscript's appeal to the teen scene? In what ways did you "research" current trends and social networking sites in order to accurately portray them within your storyline?
Cecily: I did absolutely no research at all. I really steer clear of all that 'being current' stuff, which I know may come as a surprise. I want to write books that will last, and so I try to avoid slang and technological references, if at all possible. It's very ironic because "blogging" is a dictionary term now and I suppose Gossip Girl was one of the original bloggers, but that term didn't even exist when I wrote the books. I'm a total technophobe. My Iphone's capabilities are much underused. Anyway, if you're wondering how I could write about the so-called 'teenage experience' with such wit and aplomb well….I was a teenager once too, not so long ago. And I really don't think that much has changed, except maybe the technology.
Jen: Describe for us its evolution into a sensational television phenomenon.
Cecily: I'm not involved with the show, so I can't really describe that evolution. Josh Schwartz (show creator) kept hearing about the books and when he finally read the first one he was like, "I have to make this show." So he bought the rights and the rest is history. His partner, Stephanie Savage, was kind enough to take me out for lunch and pick my brain when they were working on the pilot, and I took her for a tour of the Upper East Side. We stood outside my old school, stalking the girls. I was so afraid that since they'd done The OC they'd turn Blair and Serena into California girls, driving SUVs to school, and Nate would be a lifeguard or something. But of course they knew what they were doing. And even though I'm not involved in the running of the show they always welcome me on set. Everyone is very nice.
Jen: And, what was the most challenging part of the process?
Cecily: Since I had no involvement—writers of novels often have no input in the adaptations of their books—the hardest part was waiting and seeing what they did with it. The pilot stayed very faithful to the first book—with some big changes, as was expected. What they created vastly exceeded my wildest expectations. The cast is awesome. The show is amazing.
Jen: Your latest project, CUM LAUDE, is your entree into the adult market. In terms of the creative process, how has this change in platforms enabled you to step out of your comfort zone? Has it been more or less difficult than expected? How so?
Cecily: I think part of being a writer is stepping out of your comfort zone and challenging yourself with each new book. Gossip Girl was pretty risqué—there was nothing like it at the time. While I was writing it I didn't think about the audience. I just wrote the kind of book I would want to read. I'm still doing that with Cum Laude. It's about college freshmen, so I'm still writing about young adults, but in this one they're really struggling to figure out who they are and where they belong in the world. It's their first time living away from home, without adult supervision. And they get into a lot of trouble.
Jen: The story is set in an idyllic New England college town and centers around five freshmen as they embark on the next season of their lives. The main character is the well-to-do Shipley who is trying to break free from her upper crust family. With that being said, why then does she choose to follow in her wayward, absentee brother's footsteps and attend the same school he did? Is she simply looking for an answer to his vagrant lifestyle, or is she looking for much more?
Cecily: At first Shipley just wanted to piss off her parents by going to the same school as her brother when she could've gone to Dartmouth. But she's also very competitive—so many of us private school girls are—and she wanted to show that she could succeed where her brother had failed.
Jen: Despite her rebellious spirit as well as her desire to experience the sweetness of freedom, she immediately delves into a serious relationship with Tom. Why do they both choose to commit so early in the year? In what ways are these two kindred spirits?
Cecily: Shipley and Tom are two attractive freshmen from the same privileged background and neighboring suburbs of New York City. They cling to each other in the sea of students from elsewhere. I saw this happen all the time in college, although some of us were more adventurous. Shipley also gets together with the townie, Adam. She wants it both ways—safe and risky.
Jen: Eliza is a wild and edgy girl looking for a good time. Underneath her tough exterior is just a lonely girl who wants to be loved. How are she and Shipley alike? Who is the stronger character and why?
Cecily: Both girls have their strengths. Eliza has a great sense of irony. Shipley may not be as loud and abrasive as Eliza, but she is actually more confident. She is quietly becoming the person she couldn't become back home in Greenwich.
Jen: Pothead Nick is a quirky guy who is trying his best to fit in. What is his biggest character flaw? And, does he have the where-with-all to realize his shortcomings?
Cecily: Nick spent his entire time at boarding school emulating somebody else. He's also growing out of a lifetime crush on his mom. Now he has to figure out who he is. And it looks like it's going to take a while….
Jen: Siblings Tragedy and Adam add an element of commonality to the plot due to their humble surroundings and down-to-earth upbringing. Which of the two is more resilient and why?
Cecily: Tragedy is the strongest character in the book, even though she's the youngest. Adam is going to have to get away from Home to really grow into himself. I love their relationship though. I have a thing for brother- sister relationships.
Jen: Will these characters be part of a new series, or is this a stand alone title? What are you currently working on?
Cecily: I'm not writing a sequel to Cum Laude right now. I'd rather not get stuck in a long-running series, although I'd like to write a sequel at some point. Original I had it in mind to write three books—Cum Laude, Magna Cum Laude, and Summa Cum Laude. But first I'm going to write another book set in the city. Stay tuned….
Jen: Let's switch gears and talk about your promotional plans. Do you have a website? Do you participate in author phone chats? And if so, how would my readers go about scheduling one?
Cecily: I love speaking directly to my readers and an author chat sounds fun, but I don't have my own website. I've always felt like it's sort of cheesy to push my wares and an invasion of privacy to be all over the internet. That said, I've just started getting into Twitter – check me out at @cesvonz. And book clubs and classes who are interested in having me call in for a discussion of Cum Laude can send a request to allison.mcgeehon@abc.com. As I said, I really do love hearing from my readers.
Jen: Will you be going on a book tour? If so, where can my readers find your schedule of events?
Cecily: I'm doing an event at the Barnes & Noble in Union Square in NYC on July 14 with Candace Bushnell, but I'm not doing an official book tour. If you'd like me to come to a bookstore in your home town please tell the bookstore to contact my publisher. I love to travel and I wish I was doing more of it right now.
Jen: Thank you so much for taking time out of your busy schedule to stop by and chat with my readers. I wish you all the best.
Cecily: Thank you, it was fun.
I hope you have enjoyed my interview with Cecily. Please stop by your favorite bookstore or local library branch and pick up a copy of CUM LAUDE today. Better yet, how would you like to win one instead? Okay, be one of the first five readers answer the following question for a chance to win.
Name the date and location of Cecily's upcoming book signing.
Later this month, I will be bringing to you my interview with debut novelist Deborah Clearman. You won't want to miss it.
Until next time…
Jen