There are many reasons why dogs are considered man's best friend. Loyal, compassionate, and trustworthy come to mind; however, these are not their most virtuous trait. Without a doubt, it's their innate ability to judge a person's character that reigns supreme. If a dog senses evil, take heed and run in the opposite direction.
This month's Jen's Jewels Linda Francis Lee agrees wholeheartedly with the power of a dog's intuition in her latest release EMILY AND EINSTEIN. It's the story of Sandy Portman and Emily Barlow who seem to have it all until an unfortunate accident leaves Sandy dead. When the truth behind her less-than-perfect marriage comes to light, it's up to a lovable stray dog named Einstein to help Emily get right back on her feet.
As part of this interview, St. Martin's Press has generously donated five copies for you, my favorite readers, to try to win. So, don't forget to look for the trivia question at the end. And as always, thanks for making Jen's Jewels a part of your reading adventure.
Jen: A born Texan turned New Yorker, you have had the pleasure of living in two culturally diverse areas of the country. So that my readers may have a glimpse into the life of the woman behind the words, please share with us your educational and professional background.

Linda: I received my undergraduate degree in Advertising from Texas Tech University. Then I went back to school for Geology and Math. I taught probability and statistics for a while, but my real love was writing. So I went back to school again and started taking literature and graduate fiction writing courses. (My husband and family thought I would never finish school!)
Jen: Describe for us your "Aha!" moment when you made the decision to actively pursue a career in the publishing business.
Linda: I was doing a lot of things as a sort of test of myself. Rock climbing, repelling. I started seriously running, writing, teaching probability and statistics, playing tennis, taking piano lessons…. But out of everything, the only things I really loved were running and writing. So I let the others drop away and I focused on what I loved.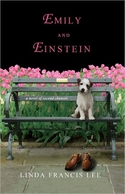 Jen: Known for your highly popular novels THE DEVIL IN THE JUNIOR LEAGUE and THE EX-DEBUTANTE, your writing prowess centers on female characters finding their way in life and love. In your latest release EMILY AND EINSTEIN, you take it a step further in what I believe is your most emotionally charged novel to date. How did you arrive at the premise?
Linda: First, Thank you!! Second, I had been thinking a lot about our dog Sophie who had passed away several years ago. For years, just thinking about her made me sad. But then a shift started to happen and the memories made me smile or even laugh. Sophie had so much personality. If she was mad at me, she ignored me. If I was sad about something, she leaned up against me until I felt better. I know it sounds crazy, but she felt like a little person, a sometimes crotchety person! She also felt magical. So I started thinking about a crotchety, magical dog . . . and eventually Einstein was born! I also wanted to deal with a woman who finds out who her husband truly was after he dies. So I put the pieces together, and then added a new man to stir things up even more.
Jen: Emily Barlow is a rising editorial star at Caldecote Press when she meets businessman extraordinaire Sandy Portman. Her initial attraction to him is based solely on his charm and good looks; however, when his vast fortune is revealed, the lady doth protest. Why is she so offended that Sandy had not come clean about his family's money?
Linda: It wasn't the money as much as it was that he intentionally misled her. To me, it's one thing if someone doesn't mention something, but something else entirely if say they are someone or something else. Why did they lie? Can you trust them in the future?
Jen: Fast-forward to a snowy evening in New York City, their marriage comes to an abrupt end when Sandy is killed in a freak accident. As Emily's life quickly spirals out of control, her solace comes in the form of a smart dog named Einstein.
Linda: Because of the memories that wouldn't leave me alone regarding my old dog Sophie, I really wanted to have Emily deal with a dog, but not just any dog, a dog that wasn't your average, ordinary dog.
Jen: As if things weren't bad enough, Sandy's mother asks Emily to vacate the historic Dakota apartment where the couple lived. Despite Sandy's verbal promise to leave it to Emily, his mother claims it is deeded to the family, Emily not included. Why then does Emily continue to believe in Sandy despite his failure to follow through with his intentions?
Linda: She believes because she can't believe that she based her entire life on a lie. At a gut level she believes that despite evidence to the contrary he loved her deeply. The question for any of us is do we know how to read our gut, or is that feeling simply something that we want to believe and it leads us astray? Reading and trusting your gut is one of the hardest things to learn – and even harder to act on it.
Jen: On a side note, why did you choose to incorporate the Dakota into your novel?
Linda: While I was writing the book I lived next door to the Dakota which was completed in the late 1880s. The novel Time and Again is set there, John Lennon was killed there. Many of the famous and influential in the Arts have lived there and many still do. And when you see those steeply-pitched Gothic rooftops and even the moat that surrounds the perimeter of the building, it's hard not to feel the magic of the place. Given that, it seemed the perfect setting for a magical book.
Jen: Emily's office life somewhat mirrors the television show The Office. For example, her co-worker Victoria is out for blood. What was the inspiration for your office setting?
Linda: Several years ago publishing went through a major shift with big conglomerates gobbling up smaller, gentile publishing houses. Not long after that I read an article by an insider who discussed the changes in the industry, how it had become a bottom-line business with colleagues who pretend to work together when in reality it had become a competition as to whose books did better. I loved the contrast of mahogany desks and library-like offices turned upside down by new, bottom-line corporate types.
Jen: When her step-sister Jordan shows up, Emily is doubtful that her intentions are pure. These two women are in different stages of their life; however, they are connected by the common bond of their famous feminist mother. Who is the stronger character and why? In what ways are these two women alike?
Linda: I'm not sure one is necessarily stronger than the other, just strong in different ways. Each has forged her own life, and then lives it. Jordan couldn't survive in Emily's world, and Emily couldn't survive in Jordan's. I think that the happiest people are those who are lucky enough to find what they are good at AND enjoy doing it. Not to say that there aren't bumps along the way in everyone's life, but doing something that makes you happy and that is both challenging and also rewarding, makes for the most contented.
Jen: In order to make a romance complete, there has to be a hottie and without a doubt, you've got one… ex- Navy seal Max! What does Max see in Emily which makes him willing to take a chance on a grieving widow?
Linda: Max is the kind of character who loves so deeply and intensely that he can change a woman forever. He's been broken and makes it back; giving him the kind of strength that Emily needs to see as proof that she can make it back, too.
Jen: Towards the end of the novel, it appears that Emily has a sixth- sense that Einstein and Sandy may be connected. Does it scare her or does it provide her with the peace she needs to move on?
Linda: Many people believe they can look into the eyes of their dogs and see their souls. In many ways, for Emily, this book is about believing in herself, believing in her gut. Her faith in herself and everything she believes in is tested. Ultimately that's what life is about. Enjoying the good times and surviving the rough spots, coming out of them stronger. Jen: Let's switch gears now and talk about your website! Please take us on tour highlighting your favorite parts.
Linda: Probably my favorite part is the Linda Francis Lee in NYC videos. It's been fun to try to show viewers the real New York rather than something you'd see on TV. Whether it's a night out on the town or grocery shopping, New York is a very different sort of place to live.
Jen: Are you currently at work on your next novel? If so, what can you share with us?
Linda: I am definitely working on the next book about a strong and quirky woman in New York.
Jen: Thank you so much for stopping by to chat with my readers. EMILY & EINSTEIN is a fabulous read which I am highly recommending it to all of my readers. I wish you much success in 2011.
Linda: Thank you for having me! There is nothing better than great conversations about books!
I hope you have enjoyed reading about EMILY AND EINSTEIN. Please stop by your favorite bookstore or local library branch and pick up a copy today. Better yet, how would you like to win one instead?
Answer the following question correctly and you could be one of five winners.
What is the name of Emily's sister in EMILY AND EINSTEIN?
Later this month, I will be bringing to you my interview with Christian author Deborah Bedford. You won't want to miss it.
Until next time…
Jen